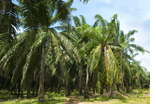 According to the
Independent
, Palm Oil is set to be put into Britain's cars, which means chopping down a substantial amount of rainforests. This will be a threat to the environment as it will affect climate change.
The European Commission has a plan to increase the amount of palm oil that is used in cars and power stations which will reduce greenhouse gases. Bit of a catch 22 really don't you think? Cut down the rainforest, or reduce our car emissions?
Britons use 50 billion litres of fuel for transport a year, with 2.7% coming from biofuels which includes palm oil. The Government have said that using environmentally damaging materials would not be the best idea but there is not enough data to suggest that 42% of transport biofuel is used in the UK.
Last year, according to the Renewable Energy Directive (RED), last year in Britain and other EU states 'are required to source at least 10% of petrol and diesel in road transport from renewable sources.' The majority comes from sugar cane palm, rapeseed and soy.
The EC document protects wildlife by banning states from sourcing fuel from grasslands, wetlands and forests that reduce greenhouse gases. But exemption does not include habitats that were changed before January 2008, meaning that most of the palm oil made can be used, even though most of it comes from plants that have replaced rainforests in the last 15 years.
This policy is going to increase the demand for Palm Oil. This can only be grown in Malaysia, Indonesia, many other Asian countries, West Africa and the Amazon in Brazil which have tropical climates. These places are all very rich in rare wildlife such as Sumatran Tiger and Orangutans and most of the land is lost when converted into straight line plantations.
How do you feel about this issue? I think there could be many other ways to get better fuels. Why are people not looking into using water to power our vehicles or food waste such as potato peels? It's a very difficult issue and as I said above, it seems like a catch 22 situation. Do let us know your thoughts.