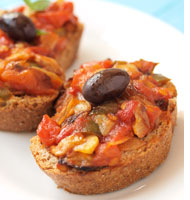 Spain has some wonderful food and is most famous for the dish known as tapas. Now the only tapas I have eaten is La Tasca in London and I must say it was so delicious! Lots of little portions of many different types of food which you can taste and share with your friends!
Another famous dish in Spain is known as Pinchos which means spike in English and this refers to the toothpick or skewer that holds the food together. Originating in the Basque country, which is in the north of Spain, these wonderful snacks are eaten in many bars or taverns while people are hanging out with their friends and family so this delicious food largely revolves around socialising. Food is always good when out with friends!
Pinchos have many similarities to tapas, in that the portions are smaller than a main meal, but the main difference is that pinchos are ordered for the individual served with bread where as tapas are ordered to share. Pinchos are made from local produce such as seafood, cured mates, cheese and vegetables. Almost any ingredient can be put on the bread for a great starter, the most popular being pincho moruno made of marinated pork, lamb or beef.
So if you are heading out to Spain this summer for your holidays, why not venture out into some bars with your friends and enjoy a few drinks and some pinchos!
Have you tried it before? I've only eaten tapas and would like to know what pinchos is like!