Looking for somewhere special to take your loved one on holiday this year? Why not try one of the Greek Islands.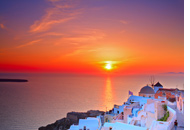 Santorini
Oia, a town in the north west of this unique volcanic island in the Aegean sea, is said to have the most beautiful sunsets anywhere in the world. A picturesque town with houses built into volcanic rock, the result of probably the largest volcanic eruption in history back in 1500BC. Pyrgos is built on a hill and the views across the island are wonderful. The town has traditional houses in a maze of narrow streets and an interesting Venetian Castle. Perissa in the south east of the island has a lovely beach with clear blue water and smooth dark sand.
Aegina
Aegina Town has narrow streets packed with interesting houses and shops. There are lovely restaurants and cafes where you can while away the time. Agia Marina is a touristic place but the beach is beautiful. There are some lovely restaurants and some great bars! The Barracuda is right on the beach so you can sit watching the sun set whilst enjoying a refreshing cocktail. Also, not far from the town, is the Temple of Afea in a lovely setting with some panoramic views.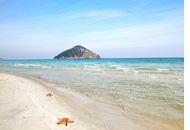 Thassos
Thassos is the northern most island in the Aegean sea and is also known as 'The Emerald Island'. Paradise Beach is an isolated beach with green hills and mountains one side and the clear blue Aegean sea the other. The village of Potamia is at the base of Mount Ipsario, the highest mountain on Thassos. From the top of the mountain there are spectacular views. In Thassos town there is an archaeological museum exhibiting ancient pottery, coins and sculptures, and the ruins of the ancient agora.
Karpathos
Situated between the islands of Rhodes and Crete this island is still mostly unspoilt. The magnificent beaches and secluded coves together with traditional villages make this a very romantic destination. Achata Beach is in an idyllic cove near the town of Pigadia and is surrounded by mountains. Aperi is a pretty village in the green slopes of Mount Hamali and here there are ruins of a castle built in 3000BC. You can walk from here down unpaved roads to the stunning Kyra Panagia Beach or Apella Beach. Both have fine white sand and clear blue waters with a back drop of mountains and pine trees.These are just some of the beautiful islands of Greece. There are many more, and romance means something different to everyone so there is bound to be an island that you will find perfect to take that special person. Which is your favourite romantic Greek Island?