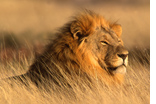 Looking for some excitement and thrill during your next holiday? Why not consider going to Namibia and experiencing a safari tour. There is so much to see that it will be a great adventure for you and all the family. Namibia is home to Etosha National Park, Namib Desert and Namib National Park. There are many attractions that you can explore if you choose a holiday here.
You can actually take yourself on a self drive safari which is ideal if you want to be able to see the country at your own pace with your own personal itinerary. To give you an idea of what you can do with your car hire in Namibia, here is a nine day breakdown of what you could do if you choose to drive from Namibia to Botswana.
Day 1: Windhoek
- Land in Windhoek and pick up your car hire and drive to the city. Once you've checked in your luggage, enjoy some time driving around the city seeing sites such as The Old Fort or Parliament Building to name a few. You'll find in Windhoek that many skyscrapers will be among old historic buildings, which is just a beautiful sight to see.
Day 2: Waterberg Plateau
- Drive yourself up to Frans Indongo Lodge and enjoy watching game running through the landscape and admire the beautiful views.
Day 3 & 4: Kavango Region
- You should arrive by afternoon if you set off in the morning, here you can enjoy the beautiful sunset and perhaps put the kids to bed early to have a romantic evening with your loved one. Staying another day here would be a great time for you and your family to enjoy some excursions. Have a go at Tigerfishing or watch some of the 400 species of bird fly across the landscape.
Day 5 & 6: Mahango National Park
- Enjoy views of the river and take another excursion while you are here. Take some time to go on a safari tour and see if you can spot any elephants in Namibia's most diverse and interesting conservation area. Don't forget to visit Popa Falls, a stunning series of rapids that run into Botswana.
Day 7 & 8: Mudumu National Park
- With stunning forests, marsh and open woodland you will find a wide variety of wildlife. Take a drive through the park or a nature walk and admire the views of this mysterious land with zebras, buffalo and antelope to name a few of the animals you can see!
Day 9: Katima Mulilo
- Drop your car off at the airport and hop on to your flight back to Windhoek then home. What a great nine days to cover some of the best scenic routes in Africa! Driving West to East you can really get a taste of what there is to offer.Pick up your car hire at Windhoek Airport and plan your itinerary before you go. Make sure you have your Hotels or Bed and Breakfasts booked and get some food and water for your journey as it will be very hot out there! Do you have any tips for your fellow travellers thinking of going?