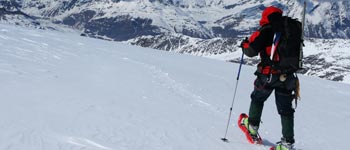 The snow has fallen early this year in Europe and with winter just around the corner, it is time to book your ski holiday. Zermatt is one of the most popular ski areas in Switzerland and famous for its great skiing conditions.
Zermatt lies South of
Bern
and is surrounded by the Swiss Alps and a beautiful countryside with a view to the legendary Matterhorn Mountain. In Zermatt you are sure to see lots of snow and have perfect skiing weather.
The ski area of Zermatt has the second highest slopes in the world and therefore one of the longest ski seasons in the Alps.
Children under the age of 9 can use the ski lifts free of charge and as the city has been made extremely comfortable for pedestrians, this winter wonderland is particularly suitable for families with children.
The slopes of Zermatt are long and wide, and the ski area is ideal for beginners as well as experienced skiers. Furthermore there are lots of children-friendly slopes and several fun parks for the children and adults looking for a little extra excitement. The slopes of Zermatt are situated high up and is therefore known for always having lots of snow.
In fact it is possible to ski all year around in Zermatt, thanks to the area's glaciers. However, the winter times really are the best for all types of skiing. The ski area of Zermatt is also linked to the large ski area in Italy, so you can easily take a day trip over to Valtournenche and Cervinia.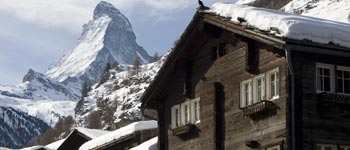 The city Zermatt is a different ski town than most are familiar with. The car-free city is a blend of traditional Swiss chalet-style wooden cottages mixed with modern buildings and shops. The cioty is not a party city, but is known as a fine cultured city with good shops and a variety of activities, such as many spas and sports centers, where you can enjoy indoor sports on days with bad weather. At the same time, there is a good selection of bars and restaurants in all price ranges.
Zermatt always gives you endless possibilities of fun in the snow.
Rent a car in Switzerland
and make your way to the Matternhorn. We promise you will have the time of your life!