Summer is in the air – the sound of buzzing bubble bees, singing birds, flapping flip-flops and warmer evenings are upon us. We all know the typical summer clichés, but what really matters is what's on the menu now that the hot weather has arrived. For many of us, as the temperature rises, our appetite lessens. The thought of eating heavy meals becomes unappealing. This is when the trusted buffet style and smallish refreshing summer foods come into play. According to our Auto Europe Twitter account, these following summer foods are high on the list of what we seek out:
Summer foods – BBQ
First on our list is the much awaited and loved BBQ. Whether you have a gas-powered grill or coal barbecue, as summer arrives, no longer do you have to settle for conducting a BBQ under an umbrella. At least for a couple of weeks a successful BBQ can ensue. So stock up on some burgers, hot dogs, peppers, mushrooms, chicken wings or anything else that takes your fancy and fire up that BBQ. As a bonus, why not invite some friends and family round and enjoy a summer garden BBQ party – add PIMMS and everyone's a winner.
Summer foods – Ice cream
An old classic to eat during the summer months is, no doubt, ice cream. No one knows exactly when or who invented ice cream, but it first appeared in England during the 1600s. Initially reserved for the rich and wealthy, it wasn't until the invention of the freezer that it became available to the general public. An ideal refreshment for those wishing to cool down – simply select what flavours you like then sit back and enjoy.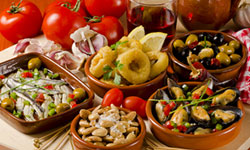 Summer foods – Tapas
For those of us who aren't aware, "Tapas" are normally small bite-sized dishes made up for snacking on, or if ordering more than one, ideal for sharing. Eating heavy meals isn't always to everyone's desire during summer, which is why tapas are perfect. These summer foods have a large selection to choose from. Croquettes, chorizo, meatballs, padrón peppers, calamari, potato tortillas and even little quantities of Paella, are just a few options at your disposal. Simply mix and match according to your taste and enjoy with a nice cold beer.
Summer foods – Watermelon
There can be little in comparison to a watermelon straight out of the fridge on a hot summer day. Either use the watermelon juice as a base for a refreshing cocktail or simply drink it straight, with some ice cubes. Ideally, just slice up the watermelon and eat it as is. There is little denying how energising a watermelon actually is and it's a great cost-effective snack option too.
Summer foods – Gazpacho soup
Not what normally springs to mind, but increasing in popularity, is Gazpacho soup. Originating from the Andalusian region of Spain, Gazpacho is particularly good during the summer months. Many variations exist now, but the base recipe includes cucumber, bell pepper, olive oil, wine vinegar, water, salt, stale bread, tomato, onion and garlic. Served cold and enjoyed at any time of day – this is a perfect solution for cooling your day.