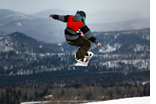 From February 12th - 28th this year, Vancouver, Canada will be host to the Winter Olympics! It is a very exciting time of year with many events being held on the snow and ice. It's going to be exciting, thrilling and a wonderful experience! The event is going to be officially opened by Governor General Michaelle Jean.
There are so many wonderful sporting events to enjoy, here is a low down on some of them.
Bobsleigh (20th - 27th February):
Anyone remember the film Cool Runnings? The Bobsleigh event consists of 2 or 4 people in a gravity powered sled running down narrow, twisting, banked ice tracks. It was first introduced to the Olympics in 1924 in Chamonix, France, then the two man Bobsleigh event appeared in 1931 and finally the womens team joined the event in 2002 in Salt Lake City.
Cross Country Skiing (15th - 28th February):
Skiing dates back at least 6,000 years ago, funnily enough, from a photo of a hunter wearing 2 wooden slats on his feet (ski's) alongside some reindeer! In this sport competitors ski across a long distance snow covered terrain. The first cross country skiing competition came to the Olympics in 1924 in Chamonix, France with an 18km and 50km race for men. The ladies joined in Oslo in 1952.
Figure Skating (14th - 27th February):
I love figure skating! It is definitely an art form as well as a wonderful Olympic Sport. It can be done in pairs (Torvill and Dean anyone?), singles or even in groups who perform many jumps, spins and fancy footwork on ice. It first appeared at the Olympics in 1908 in London so it's been around for quite some time!
Snowboard (15th - 27th February):
Snowboarding is possibly my favourite sport. Combining surfing, skateboarding and skiing, it is one of the fastest growing sports and has only recently been added to the Winter Olympics. Introduced in 1998 with two events, the Halfpipe and Individual giant slalom. You absolutely must get a glimpse of some of the stuff these professionals do!
This is just a selection of a few of the events happening at the Olympics, why not check out some more at
http://www.vancouver2010.com
and let's enjoy the Winter Olympics! Feel the rhythm! Feel the rhyme! Get on up, its Winter Olympic Time! (You've got to remember where that is from!)