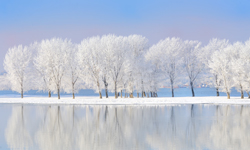 The Coldest Places in the World
Vostok weather station, Antarctica
With a location near the magnetic South Pole and at 3,500 meters above sea level, it is always cold at this Russian weather station, Vostok. But never as cold as it was the 21st of July 1983. That day was the coldest temperature ever measured on Earth, as the temperature fell to minus 89.2 degrees Celsius.
Eureka, Canada
The Research Station Eureka on Canada's most northern island, Ellesmere Island, is considered the world's coldest inhabited place. In summer the average temperature is minus 20 degrees, while it drops to minus 40 degrees in winter.
Oymyakon, Russia
In the Republic of Yakutia, about 350 kilometers south of the Arctic Circle, temperatures dropped in the village of Oymyakon to minus 71.2 degrees in 1926. This is the coldest temperature measured in the northern hemisphere.
Denali or Mount McKinley, USA
Is the highest mountain in North America and is considered the coldest mountain on Earth. The temperature drops to about minus 40 degrees in winter, where only mountain climbers are able to reach the 6,194 meter high mountain.
Ulaanbaatar, Mongolia
Situated on a high plateau 1,300 meters above sea level and considered the capital of Mongolia, Ulaanbaatar, as the world's coldest capital. In January temperatures are rarely above minus 16 degrees.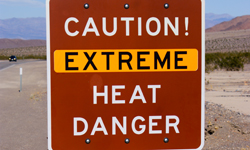 The Warmest Place in the World
Al-Aziziyah, Libya
Drive 40 km South of Tripoli and you will arrive in Al-Aziziyah. The hottest temperature ever was measured on 13 September 1922 and measured a massive 57.8 degrees. The town is approximately one hour drive from the Mediterranean Sea.

Dallol, Ethiopia
Dallol, Denakil lies and impressive 116 meters below sea level and often experiences extremely hot temperature. With 34.4 degrees, Dallol has the highest average temperature in the world.
Dasht-e Lut, Iran
In 2004 and 2005, the surface temperature of this desert plateau was measured to be above 70 degrees. The heat and the drought has created the world's driest area, where nothing can live, not even bacteria.
Death Valley, USA
California's Death Valley has been measured to have the second highest temperature, namely 56.7 degrees. In summer, the average temperature is around 47 degrees and Death Valley lies 86 meters below sea level.
Bangkok, Thailand
Bangkok has been voted as the Earth's warmest city. The city's average temperature is 28 degrees, but from March to May the temperature rises to an average of 34 degrees and humidity reaches a crazy 90 percent.