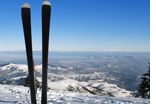 Going skiing can be an expensive holiday but there are several ways that you can save money.
Rather than opt for a package holiday, why not put together your own itinerary. This is especially relevant if you are travelling alone as there are no single supplements to add to the cost.
Flights:
Low cost airline such as Ryan Air and easyJet fly to all the main ski destinations but into smaller airports for a fraction of the cost of scheduled flights. Flying mid week will also bring down the cost.
Transport:
The best way to get to your resort is to hire a car. Book early to get the best deals and to ensure availability especially if you are going at a busy time.
Accommodation:
You will be able to find all types of accommodation on various websites for your chosen destination. Self catering is probably the cheapest option, but you can also get some good deals if you prefer bed and breakfast. You will only get what you pay for so do be careful that you are happy with what you are getting for your money before booking. Accommodation is cheaper in the gateway city rather than staying at the actual resort. It is usually only a short drive to the slopes or you can catch a bus if you want to partake of the apres ski!
Where To Go:
The cheapest places to go are in Eastern Europe. For example in Slovenia a ski lift pass will typically cost € 129, a 3 course meal costs around € 12 and a beer about € 1.50. A 2-bedroom apartment that sleeps 4 could cost you as little as € 200 per week.
Do you have any tips on saving money when going skiing?