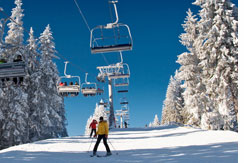 Ski season is nearly upon us and we have put together our top choices for hitting the slopes in France:
Chamonix
- This classic French town is home to Mount Blanc and hosted the first Winter Olympics in 1924! It's a perfect choice for advance skiing and snowboarding and for those who revel in extreme sports you can also try out rock climbing.
Courchevel
- Located in what is called the Three Valleys region this resort has some of the most difficult black runs in the world. Why not
hire a car in Grenoble
and enjoy the journey through the snow-capped countryside to this resort?
Val-d'Isère -
A top location for keen skiers who love a party at the end of the day! You can even ski down into the village, but this is recommended for experienced skiers only. The town centre has plenty of bars, restaurants and clubs!
Maribel
- Also part of the Three Valleys this stunning alpine resort is suitable of skiers of all levels and for snow boarders. They also hold many winter events here, in January you can watch the 2
nd
Stage of the Savoy Trophy Dogsled Race!
Portes du Soleil
- Technically this is a region made up of 13 resorts in the Alps in between Mount Blanc in France and Lake Geneva in Switzerland.
It is worth a mention on our list as it is a great pick for families of all ages. You will find slopes for beginners and face paced runs for the more experienced skiers.Have fun on the slopes, and don't forget you may need to order snow chains for your vehicle!
Tell us your ski stories, what is the best slope you have found?