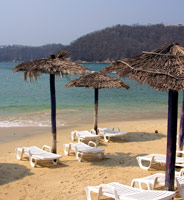 When most people think of holidays in Mexico, Cancun and Acapulco spring to mind. Originally the playground of the rich and famous, by the end of the 70's Acapulco's tourist industry had grown and it became accessible to a much wider audience.
Cancun is the most popular resort in Mexico today with some 4 million visitors each year. However, if you don't like crowds or want to go somewhere different, there are plenty of other unspoilt beaches in Mexico to visit.
The region of Huatulco is on the Pacific Coast and it has miles of secluded coves and beaches with white sand and crystal clear waters. As well as the beautiful beaches you can also see emerald rainforests and amazing waterfalls. So if you tire of sitting on the beach you can walk one of the hiking trails or, if you are really adventurous, there are rope swings on the larger waterfalls! There are other activities too such as horse riding, scuba diving or dune buggying. This is an area which the Mexican government are funding to bring more tourism to, so now is the time to go before it becomes another Cancun!
Also on the Pacific Coast is the town of Zihuatanejo. It sits in a small bay with wonderful beaches which are protected from the open ocean. There are also water sports such as snorkeling and windsurfing. Playa las Gatas is a beautiful isolated beach only accessible by boat which has open-air sea restaurants. Some of the hotels sponsor the local turtle campaign. Eggs found along the beach are protected and after incubation are kept in tubs then released back into the ocean at sunset. As a guest you are allowed to help with the release. If you like sport fishing this is a great place to go with marlin to be caught most of the year round. The largest one caught here was some 1,100 lb!
Los Cabos is at the southernmost tip of the Baja California Peninsula. There are several stunning beaches in the region. Lovers Beach, at Lands End, can only be reached by water taxi but is worth going to for the perfect beach, towering rocks and schools of multi-coloured fish that live in the clear blue water. Not a place for swimming though as the currents are very strong. However, Bahia Chileno is a great beach for swimming. Here you will also find rocky reefs, tropical fish, sea turtles and starfish. A very quiet beach as motorized water sports are prohibited here.
These wonderful places will no doubt grow in popularity over the next few years as people tire of the overcrowded existing resorts. This means they will lose much of their charm and uniqueness, so visit them soon and enjoy them at their best.
Where are you favourite places to relax in Mexico?