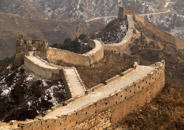 This beautiful fortress is on the World Heritage List. Thousands flock every year to see this wonderful wall made from stone, which were built to protect the Northern borders of the Chinese Empire. Many sections of the wall have been built and rebuilt over the centuries; and one of the most famous being the wall that was built between 220 - 206 BC by the First Emperor of China, Qin Shi Huang but little of this wall remains.
The wall itself stretches from Shanhaiguan to Lop Nur. The entire wall is 8,851.8kms (5,500.3 miles) long and mostly built from the Ming Dynasty. There are many parts of the wall visited today by tourists and are well worth a visit for anyone wanting to see a piece of history.
North Pass
- Known as Balding in the Juyongguan pass and used by the Chinese to protect the land. It had many guards to defend the capital Beijing.
West Pass
- Another part of the Juyongguan pass near the western edge of the Great Wall.
Pass
- Part of Shanhaiguan, this part of the fort is near the eastern edge of the Great Wall.
Ming Wall
- One of the best sections from the Ming Great Wall is where it has been built in steep slopes. Running 11kms (7 miles). One of the watch towers, Wangjinglou lies 980 metres (3,215 ft) above sea level!
Liao Tian Ling
- A part of the wall that lies about 25km West of here is shorter than the rest of the wall but also appears silver. Archaeologists have explained that the stone used was from Shan Xi, where mining used to be carried out. The stone contains a higher metal count which makes it appear silver!
This is definitely a once in a lifetime experience to have, as in the next 20 years there may not be much left of the wall for us to admire. So if you want that 'Once in a Lifetime' then why not consider seeing this beautiful piece of architectural genius!
Have you been at Great Wall of China? I would love to hear about your experience!