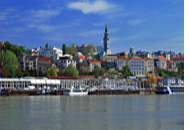 Looking for somewhere different to spend a weekend away? Why not visit Belgrade the capital of Serbia.
The Kalemegdan is the historical heart of Belgrade. At an elevation of 125 metres it has spectacular views over the city and the point where the river Sava joins the Danube. The park in this part of the town is a great place to relax with winding paths, shady benches, charming fountains and lovely river views.
Another notable feature is the Roman Well, which is surrounded in mystery and intrigue with stories of prisoner being thrown in as recently as 1954!
The oldest restaurant in Belgrade is the ? Restaurant built in 1823. Originally called Ecim-Tomina it was sold in 1878 and the new name the new owners chose did not comply with regulations in place at the time so a question mark was put up outside and it has remained ever since.
There are a total of 16 plazas and 32 squares in Belgrade. The oldest square is Student Square. The oldest street in Belgrade is Kralja Petra. So you will never be short of places to visit.
The night life in Belgrade is vibrant and there are many clubs as well as places to enjoy traditional music or just a quite drink. If you like football you might be able to catch Red Star Belgrade - former European Cup Winners - playing at the Red Star Stadium.
Have you been to Belgrade? What were your favourite places to visit?