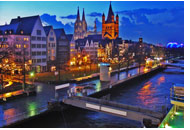 Thinking of a weekend away but not sure where to go? Why not try a city break in Cologne? The city is known as the art capital of Germany. One of the oldest citys in Germany, Cologne is steeped in history, offering a fascinating combination of Roman, medieval and modern day influences.
Cologne has a lot to offer its visitors and is a perfect choice for a weekend break. Here are a few ideas of places you can visit.
Cologne Cathedral
- This is the cities most famous landmark and listed as a UNESCO World Heritage Site. The South Tower has an impressive view across the city and the Rhine. The view does come at a price, 533 steps!
Tanzbrunnen
- Located in the Rheinpark on the banks of the River Rhine, here you can enjoy a open air concert surrounded by a beautiful park and fantastic views of the city.
Ludwig Museum
- Home to a large modern and contemporary art collection. These include pieces from the art genius Picasso.
Old Town
- Packed full of colourful houses here you can enjoy a taste of authentic Germany and mix with the locals at one of the many restaurants, bars or snack stands. Cologne is truly a fun packed city and the list of places to visit is long. We do have too give a quick mention to the Chocolate and Fragrance Museum, a lady's two most favourite things! Watch the city burst into action with its electric nightlife scene. Enjoy reggae bars, R& B nightclubs or perhaps you fancy a moody jazz bar. Don't worry if your not up for a night of dancing after all of that sightseeing, you can choose from a large number of top quality restaurants nestled in quite corners of the city.
With cheap flights from all major airports and accommodation to suit all budgets, Cologne is a great choice for a city break.
Have you been to Cologne? What was your favourite tourist site?