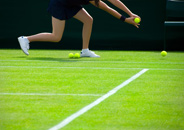 It's that time of year again where we watch the worlds best slog it out in the hope of becoming Wimbledon Champion 2010. With over 130 years of fantastic tennis being played at the All England Lawn Tennis and Croquet Club it's hard too pick our favourite matches and memories.
Who could forget John McEnroe's outburst at the umpire in 1981 ' you cannot be serious!'. How about the longest final in Wimbledon history between Federer and Nadal in 2008? After a gruelling four hours and 48 minutes Rafael Nadal got the win.
Of course, no sport is complete with a streaker, and Wimbledon got theirs in 1996 when Krajicek took on Washington in the final. Wimbledon has many great traditions that have been upheld throughout the years. The ball boys and girls quietly blending into the background ready to pounce, and, of course, the tradition that we all love to indulge in is eating strawberries and cream washed down with a refreshing cool Pimm's.
Who will win the trophy this year? Will it be another Federer and Nadal marathon? Are we going to see the Williams sisters battle it out on centre court? Or will Justine Henin get the comeback she is looking for?
Let's hope that the sun shines over Wimbledon as we enjoy two weeks of racket slamming matches!
What are your guesses on this years winners? Do you have a favourite Wimbledon moment?