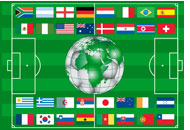 There are now just 14 days until the World Cup starts in South Africa! 32 teams with a dream of winning the highest accolade in the footballing world for their country. There are 9 cities hosting the group stages.
Rustenburg is the base city for the England squad and the Royal Bafokeng Stadium is the smallest of the venues being used for the tournament. Johannesburg's Soccer City Stadium is the largest venue and where the final will be held on July 11th.
The teams have already started to arrive, Australia being the first on Wednesday followed by Brazil on Thursday. Argentina and Denmark are due to arrive tomorrow morning (Saturday). England are due to arrive on 3rd June and the last team scheduled to make an appearance is Spain on 11th June. England's last game before the finals is againt Japan on Sunday, the same team they played just before the Euro 2004 tournament which ended 1-1. It is the last chance for the players to prove to Fabio Capello that they are worthy of being in the final squad. For the fans, they are hoping to see a better performance than they managed against Mexico last week.
There are bound to be some upsets - who can forget Cameroon beating Argentina in the opening game of World Cup 1990, Sengal beating France at the start of the 2002 tournament or Algeria beating West Germany in 1982? Hopefully the upsets will not involve England, but it just proves that there are no easy games.
England's first game on Saturday 12th June is eagerly anticipated. Where will you be watching the game? How well do you think England will do in the competition?