Campervan hire with El Monte RV – find the best deals!

Motorhome hire is fast becoming one of the most popular ways to travel. It combines a range of benefits such as flexibility and freedom with the possibility to spend some quality time with family or friends like no other mode of transport can offer. Auto Europe collaborates with a large number of suppliers around the world to provide a wide choice of modern and comfortable campervans for its clients. If you are planning a holiday in the USA, a motorhome is the perfect way to get around this fascinating country. You will be able to discover all the different landscapes, from the Grand Canyon to the famous national parks and modern cities such as San Francisco, Los Angeles and Las Vegas.
A campervan hire with El Monte RV guarantees you reliable and high-quality vehicles for the holiday of your dreams! The company was founded in the town of El Monte, California, by Ken Schork in 1970 and since than they have grown into one of the largest RV rental businesses in the world. El Monte RV has locations in all the main cities of the United States of America, plus they recently opened in Japan as well.
Insurance
All El Monte vehicles come with third-party liability protection coverage of US$1 million. The excess the client will be responsible for in the event of damage being caused to the vehicle is limited to US$1,000. At the time of pick-up, this amount will be blocked as a security deposit on the main driver's credit card (all major non-debit credit cards are accepted). The deposit will be refunded upon the vehicle's return, providing that the vehicle is in the same condition as when it was collected.
Which additional items are offered?
The supplier offers many additional items that you will be able to select during the booking process. Kitchen and personal equipment, unlimited mileage and a GPS device are just some of the items offered; a full list is available during the booking process. It is also possible to purchase a package called the 'All-inclusive Package' which includes the most important items you'll need during your motorhome hire with El Monte, such as personal and kitchen equipment, unlimited mileage, use of a generator and the preparation fee. To guarantee availability, we strongly recommend that you book all the extras you require well in advance.
Important things to keep in mind when hiring a campervan with El Monte RV
The minimum age of the main driver must be 21 years of age (25 years in some locations). A major non-debit credit card is mandatory as well as a valid driving licence from your country of residence, plus your passport or ID Card (only applicable for US-residents). El Monte RV applies some travel restrictions for people travelling through Death Valley, which is not permitted in July and August. Visitors to Death Valley in May, June and September are fully responsible for any mechanical problems that might occur. Travel during the winter months is allowed but please be aware that the freezing conditions can be hazardous and might cause you problems. Clients are responsible for any damage due to the systems freezing up. To avoid any damages, water may be replaced by anti-freeze to prevent water systems from freezing. When the temperature is below zero, customers are not allowed to use any water systems (including the toilet and shower).
The El Monte Fleet
The supplier offers a range of vehicle types, from small to large motorhomes. All the vehicles have:
Kitchen with sink, refrigerator and stove
Private bathroom with sink, toilet and shower
Unlimited drivers
Motorhome C22
Sleeps: up to 5 people
Category: Motorhome Class C
Length: 6.7 metres/22 feet
Transmission: Automatic
Power source: Petrol
Great for two adults and comfortable enough for a small family.
Motorhome C25
Sleeps: up to 5 people
Category: Motorhome Class C
Length: 7.3-7.6 metres/23-25 feet
Transmission: Automatic
Power source: Petrol
Ideal for 2 adults and 1 child, this vehicle is fitted with 1 double and 1 single bed.
Motorhome C28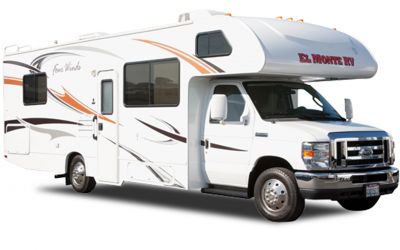 Sleeps: up to 6 people
Category: Motorhome Class C
Length: 8.2-8.8 metres/27-29 feet
Transmission: Automatic
Power source: Petrol
Designed to accommodate 2 adults and 2 children with a good-sized living area. Compact and easy to drive.
Motorhome FS31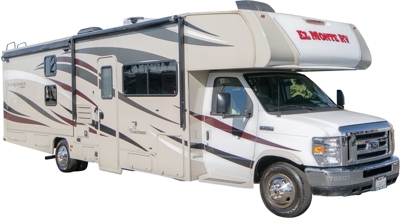 Sleeps: up to 8 people
Category: Motorhome Class C
Length: 9.4-9.7 metres/31-32 feet
Transmission: Automatic
Power source: Petrol
Perfect for a large family or a group of friends totalling 8 passengers.
Motorhome AF34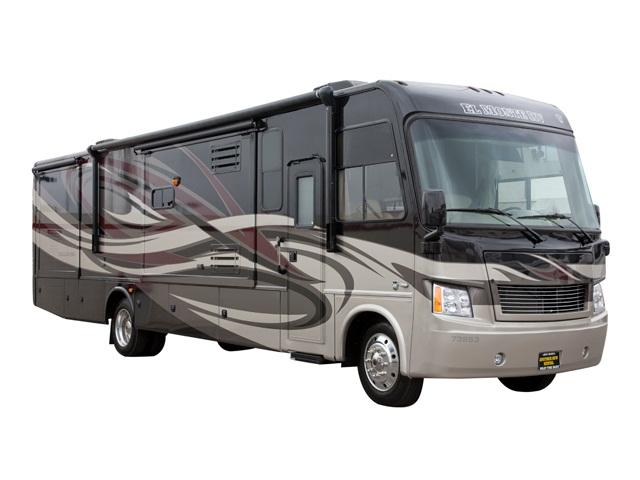 Sleeps: up to 6 people
Category: Motorhome Class A
Length: 10.36-10.66 metres/34-35 feet
Transmission: Automatic
Power source: Petrol
The perfect large family unit with plenty of beds and storage space.
Where to pick up your motorhome hire with El Monte RV
El Monte RV has many locations across the United States and in Japan. Clients cannot go straight to the location without informing the office, so pick-ups must be arranged in advance by calling the depot before 9am on the first day of your campervan hire with El Monte RV. For security reasons, clients arriving on international flights will not be able to collect the vehicle on the same day of their arrival.
Top El Monte RV pick-up locations
DENVER
El Monte, c/o All Stars RV
5989 Main Street
Louviers (Denver) CO 80131
LOS ANGELES
El Monte RV
12818 Firestone Blvd.
Santa Fe Springs (Los Angeles) CA 90670
LAS VEGAS
El Monte RV
3800 Boulder Highway
Las Vegas NV 89121
MIAMI
El Monte, RV Florida Group LLC
24875 SW 137 Ave
Princeton (Miami) FL 33032
NEW YORK
8223 92 Street
3401 B Tremley Point Road
Linden (New York) NJ 07036
SAN FRANCISCO
El Monte RV
6301 Scarlett Court
Dublin (San Francisco) CA 94568
>
Choose El Monte RV for your next road trip! You can book your motorhome through our website or contact one of our rental specialists on +49 89 4120 7298 or by e-mail. Our team will be able to advise you on any rental conditions and answer any questions that you might have.