Citroën Fleet Guide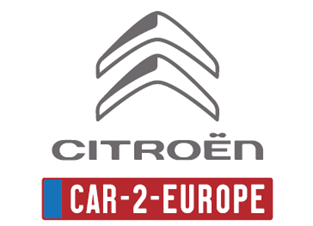 We have partnered with Citroën to offer your a unique leasing solution for your next travel within Europe. The Citroën Car2Europe program - formerly Euro Pass - offers short-term lease conditions with a long-term rental. Visitors who plan to travel in Europe for more than twenty-one days, can now opt for a Citroën lease instead of a traditional long-term car hire. Opting for the Car2Europe program means that you'll not only benefit from driving a brand new Citroën, but also be able to travel freely across 40 European countries. A Citroën lease via Auto Europe makes perfect sense, saving you money on transport costs and allowing you to explore Europe in style.

The Citroën lease program is available across numerous European airports, allowing for a seamless transition and stress-free onward journey. We are present at some of Europe's most popular airports, including; El Prat Airport Barcelona, Paris' Charles de Gaulle and Rome Fiumicino Airport. Contact Auto Europe today to find out more about the leasing programme and the Citroën pick-up locations and book your Citroën lease in Europe today.
Citroën Lease Options in Europe
Leasing a car through Auto Europe means you'll receive the latest model of your chosen car. Enjoy the experience of driving away a brand new Citroën, full of exceptional features and mod-cons. All of which have been designed to enhance your driving experience - providing safety and security whilst on the road. All Citroën vehicles include a GPS device, luggage covers and come with left-handed steering. Numerous models also come with surround parking sensors and a lane departure warning system. Consult our detailed specification guide for available Citroën vehicles.
| | | |
| --- | --- | --- |
| Citroën C3 | Citroën C3 Aircross | Citroën C4 |
| Citroën C5 Aircross | Citroën Grand C4 Space Tourer | Citroën Berlingo |
Reasons for leasing a Citroën in Europe
Citroën Car2Europe allows residents in the United Kingdom who will be spending an extended period of time in Europe, book transportation at an affordable rate. Lease a Citroën over booking a small compact car in order to save money on daily rental rates. Citroën leases offer a number of additional benefits to help save travelers on their extended stay in Europe.

The Citroën Car2Europe program is ideal for UK residents to enjoy everything that Europe has to offer, without the cost of traditional long-term rentals. Saving you money and time, the Car2Europe lease also allows you to save money with lower daily rates compared to standard renting, and often cheaper than using local transportation options. Other great benefits include:
Guaranteed the exact Citroën model chosen.
All Inclusive Car Insurance coverage with Zero Excess, Theft Protection, Third Party Liability and Personal Accident Insurance.
Unlimited Mileage allowing you unrestricted journeys.
Free Additional Drivers, allowing family to share in the driving experience.
27/7 Roadside Assistance - should the unexpected happen.
Due to Brexit, vehicles leased can no longer be taken into the UK.