Top 10 Road Trip Tips - plan your perfect holiday
What comes to your mind when you think "road trip"? Being care-free? Freedom of the open road? Perhaps these ideas are what makes us so eager to hit the road and leave the everyday life behind. Indeed, this is very tempting. However, to not have a care in the world while travelling, it's best to have some worries before it! We are sorry if we have spoilt your daydreaming now! Trust us, to leave all your worries behind, make some preparation before your road trip and you will have the holiday of a lifetime. To make this possible we have gathered 10 road trip tips for you!
Road Trip Tip #1: Packing
Let's start from the beginning: packing. This part of preparing for a journey is perhaps the most disliked one. Fear no more, with a good plan you will get through it without a hassle!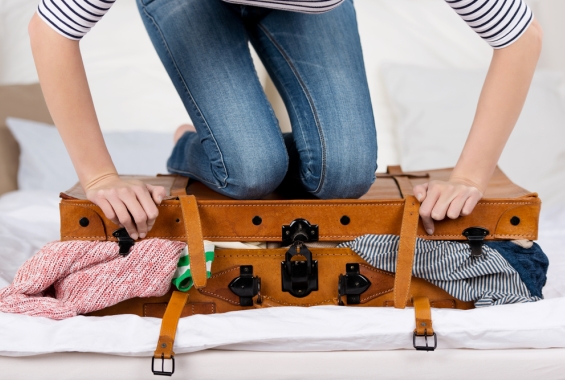 Let's stick to the "less is more" rule. It may seem like a great idea to pack an extra pair of jeans, since you have all the boot space in the car. But not necessarily. Remember you will need to carry the suitcases to the hotel. Moreover, the more you pack, the longer you will have to look for a particular piece of clothing or your toothbrush in your overstuffed suitcase! So what is the best way to deal with packing your clothes? Check the weather forecast of the place you are travelling to. Take only what you will need for tose particular weather conditions and what will make you feel great while wearing it. Most hotels offer laundry services so you don't need to bring tons of underwear. Downsize everything you pack to one suitcase.
Road Trip Tip #2: Anticipate Problems
"Better safe than sorry". Prepare for what may happen on the road. First of all, make sure that your vehicle or car hire, has all locally required insurance. Make note of the road assistance number and have it at hand while on the road. For insurance information, feel free to call Auto Europe on +44 123 3225 114. Our reservation team will assist you with all your queries. It´s best to have all pertinent numbers saved on your mobile or written down and stored in the glove compartment. This way, you will not have to worry about it while on the road.
Additionally, you may want to have water and some snacks in the car, for any hang-ups on the road, such as traffic jams. Just in case, it's a good idea to have a torch and jumping cables on board as well.
Our next tip is to do research on the local places' names you will be heading to, and learn their pronunciation. When you get lost in a rural area, where you may need to ask for directions, it´s safer to know how local people pronounce the cities' names. And last but not least: remember to have some cash with you, in case you run into an emergency and there are no ATMs nearby.
Road Trip Tip #3: Prepare for the Drive
Before you drive off in your own car or when picking up your car hire, it's best to have a check on car fluids and tyre pressure. As part of the car hire pick-up procedure, you will need to inspect the car for any pre-existing damage. This is a good moment to verify the fuel level as well. Inspect your car rental before you drive of, so that you don´t need to go back to the office after you've driven some distance.
If you are going to drive your own car, dispose of litter from the vehicle. While an empty coffee cup may not disturb you, it will most certainly bother your passengers. Make it comfortable and cosy for your friends or family to travel with you by car.
Road Trip Tip #4: Travel Gadgets and Accessories
We cannot forget to mention the most important gadgets you will need which is a GPS. Before leaving, update the maps on your navigation system so that you are up to date with the local road network. Make sure to bring a charger and adapter along. Alternatively, if you are hiring a car, you can pick-up the GPS from the local rental company. You can book the navigation system along with the car hire online. Other items you can rent include child seats and ski-racks.
Road Trip Tip #5: Planning Your Route
If you do not already have a set idea of the route you're going to drive, take time to answer some questions before deciding on your travel spots. Take into consideration what the best time to visit the a particular country is. If you are planning to drive in the south of Spain in the middle of the hot summer, we would advise against spending long time in a car, when the temperatures outside reach 40 Celsius degrees. Try to avoid local bank holidays, when the traffic is higher and when driving becomes less pleasant. Now, once you've answered these questions, it is time to make sure you fit all you want to see in a set amount of time you have for your road trip! Use online applications or your GPS to measure the distances between the places you would like to visit. We advise you to drive no longer than eight hours a day. If you are more of a nature fan, choose the local roads, so that you can see more of the countryside and save on paid motorways!
Road Trip Tip #6: Entertain the Kids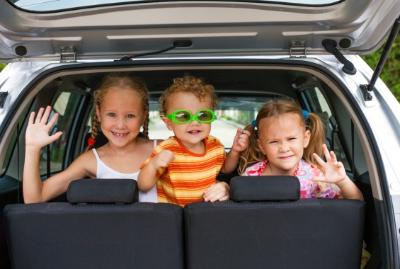 If you are travelling with children, you will thank us for these tips. Rule number one: keep the kids entertained! Ask the children to pack their favourite games, so that when in the car, they can switch to a different game to avoid getting bored. You can also try playing the plate game. Print out maps of your travel route and let the kids colour the names of the places the car plates they see correspond to. This is both educational and fun.
When choosing a stop, try to make breaks at the parking places with playgrounds. Let your kids vent their energy at the rest stops. Pack a jumping rope and ask children to take turns and measure the time. The one who makes more jumps wins!
Road Trip Tip #7: Entertain the Adults
Just as children, adults need some entertainment on the road as well. Pack your CDs or MP3 player to listen to your favourite music along the way. When your mind is entertained you feel less tired and you can focus on driving. Take turns in telling jokes or funny stories. Question books, such as the Gregory Stock's amusing "The Book of Questions" are a great way to challenge one another in finding answers. Do you know the buzzword game? Everyone designates their buzzword, "exit" or "petrol station", for example. Whoever mentions the buzzword during the trip, puts a pound in a cup. Money you collect at the end of the trip will be used for a treat!
Road Trip Tip #8: Divide and Conquer
A long road trip requires some role sharing. It is great to have a person who will navigate, a good driver and somebody to prepare the snacks. Delegate tasks accordingly to people's personality and skills. Those who can't drive can be perfect chefs on board! Ask someone who is interested in foreign countries to be your navigator. And a person who is good in foreign languages can be your local guide and ask for directions when you get lost. This way, everyone will be able to shine and feel comfortable with their tasks and travelling will go smoothly.
If you are renting the car, suppliers sometimes apply fees for additional drivers. Call us to find out more on the local fees and ask for special deals!
Road Trip Tip #9: Take Care of Yourself
We do not want to sound patronising and make you feel as if these tips were written by your parents, however, taking care of yourself during a road trip is essential. If you are a driver, it is vital to be fit to drive. Therefore, be flexible when it comes to your journey timetable. Get an extra hour of sleep if you have driven till late last night. Remember to have meals frequently to avoid driving when you are hungry. Our next tip is to move around and stretch when you stop for rest or for a petrol fill. The road trip will be much more fun if you are in good form. Take care of yourself!
Road Trip Tip #10: Save Your Pennies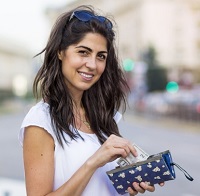 Our last tip concerns saving money during your road trip. Usually the most money is spent on snacks. A little bit of preparation will help you deal with this problem. Pack a coolbox and refill it at local grocery shops. Food found in local shops will be healthier and cheaper, it's a double win! Search online for restaurants that fit your budget or ask local people for recommendations: They usually know which expensive tourist places to avoid and know the best restaurants around.
Without a doubt, petrol is the main cost on your budget. What you can do to pay less for fuel is to do online research on local petrol stations, to see which have the best fuel prices. You may also like to get a frequent buyer card from a local petrol station chain. Additionally, you can drive in an economical way. Keeping your driving speed at the same level will minimise fuel consumption. Alternatively, go green and hire a hybrid car!
Helpful Road Trip Tips from the Experts
Taking our 10 road trip tips to heart will enable you to travel without a hassle and truly enjoy your time behind the steering wheel. It takes a bit of preparation, but, the time spent on getting ready will be your best investment and you will not regret it!
Do you already know where you are heading on your next road trip? Our website is full of route planners and useful travel information.
Looking for inspiration? Check out some of our most popular road trip itineraries:
Road Trips in Italy
|
Road Trips in France
|
Germany Road Trips
|
Road Trips in Spain
|
UK Road Trips
|
Road Trips in Portugal