The world's most dangerous roads
Ever wondered what the world's most dangerous drives are? Here at Auto Europe we've put a list together of heart-racing roads full of dips, danger and hair-pin bends for you to discover. Get off the beaten path and read on to find out more!
Auto Europe can assist you with car hire service around the world. We offer rentals at over 24,000 destinations across 180 countries. We're looking forward to your call on our number +441233225114 or you can simply search online by using our booking engine.
Looking to take a drive on the wild side? while we wouldn't recommend attempting any of these in a hire car, we've put together a list of some of the most adrenaline-pumping drives on the planet. Definitely not for the faint of heart!
Stelvio Pass, Italy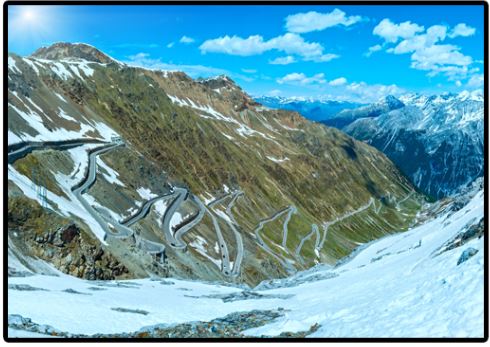 A healthy dose of caution is needed for those attempting the Stelvio Pass, as this serpentine road packs astounding 48 hairpin bends. Located in the Orlter Alps in Northern Italy, this road teems with panoramic beauty and just well may be worth the vigilance and attention needed when journeying down the pass. It is the highest paved mountain pass in the Eastern Alps and sits at an elevation of 2,757 metres above sea level.
Guoliang Tunnel, China
This spectacular rock tunnel was carved by only thirteen villagers over five years into the Taihang Mountains, and located in remote China. Known as a popular attraction for tourists this path is used by vehicles and people on foot alike. It is one of the steepest roads in the world and is a stunning sight to see.
Canning Stock Route, Australia
Although Canning Stock Route may not be the most dangerous in terms of traffic or accidents, it may be the most remote road in the world. Measuring over 1,150 miles, at least three weeks, a sturdy 4WD and an excellent knowledge of how to fix a broken down car is needed before ascending on this lonely journey. Only a few aboriginal communities are located along the desert horizon, so plenty of food, water and petrol is needed for rev-heads brave enough to attempt this unbeaten track.
South Yungas Road, Bolivia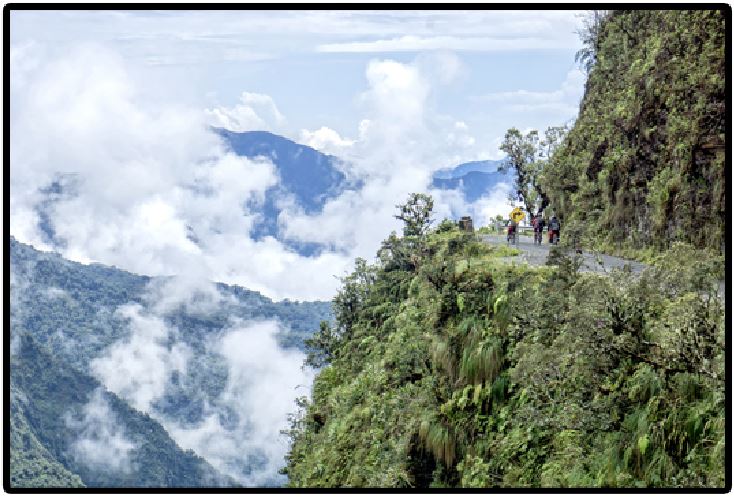 Known as the most dangerous road on this list, the South Yungas Road, commonly known as the Chulumani Road, connects La Paz to Chulumani in the Sud Yungas region of Bolivia. At forty miles long, this is no easy feat to attempt! The road is quite narrow and an encounter from a vehicle coming from the other direction can be deadly. Constructed in the 1930s by Paraguayan prisoners of war, this road is notorious as it provides little visibility, uneven surfaces, constant bog and bears extremely dangerous drop offs.
Vitim River Crossing, Siberia
Although this old railway bridge is only 570 metres long and 15 metres above the water, it is barely wide enough for one car. Known as one of the worlds scariest bridges, it can be near impossible to conquer during the harsh Siberian winter. There are no railings, it is in bad disrepair and the weather conditions mean there is little traction. Due to dangerous conditions it has been declared illegal for humans and vehicles to cross the bridge since July 2016.
Furka Pass, Switzerland
Famous for the Aston DB5 and Ford Mustang car chase in the James Bond film, Goldfinger, this high mountain pass is one of the world's most famous. Located nearly 8,000 feet above sea-level in the Swiss Alps, this serpentine road bears many dizzy hairpin bends and winds steeply down the mountain. Although the road is well-maintained, it is closed during winter due to the difficult terrain.
James Dalton Highway, USA
This wintry highway is located in Alaska and trails on for an impressive 414 miles. During winter, temperatures average minus sixty degrees Celsius, which makes it dangerous due to the sheer fact that any problems could leave you stranded alone in the freezing wilderness! Pockmarked with holes and often stung by strong icy winds, this road is not only risky but also one of the most beautiful tundras to drive across.
Luxor-al-Hurghada Road, Egypt
Although safer these days, this once death trap of a road, which links the city of Luxor and Hurghada in Egypt, is one of the last places on earth you'd want to cruise along during the night. It is notorious for high-levels of fatalities and head-on collisions due to drivers not turning their headlights on to avoid being seen by bandits and terrorists along the road. Road rules also do not exist on this road so drivers must be extra cautious.
Atlantic road, Norway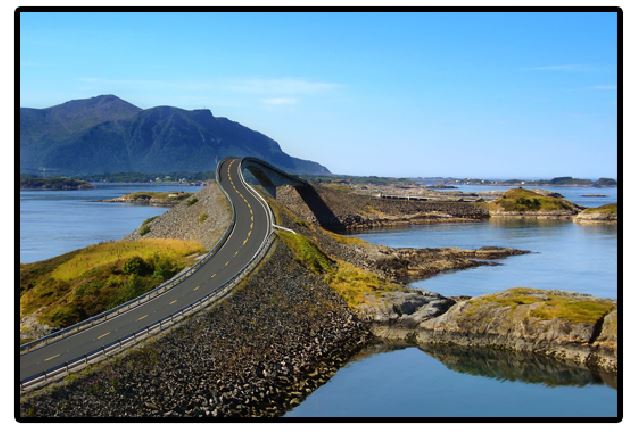 This roller-coaster of a road is one of the most scenic roads in the world and located on the Norwegian coastline. If driven during favourable conditions, it is certainly a sight to behold! Curvy dips, breathtaking views and a collection of eight bridges join to create an unforgettable drive. It is included on this list as it is extremely dangerous to drive during unpredictable conditions. Blizzards, snowstorms and high-winds can make this road extremely difficult to drive on.
Zojila Pass, India
At an elevation of 3,528 metres above sea-level, the Zojila Pass is one of the most dangerous mountain passes in the Himalayas. It is an important link that connects Ladakh with the beautiful Kashmir, which is commonly known as 'Heaven on Earth'. This path is often closed during winter due to the unsafe conditions and will take you along nearly six miles of unsteady rock cliffs.
Call us scaredy-cats but here at Auto Europe we wouldn't be game enough to try any of these! If you're looking to remain safe sound on your next holiday, let us help with your car or campervan hire at over 24,000 destinations worldwide.