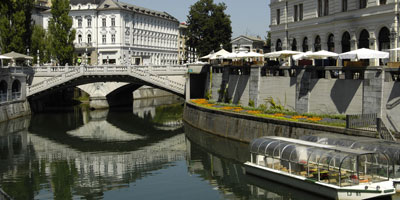 That's just enough time to book a flight, hotel,cheap car hire and head to the city of Ljubljana for the weekend. Sounds good so far, right? Well here are a few things you can do and see in just two days in this fun-packed capital city.
Get Virtual and take a tour through the streets of old Ljubljana at the Virtual Museum located under the city's Castle Outlook Tower. Here you can marvel at the city's interesting history and get up close and personal with exhibitions, which for security reasons can not be displayed in the museum. Down by the riverside you will find plenty of authentic cafes, perfect for taking a rest spot whilst zipping around the city sights. If you fancy resting your feet for a while longer, why not hop onto a river boat cruise and sail past the beautiful buildings, snapping some fantastic souvenir photos.
The city centre is bursting with colourful buildings and breathtaking architecture. Visit Prešernov Square and you will find many Baroque style buildings, such as the Frisch House and the Seunig House. You can also stop by the Town Hall where you will find a interesting museum. The city is also a great place to do a spot of shopping. You can choose form traditional shops selling decorated Easter eggs, to the high end fashion label shops.
If you can fit in a drive from Ljubljana, then head for the Kamnik Alps where the ski season is coming to a close and you can enjoy some great outdoor activities!
Book a car hire Slovenia today and benefit from our low rates and wide choice of vehicles.