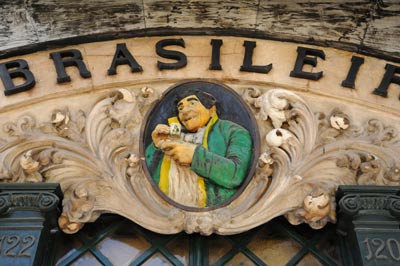 Summer is the best time to visit Portugal, a country known for its amazing temperate weather and picturesque coastline. If you have ever been to Portugal, you'll know that in that corner of Europe coffee is pretty much a national institution in an of itself. There are thousands of cafés throughout the country, and every restaurant and bar will have an expresso machine ready to serve the needs of its coffee-loving clientele. Going to a café and trying out a bica is part of the whole Portuguese experience, and one you shouldn't miss as a visitor. So what should you ask for?
Um café – This is strong black coffee, served in a small cup. You will also be given a small sugar package that you may choose to add to it. In some fancier places, they may also give you a cinnamon stick or a square of black chocolate, but that's not at all common. This can also be called a "bica" in Lisbon, or a "cimbalino" in Porto. Furthermore, you can ask for your coffee to be "curto", which means there'll be less coffee in your cup, but it will be stronger, or "cheio", which means your cup will have more coffee but it won't taste as strong.
Um descafeinado – Pretty much as above, but decaf instead of regular coffee. Purists will tell you that it tastes completely different from normal coffee, but for the untrained taste buds of a foreigner, it will taste just as strong.
Um carioca – Cariocas are made by passing hot water through ground beans previously used to make a cup of coffee. This process makes cariocas weaker than normal coffee.
Um pingado – Also called "um pingo", this is coffee with just a few drops of milk. In some places they add hot milk, in other places they add cold milk.
Um garoto – Garotos are served in a small expresso cup and are usually half coffee, half milk. If it's meant for a child, the waiter will make it weaker by adding more milk and less coffee.
Uma meia de leite – This beverage is also half coffee and half milk (the name literally means "half milk"), but it's served on a bigger cup (twice the size of a regular coffee cup).
Um galão – Also half coffee and half milk, but served in a tall glass. You can ask the waiter to make it stronger or weaker by asking for it to be "escuro" (more coffee) or "claro" (more milk).
Regardless of your coffee style of choice, the best way to have a cup of coffee is by having a Portuguese pastry on the side. The choices are many and all of them great, but you cannot go wrong with a wonderful Pastel de Nata. Enjoy your Portuguese holidays!