A motorhome is much more than a mode of transport, it's the all-round travel experience offering tailor-made itineraries and the freedom to stop whenever and wherever you want, with no need to spend any money on hotels.

As leader of the global car and motorhome market for over 60 years, Auto Europe has a full range of modern motorhomes available to suit all your travel requirements.

In the USA there are hundreds of fantastic driving routes criss-crossing the entire country, so to help you plan your trip we're giving away free America the Beautiful passes to 5 lucky customers who make a motorhome reservation with Cruise America before the end of June, for travel in the USA.

America the Beautiful passes cover entrance fees to over 2,000 natural attractions in North America, including Alaska. Valid for a whole year, the pass covers entrance fees for the driver and all motorhome passengers at national parks and wildlife sanctuaries, as well as daily fees in the country's many forests and moorlands.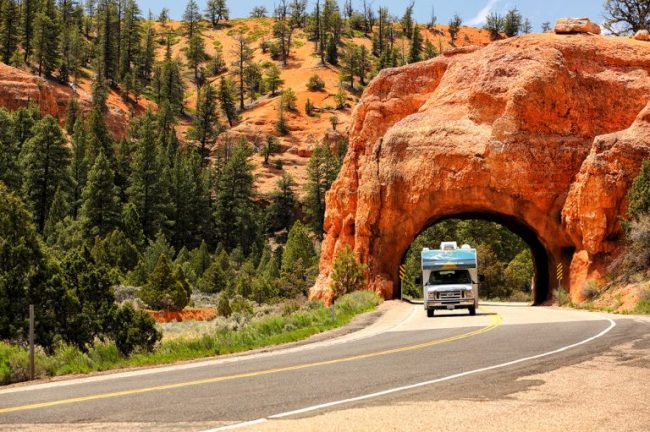 And if you're stuck for ideas and not sure where to go, why not follow our suggested route across California, Arizona and Colorado, where you'll be exploring and spending a night or two in some of the world's most beautiful national parks.

Our Auto Europe motorhome itinerary starts in the sunshine city of San Francisco, one of the most atmospheric and laid-back places in the USA.

From San Francisco, it's a short three-hour drive to the Yosemite National Park, home to the magnificent Yosemite Falls and the imposing El Capitan, which is twice the size of the Rock of Gibraltar and the largest single granite rock on earth.

A glittering jewel in the American landscape, Yosemite (which means grizzly bear in the Miwok tribal language), is a land of sheer granite cliffs, sparkling waterfalls and 800 miles of spectacular hiking trails.

Motorhomes are well-catered for in the many camp-sites located all over Yosemite National Park, our favourites being the imaginatively-named Porcupine Flat Campground, White Wolf Campground and North Pines Campground.

From Yosemite, we suggest that you head south-east to the Death Valley National Park, approximately a day's drive on the scenic Route 395.

With some of the most stunning and varied scenery in the whole of America, Death Valley belies its darkly intimidating name with countless awe-inspiring hills and mountains, such as the 11,000-foot Telescope Peak where many indigenous plant and animal species exist, as well as Mount Whitney, which pierces the sky at 14,494 feet. Zabriskie Point, in contrast, is another part of Death Valley worth visiting for its amazing 14-square-mile expanse of desert lined with rows and rows of perfectly-sculpted Sahara-like sand-dunes.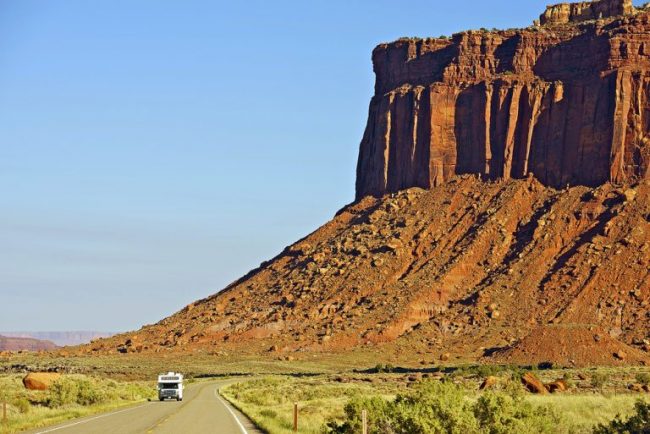 Death Valley is also home to a good choice of high-quality camp-sites, most notably Furnace Creek and Texas Springs (both open all year round).

Driving west from Death Valley on Routes 40, 93 and 95 will provide you with another full day of fantastic views from your Auto Europe motorhome, eventually bringing you to one of the great natural wonders of the world – the famous Grand Canyon.

Centrepiece of a huge 1.2-million-acre national park, the canyon itself stretches 277 river miles and at one point measures 18 miles wide and over a mile deep. From the South Rim, it's a scenic 235-mile drive through Colorado's astonishingly-striking landscape to the more remote North Rim where some of the park's most picturesque campsites can be found, particularly the North Rim Campground (closed in winter) where unparalleled sunsets and dazzling views of the canyon can be enjoyed.

Heading north-east along Route 160 for about 5 hours takes you from the Grand Canyon to another of Colorado's unique natural attractions, the Mesa Verde National Park.

Named 'Green Table' on account of its lush green pine and juniper forests, the 52,000-acre park contains more than 5,000 archaeological sites, including the 156-room Cliff Palace built by the mysterious Anasazi people hundreds of years ago.

With over 40 miles of roads, Mesa Verde is one of the USA's most treasured visitor attractions and well worth a stopover at the Morefield Campground (open April to October) where motorhome hook-ups and a wide range of other on-site amenities are available.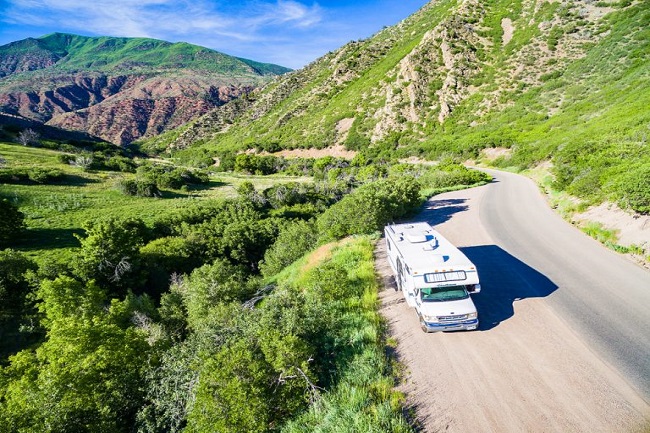 The final destination of our special America the Beautiful motorhome itinerary is the Rocky Mountain National Park, about an 8-hour drive north-east of Mesa Verde.

With about 500 peaks packed into its relatively small 415-square-metre perimeter, including 78 that rise majestically to over 12,000 feet, Rocky Mountain is a road traveller's dream come true, particularly along the Trail Ridge Road, a 48-mile mountain thoroughfare dubbed the 'highway in the sky'.

Crossing the Continental Divide at almost 11,000 feet, the road slices through a wonderland of dense forests, rushing streams, deep lakes and fertile meadows to guarantee some of the most head-spinning vistas in the whole of America.

After a rewarding few days' driving through some of America's most spectacular land and mountainscapes, it's good to know there's a major airport very close by – Denver – where you can leave the motorhome and fly home.

Make sure you reserve your motorhome by the end of June to give yourself a chance of getting your hands on one of our America the Beautiful passes worth US$80!

Book online or call one of our rental specialists right now to avoid disappointment.

Have a great trip!