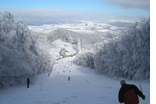 The slopes are still going strong even though we are nearing Springtime. If you are looking for a bargain ski holiday, Bulgaria is the ideal skiing destination to head off this year. Only 10km from Sofia is the highest skiing resort in Bulgaria, Vitosha. Being 1800m above sea level, it is great for skiing in Winter and trekking in Summer.
There are many different types of ski runs within this mountain for all ages and ski levels. Vitosha has six runs with the green being the easiest and Vitosha Lake being the most difficult. All the facilities you need are available and there are many ski lifts as well the big Gondola starting from outside Sofia to the top the mountain!
The mountain itself is beautiful and the views are stunning. Within the mountain you can learn some of the history of Sofia and visit Duhlata Cave, the longest cave in Bulgaria measuring at 17.5km long! You can also use the mountain for hiking trails during winter, the most popular marked with iron poles, which would be a fun day out for all the family!
You can easily access Vitosha by car and drive up to this beautiful mountain, so why not consider picking up your car hire at Sofia Airport and having a great getaway with all the family!
Have you been to Vitosha mountain? What was your best skiing experience?