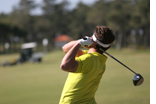 During the cover of the snow the majority of golf courses around the UK were closed. Some people don't fancy playing golf in the rain, so why not consider taking a weekend away with your friends and playing a few rounds of Golf in the sunshine? Here are some of our top Portuguese Golf courses that you should consider playing on.
Dona Filipa & San Lorenzo Golf Resort - Central Algarve: If you choose to visit this resort then you have exclusive access to the San Lorenzo Golf Course. The course, designed by none other than Joseph Lee, the legendary Golf architect, will test your length and accuracy at one of the best courses in Portugal. Set in the Formosa Nature Reserve, this course has wonderful thick pine forests with the green just flowing through. With beautiful lakes and lagoons this is one course you will definitely want to visit.
Le Meridien Penina Golf & Resort - West Algarve: Within this resort there are three different courses giving a total of 36 holes for you to enjoy and test your skills. Set on a 360 acre estate, this is a great venue for people wanting to do something different every day.
Penina Championship Course - This course will test a true golfer's skill as it has a reputation of being one of the hardest courses in the Algarve region. There are many streams and ditches as well as water hazards throughout the course so make sure your swing is on target and you stay focused!
Penina Academy Course - These 9 holes are great for the more inexperienced or casual player before heading off to one of the harder courses. This still focuses on accuracy so make sure you concentrate!
Penina Resort Course - Another 9 hole course that is full of challenges, not as difficult as the main course, but a great place to go before you head off to the hardest one!
CS Sao Rafael Suite Hotel - West Algarve: If you choose to stay at this hotel, you can actually enjoy playing on more than one course!
Alamos - A hard course that requires very good concentration.
Salgados Golf - Most of the holes here have a water feature, so be careful as it will be very challenging.
Morgado de Reguengo Golf Club - Opened in 2003 this wonderful new course feels much more mature as it is set amongst valleys, woodland and rivers.
Marriott Praia D'El Rey Golf & Beach Resort - Lisbon Coast: This is another hotel resort where you can playon more than one course!
Praia D'El Rey Golf & Country Club - This course has previously been voted third best course in Portugal. The first nine holes have a parkland feel, and the back nine have some holes that run along the Atlantic Ocean, what more could you ask for?
Campo Real Golf - This course blends into its natural background with many changes in the level of tees and greens so it will be a great course with lots of fun to be had!
Golden Eagle - This course has been renovated to bring it up to world class standard. Complimented by beautiful views this is a challenging course so should definitely not be missed!
If you are planning a weekend away with your friends for a Golfing holiday, consider picking up a car hire in Portugal so you can travel to a variety of Golf courses and test your skills on a great warm weekend away.