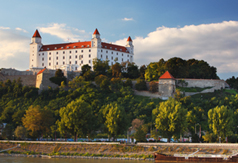 If you are looking for a city break with culture, elegant architecture, great tourist attractions and a lively night scene, then head for Bratislava.

Bratislava is the capital, and the largest city, of Slovakia. The city through the ages has been influenced by different nations, such as Germany, Austria and Hungary. Steeped in history Bratislava could well be the most beautiful city you will ever visit!
The city's main tourist attraction is the castle. The huge building towers over the city on a rocky hill. When the weather is clear from the castle you can see right across to Hungary. At Rusovce mansion you can take a stroll through its immaculately kept English park.Bratislava is home to some fantastic theatres, the main one being Slovak National Theatre. Here you can watch a dramatic opera or a romantic ballet performance.
A cosmopolitan city, Bratislava comes to life when the sun goes down. You can choose from quiet cafe bars, exclusive restaurants or main stream lively clubs. As with other countries in Europe, Slovakia also has its signature beer. Try the Pilsner-style beer, it's always a favourite with the tourists! The city is located close to the borders of Austria and Hungary, so why not collect your car hire in Bratislava, explore the city streets and then journey through picturesque villages whilst driving throughout stunning scenery.

Have you visited Bratislava? Which was the favourite part of your visit?