Car hire in Bratislava – Gateway to Slovakia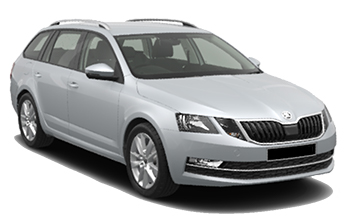 Slovakia's charming capital, Bratislava, is a compact and easily manageable city of fairy-tale palaces, peaceful parks, tree-lined squares and stunning old-world architecture. Located at an important crossroads in central Europe, this enchanting city features many visible contrasts between its medieval heyday and its more recent Soviet past.
Nestling between lush forests and a lovely stretch of the River Danube, Bratislava is a unique city that's worth visiting at any time of the year. It's a place of contrasts set around an ancient (pedestrianised) historic centre which bustles with cafés, fashionable boutiques, trendy restaurants and many grand, well-preserved buildings from years gone by.
If you've never visited Bratislava before, the first thing to do is head for the castle to enjoy the best city views before relaxing over a refreshing drink or a traditional Slovakian meal in Hlavne Namestie, the city's popular main square. Other highlights include Michael's Gate (from the city's original walls) and the iconic UFO Bridge that features a flying saucer-shaped observation area.
By far the best way to take advantage of the Slovakian capital's unique location is with a car hire in Bratislava. Having your own transport will give you all the freedom and flexibility you need to explore the city and discover many of the other top attractions nearby, such as the Blue Church dedicated to Elizabeth, the 19th-century Empress of Austria and Queen of Hungary, and the ruins of Devin Castle which dates back to the 9th century. Other road-trip options include a visit to the charming Slovakian city of Kosice and an exhilarating drive up to Brno in neighbouring Czechia.
Established in 1954, Auto Europe has remained one of the world's longest-established car hire companies and a strong leader of the global vehicle rental industry. Offering more than 24,000 pick-up and drop-off locations in over 180 destinations, we work with all the major international car hire companies and a selection of the best local suppliers.
If you have any questions and/or need help with your booking, please get in touch with our award-winning rental specialists on +441233225114 and they will be happy to put you on the right road and find you the best deal. For added peace of mind, please visit our Bratislava car hire reviews page to see the ratings and comments posted by some of our previous customers in the city.
For more information on renting a vehicle in Bratislava, click on the car hire related topics listed below:
---
Where to pick up a car hire in Bratislava
Auto Europe works with with all the world's top car hire providers and in doing so can offer the widest choice of locations in and around the Slovakian capital and beyond. Besides the many car hire companies operating at Bratislava Airport, there are several conveniently-located suppliers' offices in other parts of the city, most of which are in close proximity to Bratislava's top tourist attractions.
To help you make the right choice, our state-of-the-art booking engine allows you to do an extensive search to find the best vehicle and the most suitable pick-up point for your trip. Once you've keyed in your dates, an interactive map will come up with all the available car hire locations in Bratislava.
Bratislava Airport
Handling more than two million passengers a year, Bratislava Airport is the country's busiest airport and is located just a few kilometres from the city centre. Inaugurated in 1951, it consists of one main terminal building it offers numerous opportunities for relaxing, dining and Duty-free shopping. To pick up your car hire, just head for the car rental desks located on the ground-floor of the terminal in the main part of the Arrival's Hall.
Bratislava Airport (BTS)
Website: https://www.bts.aero/en/
Address: Ivanská cesta, 820 01 Bratislava-Ruzinov, Slovakia
Telephone: +421 233 033 353
Bratislava Central Train Station
Bratislava Central Train Station is ideally located in a key part of the city about a 15-minute walk from the Old Town. Being so centrally located means that picking up your car hire from the station will enable you to see all the main sights before exploring Bratislava's surroundings. Known locally as Bratislava Hlavná Stanica, it is one of four railway stations serving the city and handles regional and international railway services to and from many popular international destinations such as Czechia, Hungary, Serbia, Switzerland, Croatia, Germany and Austria.
Bratislava Central Train Station
Website: https://www.zssk.sk/en/
Address: Námestie Franza Liszta, 811 04 Staré Mesto, Slovakia
Telephone: +421 220 292 208
---
Book with the best car hire suppliers in Bratislava
Auto Europe is a leading international car hire company currently offering a vast selection of convenient pick-up and drop-off locations in 180 different destinations around the world. Thanks to our many years of experience dealing with all the global and local car rental companies, we can offer you the best standard of service and cheapest prices on the market.
Should you require additional information about the car hire companies we work with or their policies, for example out of office pick up or questions regarding age restrictions, our car rental specialists are just a phone call or e-mail away and happy to assist you.
---
Frequently asked questions about renting a car in Bratislava
This section features the most frequent questions asked by people booking a car hire in Bratislava. Scroll down for important tips relating to a wide range of essential car hire topics, such as credit cards, coverage, tolls, traffic and much more. If you need any more information, please call our reservations team on +44 123 3225 114 and they will be happy to help you with your reservation and assist you with your travel itinerary.
---
Yes. To rent a car in Bratislava and all other parts of Slovakia, travellers are always required to present a valid credit card in the main driver's name in order to pick up their vehicle. The main reason for this is that the local rental car company needs to place a hold on the value of the deductible for the car they rent their customers whilst visiting Bratislava. This amount is promptly refunded once the vehicle has been returned undamaged. Please note that debit and prepaid cards are not acceptable, just credit cards such as Visa, Mastercard, American Express, etc.). For luxury-category cars, a second credit card will often be required due to the high value of such vehicles.
To check which card (and type of card) will be accepted when you book a cheap car hire in Bratislava with Auto Europe, all you need to do is make a quick search in our booking engine by selecting your preferred car hire category/supplier and then click on the blue and white info icon (i) where all the details regarding credit cards can be found. More useful credit card tips are available on our special page about credit cards and deposits. Please note that when booking a car hire online, Auto Europe accepts credit cards only as payment methods for the pre-paid reservation rate, meaning that you will still be required to present a credit card in the main driver's name at the time of picking up your low-cost car rental in Bratislava.
All our published rates for cheap car hire in Bratislava come with the minimum amount of legally-required liability insurance, including the CDW (Collision Damage Waiver) either with or without excess, depending on the terms of the local supplier. Please note that CDW doesn't cover every art of the vehicle, so for complete peace of mind you'll need to purchase Auto Europe's popular Full Protection product for a small additional fee which covers any damage to the car's glass, wheels, roof, etc. The price of this coverage may vary depending on the location, rental duration, car category and supplier.
It's easy to find out exactly what's included in the rate of your car rental in Bratislava simply by clicking on the blue and white info icon (i) after making a search in the Auto Europe booking engine. The same information is also accessible in the Terms and Conditions when making an enquiry or confirming your booking. Please be aware that at the time of collecting your vehicle, staff of the local supplier for your cheap car hire in Bratislava might try to offer you additional coverage on top of what you might have already purchased with Auto Europe, including (but not restricted) to PAI (Personal Accident Insurance), PEC (Personal Effects Coverage), Super CDW, Seguro Relax Insurance, Road Assistance etc. Auto Europe cannnot refund the amount of any locally-purchased insurance charges/fees, even if the coverage is deemed surplus to your requirements once the vehicle has been dropped off, so please take this into consideration the next time you rent a car in Bratislava. For more related information, please consult our comprehensive Car Hire Coverage and Useful Car Hire Tips before making a final decision.
Road safety is a concern for some tourists traveling to Slovakia, since Slovakia has the eighth-most dangerous roads in Europe, according to the European road safety chart. Due to its increasing popularity, both as a place to live and visit, driving in the city has become a bit more difficult in recent years, although the construction of more motorways and bridges has helped ease congestion to some degree despite the rise in the number of cars on the road. The worst periods are from 8-9am and again from 4.30-5.30pm, so bear that in mind when planning your sightseeing itinerary. Plese note that the speed limit in Bratislava is a strict 50 kilometres per hour, unless indicated otherwise. Take a few minutes to read our informative Slovakia Driving Guide for lots of useful information relating to getting around Bratislava and the rest of the country by car.
If you avoid the historic centre which today is mostly pedestrianised, you'll find that there are several places to park your car hire in Bratislava at a reasonable cost compared to most other European capitals. The main roads in the city are provided with digital information displays showing the current number of vacant places in underground garages or nearby car parks. Street parking in the city centre is paid by purchasing a parking ticket in a machine. The hours of payment on weekdays is from 8am unti 6pm. A great advantage of Bratislava is its compactness with the whole of the Old Town now a pedestrianised area zone, so to visit the castle and many of the city's other top attractions is best done on foot when you rent a car in Bratislava and find somewhere to park.
Yes. When driving your car rental in Bratislava, you will need to buy a toll sticker (a vignette) if you want to drive on local motorways. You can buy a yearly vignette if you plan to visit more often or a monthly vignette to cover the period of your stay in the country. A 10-day vignette is also available. Purchasing the toll sticker is easy and can be done in post offices and at petrol stations. They can also be bought via a mobile application or from vending machines at border crossings. The roads infrastructure of the Slovak Republic with the Electronic Toll Collection consists of specified sections of motorways (including the D1, D2 and D4 motorways around Bratislava), expressways, dual-carriageways and main roads.
Yes, when you rent a car in Bratislava with Auto Europe, travel into the neighbouring countries of Hungary and Austria is permitted with all the available suppliers subject to an additional fee and green card insurance. Please note that the fee must be paid at the time of pick-up with the chosen car rental company, and all countries to be visited during the rental period must be officially registered at time of making the booking.
---
Bratislava Travel Guide
One of Europe's upcoming tourist destinations, Bratislava might be quite small in stature but it is packed with plenty of top attractions and lots of cultural appeal. Travellers looking to go beyond the capital will find the city's environs packed with architectural interest, with plenty of attractions to visit includinh old fortresses, fairy-tale castles and lots of medieval ruins.
Best day trips with my car rental in Bratislava
Full of cosmopolitan charm, Bratislava is attracting more and more visitors looking for a good base from which to discover Slovakia and the neighbouring countries of Hungary and Austria. With Auto Europe you can take advantage of a one-way car hire which allows travellers to pick up their vehicle in one place and drop it off somewhere else. Furthermore, you might want to consider sharing the driving with one of our regular Free Additional Driver offers.
Devín Castle
The wonderful ruins of the Devín Castle are located just half an hour by car from the centre of Bratislava, making it the ideal day-trip option. Situated at the confluence of the Danube and Morava rivers, it's one of the oldest castles in central Europe and worth visiting for its fascinating museum which tells the story of Bratislava's turbulent history over the centuries. The views of surrounding landscape from the castle walls are unparalleled.
Kosice
The picture-postcard city of Kosice is one of the most appealing places to visit in Slovakia. A main feature is its medieval architecture, much of which is located in the historic centre. Don't miss the views from the top of Kosice's magnificent 14th-century cathedral which stretch far beyond the city's perimeter. Other tourist highlights include the East Slovak Museum which is notable for its silverware, Gothic art and many other cultural treasures.
Bojnice
One of the oldest spa towns in Slovakia, this lovely place in the heart of the country is most famous for its magnificent fortress - Bojnice Castle. First mentioned in 1113, the complex is a rich mix of Gothic, Renaissance and Romantic architecture and most notable for its grand halls and interesting museum inside. Families with young children will also enjoy spending a few hours at nearby Bojnice Zoo, the oldest and most popular attraction of its kind in the country
Levoca
The 5-hour drive from Bratislava to the picturesque little town of Levoca is as exhilarating as the place itself. Classified as a UNESCO World Heritage Site in 1993, Levoca boasts one of the most beautiful historic centres in Europe with a maze of narrow, cobbled streets centred around a huddle of architectural delights. Don't miss the old wooden altar inside the Basilica of St James, which is the largest in the entire world.
What to do in Bratislava
One of the last jewels in Central Europe's crown to be discovered, Bratislava is a homely city dense with history that nowadays buzzes with tourist activity in and around its atmospheric Old Town. First stop for most newcomers is the castle from which the most head-spinning city views can be enjoyed. Top of the list of museums is the excellent Slovak National Gallery which houses the best art collection in the country.
Bratislava Castle: The dominant feature of the Slovak capital for centuries, Bratislava Castle is a striking four-tower structure in the heart of the city centre, sitting imposingly on the top of a rocky hill. The views from the towers are amazing and can stretch as far as Austria and Hungary on a clear day. Inside, visitors can learn all about the castle's long history in a branch of the Slovak National Museum through its large collection of documents, photographs and precious artefacts.


Michael's Gate: Michael's Gate is the only remaining city gate from the fortified walls and towers built in the 1300s. At the time, the only way in and out of Bratislava was through one of four such gates. Besides stunning views from the top, the gate tower today houses an interesting exhibition of weapons and and models illustrating the history of the city's original walls and how they influenced its development over the centuries.


Grassalkovich Palace: This impressive building and its exquisite French garden is a great place to while away a few hours on a warm sunny day. Dating back to the 1700s, Grassalkovich Palace has been the official residence of Slovakia's president since 1996 and over the centuries has witnessed many historic events, such as regular musical performances by the Austrian composer, Franz Joseph Haydn.


Hviezdoslav Square: Named after the popular Slovakian poet, Pavol Országh Hviezdoslav, this old square has played an integral part in the city's life for over a thousand years. Today it serves as a vibrant pedestrianised area with benches, fountains and an outdoor stage where live music and special cultural events take place when the weather is fine. In winter, the whole square is transformed into one of the best Christmas markets in central Europe.


Slovak National Gallery: Housed in two impressive buildings – the Esterházy Palace and the Water Barracks in a prime locattion near the waterfront - the Slovak National Gallery highlights the best of the country's sculpture and both classical and modern painting. A large part of the permanent collection is housed on the ground-floor while other floors focus more on temporary exhibitions and the work of visiting artists.
Useful links