Car Hire with Buchbinder: Our trusted rental partner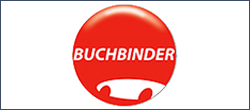 Founded in 1957, Buchbinder Rent-a-Car is one of the largest car hire companies in many of Europe's top destinations, including Germany, Austria, Hungary, Slovakia and Italy. With its head-office in Regensburg, it offers one-time and long-term rental solutions at a large number of both city and airport locations, offering the vehicle of your choice and a high-quality service to match.
Buchbinder's extensive fleet of vehicles comprises a vast selection of cars, SUVs and vans appropriate for long road-trips or city sightseeing excursions. Furthermore, the company has a fine selection of luxury limousines ideal for that special occasion, while it's also possible to rent a minibus for special outings for the entire family.
Buchbinder Rent-a-Car is a reliable and competent car rental company that continues to excel in the car hire sector for three specific reasons. Firstly, its car rental fleet is very large and varied, so customers opting for a car hire with Buchbinder will always find the vehicle of their choice. Furthermore, the company offers an excellent price-performance ratio, which means that clients can rest assured they're always getting the best possible deal. And thirdly, the Buchbinder booking system is fast, flexible and uncomplicated, meaning that travellers can choose and reserve their vehicle quickly and easily, without any unnecessary obstacles.
Summing up, renting a vehicle with Buchbinder guarantees the cheapest prices and most comprehensive service in the market, not to mention the largest choice of cars and an extensive number of additional services and accessories either included in the price or available on request. It's a car hire company you can totally rely on because all the cars in its fleet are regularly serviced as a matter of course.
The presence of Auto Europe in the car rental market extends over 65 years, during which time the company has gained an enviable reputation with millions of travellers all over the world choosing to book through our system every year due to the strong global alliances we have built up over this time. By working with our many travel partners we guarantee a first-class service with competitive prices in conjunction with all the world's leading rental companies. If you book Buchbinder or any of the other suppliers available through our high-tech booking engine, you can rest assured that you are going to receive a high-quality customer service from our local partner.
Buchbinder Car Rental: Top prices from a leading supplier
Auto Europe enjoys a very close working relationship with Buchbinder and as a result we can offer our clients great car rentals at the cheapest prices in the market. Established over many years, this high level of collaboration means that we can quote you the lowest rates for your next car rental, in fact we can guarantee it! We offer the best prices in Europe combined with some of the most comprehensive insurance options available.
Whenever you book a car hire with Buchbinder, you can expect the most convenient pick-up and drop-off locations, as well as the highest-quality of customer service. Working with us ensures excellence, professionalism and client satisfaction at every stage of the vehicle rental process. Plus, our award-winning rental specialists are on hand to assist you 7 days a week. They will be delighted to answer any questions you might have relating to your booking and give you any tips or useful advice to help you with your travel itinerary.
We are always there to act on your behalf, especially if there's any kind of a problem on the road. Please count on the fact that we'll always be there for you! Have a look at the following reviews and don't hesitate to give us a call to book your Buchbinder car rental through the world's number one car hire broker - Auto Europe! We'll take care of all your needs and get you on your way without delay. Why settle for less when you can book through Auto Europe and get the quality and service you'd expect from a prestigious supplier such as Buchbinder.
With both Buchbinder's efficiency and Auto Europe's renowned customer service at your disposal, you won't need to worry about the possibility of requiring assistance whilst on the road because our whole team will be on hand to deal with any problems that might occur.
The unique Buchbinder car hire experience
You are only a few clicks away from experiencing Buchbinder's outstanding car rental service. Find your personalised car hire with Buchbinder through the booking engine located at the top of this page. Choose your vehicle and compare it with the offers from all the other local suppliers such as Europcar and Sixt, among many others. Please note that it is also possible to book additional items like a GPS satnav device, child seats etc. when choosing your vehicle and making your reservation.
You are cordially invited to immerse yourself in your own Buchbinder experience with Auto Europe and discover new destinations like Hungary and Slovakia. Complete your booking online or by talking to one of our rental specialists on +44 123 3225 114 who are always happy to assist you with any questions you might have.