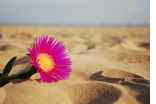 We all want something different to do when we choose to have a short city break, so we have chosen Donana National Park as our destination that is a must see for anyone. This World Heritage Wildlife refuge in Southern Spain is located between Seville and Huelva. Being a park with many streams, marshland and sand dunes, it is the ideal location for migrating birds to stop over, as well as many other species of animals such as red deer and wild boars.

If you are a huge bird watching fan then this is definitely one of the places to be visiting during your trip to Spain; it has 5 threatened bird species as well as 500,000 other species of animals that come over during the winter migration.
You can choose to admire the birds from many viewing points throughout the outskirts of the park (you are not allowed inside due to preservation) or just sit and admire the views along this beautiful land in a boat ride from the east side of the park.

Also on the outside of the park, you can walk through Strawberry Fields (where 95% of Spanish strawberries are produced!) and maybe even pick a few! It's always nice to go fruit picking, especially if they are very tasty!

This is a great way to spend the weekend, hire a car in Seville and drive to the National Park which is only 62.2km (42.4miles) away and enjoy a picnic with your family or loved one.

Have you been to Donana National Park? What was your most favourite part?