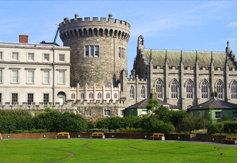 Start your holiday by collecting your car hire from Dublin Airport. A city packed with great things to see and do, you may not be sure where to start!
With Dublin Airport just a short 20 minutes away from the city, after collecting your car hire you can head into the city centre. A lively and cultural city you can visit the Irish Museum of Modern Art, Saint Patrick's Cathedral and the cities most visited attraction Dublin Castle. You can also take a tour of the Guinness Brewery and learn about the history of the famous Irish drink.
Drive your car hire to Fingal where you can enjoy a peaceful landscape with hamlets and quaint seaside villages. Just 35 minutes drive from Dublin and such a contrast to the busy city streets, it's a perfect place for relaxing.South Dublin is where you can explore nature. With Ireland's famous green countryside dotted with rivers, beautiful parks and mountain scenery.
Dublin really is a city that has a touch of everything and a great holiday choice!
Have you been to Dublin, what did you enjoy most? Tell us your travel stories!