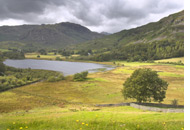 The Lake District is a beautiful place to go either for a relaxing weekend or a longer family holiday. There are many wonderful things to see and do whatever time of year you go. Not many people know that there is in fact only one lake in the Lake District and that is Bassenthwaite Lake. All of the other water expanses are called either meres or waters.
Windermere is the largest of the lakes and the most famous. It is 10 miles long and 220ft (65m) at its deepest point. Ambleside, at the top of Windermere, is a perfect base from where you can easily drive to many of the main areas of the Lake District. The town itself is a lovely Victorian place which has some great pubs and a rather good Thai restaurant. It is also one of only two towns which are directly on the lake, the other being Bowness-on-Windermere.
The town of Windermere is actually about a 15 minute walk from the lake, a walk which is much easier going than it is coming back according to some people! There are several ways to see the lake from here. You can hire a motor boat or a rowing boat and see it at your leisure or there are big cruise boats that stop at Ambleside, Bowness and Lakeside which is the southern most point of Windermere. In Bowness you can visit The World of Beatrix Potter where you can meet Peter Rabbit, Mrs Tiggy-Winkle and Jeremy Fisher. In Lakeside the Lakes Aquarium has a wonderful underwater tunnel and a pair of otters called Mia and Smudge who entertain visitors with their pretend fighting and darting about. When we visited there were owls from the World Owl Trust outside the aquarium that you could have your picture taken with. The smallest one was about 6 inches high and and so cute and soft! Also at Lakeside is the steam railway where you can step back in time and ride in authentic carriages that date back to at least the 1950's. They have several theme days/weekends throughout the year including a Thomas the Tank Engine weekend and a wizards and witches week in October.Coniston Water is where in 1967 Donald Campbell died in his attempt at the water speed record. He managed to reach 320mph at which point his craft, Bluebird, began to break, eventually lifting from the surface and plunging back into the lake nose first. The wreckage was only retrieved in 2000 and a year later his body was recovered. He was finally laid to rest on 12th September 2001. If you take a boat trip around Coniston Water you can see where all this happened and the guides are very friendly and knowledgeable and will give you a detailed account of this historic, but tragic event. Also from Coniston, should you be so inclined, you can do one of the best walks, in my opinion, in the Lake District. Old Man of Coniston is some 2,634 feet high, has several waterfalls and the views from the summit are just stunning!
William Wordsworth is a favourite son of the Lake District. At Grasmere you can visit Dove Cottage where he, his wife Mary and his sister Dorothy lived. It was here that he wrote much of his poetry and had many notable visitors such as Samuel Taylor Coleridge and Walter Scott. There is a museum next to the cottage where learn about Wordsworth's life and that of some of his friends and listen to poetry such as Kubla Khan and The Tiger.
For me, the best time to visit the Lake District is around April/May or late September/early October. I love this part of the country, it is peaceful, un-rushed and, if you go with that special someone, very romantic! Why not
hire a car
and discover the tranquility of this wonderful part of England.
Have you been to the Lake District? Where are your favourite places to visit?