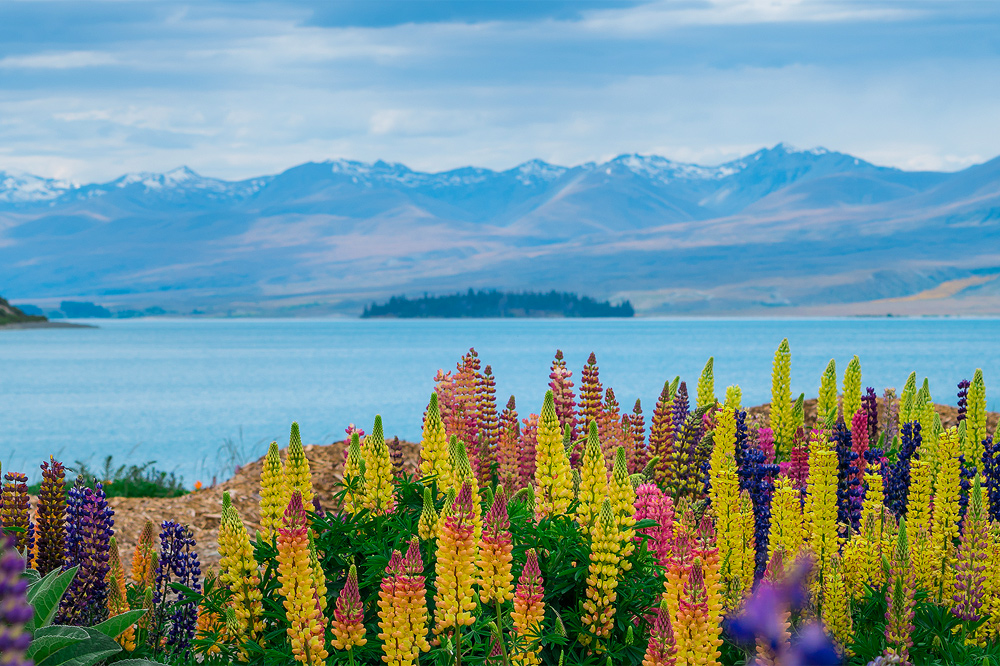 Nick-named the Middle Earth, New Zealand is arguably an ideal country to live and travel, as it seems to be a place for everyone. The country's setting, so far away from anywhere else (except for Australia) makes it a desirable holiday destination, a place you don't travel to every summer like some hot-spot tourist destinations on the old continent.
There are no dangerous animals around or poisonous reptiles in New Zealand. There are twice as many sheep living there than people. Kiwis, as the inhabitants of New Zealand call themselves, are friendly people who love their country; spending time outdoors in a laid-back style seems to be a national hobby.
To make sure you don't miss a thing whilst on holiday, it's best to have a travel itinerary, especially if you are going to a long-haul destination, such as New Zealand. The more fascinating things you have on your itinerary, the more exciting your trip gets. Auto Europe brings you four motorhome road trip plans to help make your holiday in Kiwi land a time to remember.
We will start our motorhome journey in New Zealand from Auckland and then on to Cape Reinga, the northernmost tip of the country, before heading south to Wellington, the country's capital. The next trip will involve a ferry trip to Picton on South Island, from where we will move to Christchurch, Queenstown and, of course, the famous Milford Sound. Make yourself comfortable, we are beginning the ride!
Route 1 North Island: Auckland to Cape Reinga
Duration: 6-hour drive (without stops) State Highway 1
Places to stop: Kapowairua Campsite by the fantastic Te Horo beach at Spirits Bay.
Outdoor activities: Sand Dunes in Te Paki Recreation Reserve, Cape Reinga Lighthouse, Te Araroa Trail – walk the northern part of the trail, located close to the Cape Reinga Lighthouse.
The drive from Auckland to the northern tip of the island leads through picturesque landscapes, but let's face it, anywhere in New Zealand is just wonderful. You could drive literally anywhere in this country to experience the beauty of the nature. Depending on what type of a traveller you are, there are countless outdoor possibilities, including hiking, swimming, kayaking, horse riding, boat trips and bungee jumping for adrenaline junkies.
Auckland is a very important scientific, cultural and economic centre of New Zealand. It has magnificent architectural buildings, historic monuments, art galleries and famous museums. Our visiting choice is the famous Museum of Transport and Technology Auckland, MOTAT. Our next pick is the Town Hall. It was built in the early twentieth century in the Italian Renaissance style. Almost from the beginning of its existence, it has played a significant cultural and administrative role as a place of main local events. Our next selection is the largest art institution in New Zealand. Opened in 1888, Auckland Art Gallery Toi o Tāmaki has the most expansive and comprehensive collection of national and international art with over 14,000 exhibits.


Route 2 North Island: Auckland to Wellington
Duration: 8 hours and 13 mins (without stops) State Highway 1
Places to stop: Catchpool Valley Campsite, a 45 minute drive from Wellington City
Outdoor activities: Taupo Lake, where you can have lunch, take a swim, relax and enjoy the beautiful scenery. Tongariro National Park, the oldest national park in New Zealand. You can stay here for a night or two at Mangawhero Campsite and go hiking in the mountains.
The route takes you through the heart of North Island; it passes by Lake Taupo, goes through Tongariro National Park and continues from south to the west coast to finish in Wellington.
Wellington is the southernmost capital in the world, bearing this title since 1865. The city is also the culinary capital of New Zealand, with famous cafes where the largest number of coffees per capita is sold in the world. When it comes to sightseeing in Wellington, obligatory are a complex of parliament buildings with an architecturally original "beehive" and the Old St. Paul's with an interior decorated in oak, an example of Neo-Gothic architecture. Pay a visit to Te Papa Tongarewa museum with its rich Maori art collections, illustrating the life, customs and culture of the original inhabitants of New Zealand. Enjoy a ride on the 100-year old historic cable car to the summit of Kelburn for a wonderful view of the bay and the city.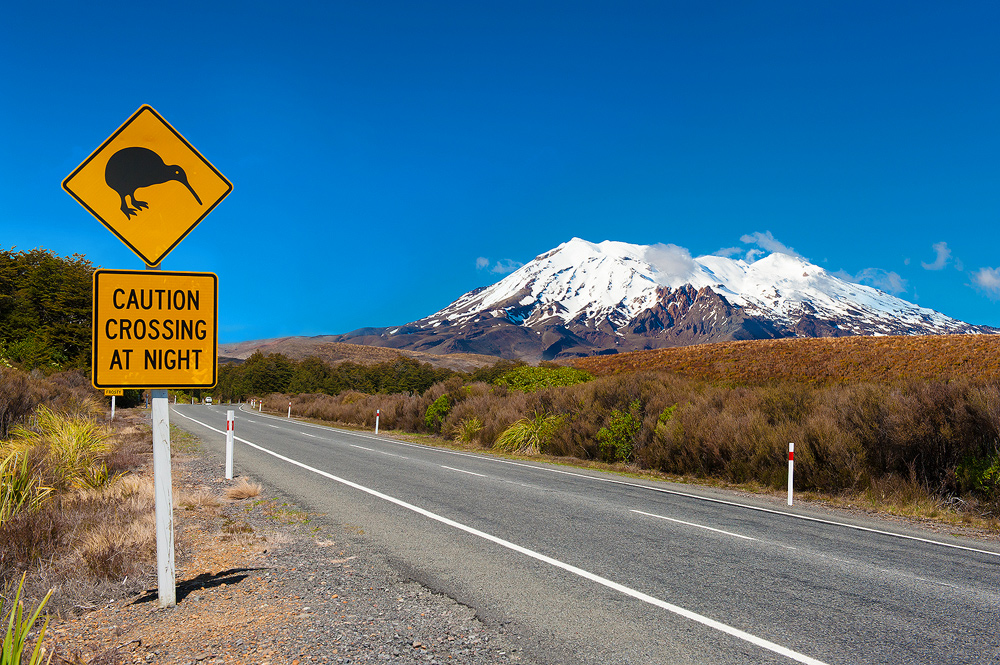 Route 3 South Island: Wellington to Christchurch
Duration: 8 hours and 15 mins (without stops) State Highway 1
Places to stay: Awaroa/Godley Head Campsite, a 50-minute drive to the centre of Christchurch
Outdoor activities: Banks Peninsula scenic rides and summit walk on Te Ara Pātaka.
With scheduled ferry services from Wellington to Picton, getting to South Island is made easy. The ferry trip across the Cook Strait takes 3 and a half hours and is a treat in itself. The ferry goes through the fiords which can give you a first glimpse of the fiordland.
The second biggest city in New Zealand,
Christchurch
has developed into an important economic and cultural hub. Located on the east coast of South Island, the city lures visitors with its cultural attractions. Christchurch is home to cathedrals, churches, museums and galleries. Visitors can also visit numerous parks and gardens. The most important sacral monument of the city is Christchurch Cathedral, located in its very centre. Sadly, it was destroyed by an earthquake in 2011, but reconstruction work is currently. Do not miss the possibility to visit the Canterbury Museum, which has wonderful art and natural history exhibitions. Christchurch Art Gallery is another architectural building that brings together five thousand works of various famous artists.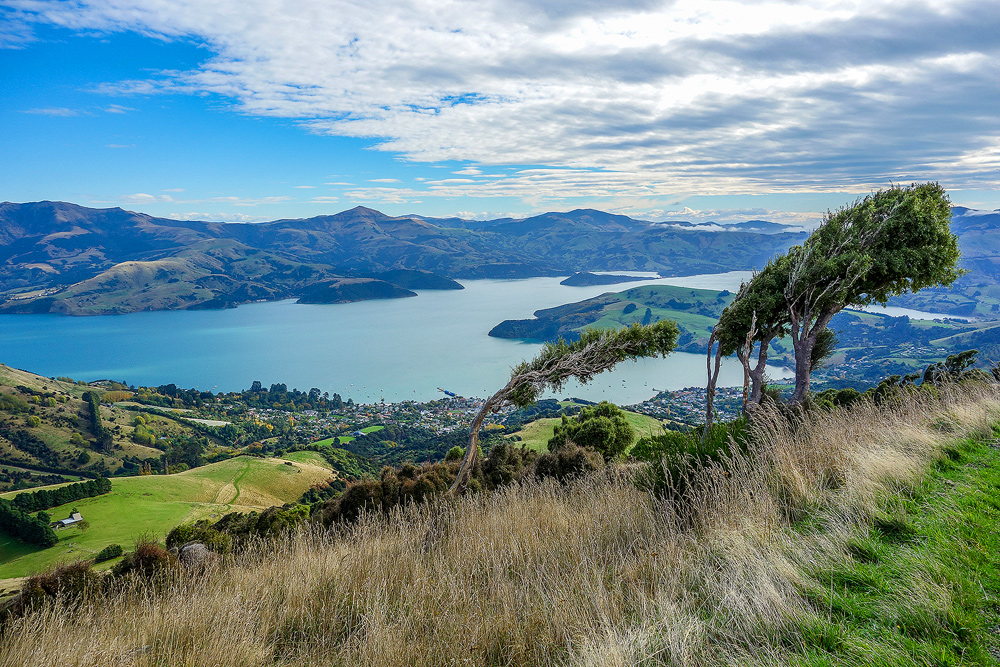 Route 4 South Island: Christchurch to Queenstown
Duration: 6 or 7 hours (depending if you want to take the longer route along the coast)
Places to stay: picturesquely set Twelve Mile Delta Campsite near Lake Wakapitu.
Outdoor activities: Milford Sound – the most recognizable place in New Zealand. The trip from Queenstown to Milford Sound will take you approximately 4 hours and the road scenery will take your breath away, so be prepared. You can stay overnight at one of the many campsites near Milford Sound and go on a boat trip to experience New Zealand at its best, or go on a day trip along Milford Road.
Queenstown is picturesquely located on Lake Wakatipu in the Southern Alps. It is the most sporting town in the antipodes, an adventure centre for adrenaline junkies. The list of extreme attractions in and around the city is long, from skiing, rafting and parachuting to bungee jumping and many more. The best vantage point in the world capital of adrenaline is Skyline Queenstown, an activity complex with the best panoramic views of the region. Visitors travel up the hill in a cable gondola and can dine in a restaurant with one of the best views in the world. Brave souls and thrill seekers should give the original Kawaru Bridge Bungy Jumping a try. It is located on the state highway 6 in Gibson Valley, a 90-minute drive from Queenstown.