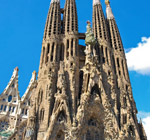 Antoni Gaudi was an architect famous for his unique and highly individualistic designs. You will probably know him for his most famous unfinished building, La Sagrada Familia in Barcelona. It has been under construction since 1882 and is not expected to be finished until at least 2026. This date also happens to be the 100 year anniversary of the death of Gaudi.
Through his lifetime, he has designed some beautiful buildings. We're going to give you a brief walk through history with some of Gaudi's works.
Casa Vicens (1883 - 1889):
Gaudi's first important piece of work. Built for industrialist Manuel Vicens, Casa Vicens is constructed of red bricks and coloured tiles. There is a yellow, zinnia-flowered tile that was designed by Gaudi and manufactured by Vicens. It's a beautiful building and great insight into Gaudi's early work.
Palau Guell (1885 - 1889):
Centred on a main room for high society guests, they entered with a horse drawn carriage through iron gates at the front. The main room has a beautiful high ceiling in which lanterns could be hung to give an appearance of a starlit sky.
Church of Colonia Guell (1898 - 1916):
Another one of Gaudi's unfinished works, built as a place of worship, Colonia Guell's idea was by Count Eusebi de Guell. However Guell lost profits from his business therefore only the crypt was complete.
Casa Calvet (1899 - 1904):
Served both as a commercial property for textiles and residential, this piece is unusual for one of Gaudi's works. This is due to the symmetry, balance and orderly rhythm of the building.
Casa Batllo (1905 - 1907):
This building was restored by Gaudi and Josep Maria Jujol. The name of the building is The House of Bones and was originally designed for a middle class family. The front is made from broken ceramic tiles, and the roof is arched. Nothing about this building is straight, it's wonderful!
Casa Mila (1905 - 1907):
Built for a married couple, Rosario Segimon and Pere Mila. It was said that Pere was more interested in her money from her first husband. The building is very unusual and both the interior and exterior can be viewed.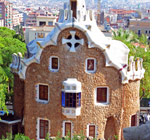 Park Guell (1900 - 1914):
A garden complex which was part of an unsuccessful commercial housing site, where Gaudi actually bought the one and only house that was built here in 1906. The park is full of beautiful design and colour, all by Gaudi, as well as the entrance to the park. It's definitely something to go see when you are in Barcelona.
Sagrada Familia (1884 - Present):
One of the first to be designed, yet the last on the list as it is incomplete. The Sagrada Familia is one of Barcelona's top attractions. Gaudi devoted the last 15 years of his life to the construction of this magnificent building. He is also buried within the crypt.
Antoni Gaudi has been very inspirational to many in Barcelona, his work is highly recognisable, so why not consider taking a different tour of Spain and see Gaudi's masterpieces? Pick up your
car hire at Barcelona Airport
and drive through the city as well as spending some time along the beautiful coast.