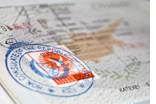 When travelling to Cyprus for your holidays, it's good to know about where you are travelling to.
For example, do you know how much to tip after you eat out at a restaurant? We do, so have a look at our
handy tips
before you hit the beach!
Local Tax
- The VAT you will pay in Cyprus is 15%.
Business Hours
- Depending on when you go, will depend on business hours. In Winter shops are open from 8.00am to 5.30pm and close between 1.00pm to 2.30pm. During peak Summer, shops are open from 8.00am to 7.00pm and close between 1.00pm to 4.00pm. So if you want to get some shopping in, it's good to know when the shops close.
Tipping
- There is no standard tip in Cyprus, if you feel someone has given you a good service in a café or restaurant, then feel free to leave about 10 - 15%. If you take a taxi anywhere, or use a porter, a small tip will be appreciated by them. Just so you know, in established places, a customary service charge will be added to your bills, approx 10%.
Banks
- If you want to change up some of your travellers cheques or cash then going to the bank will be your best bet. These are open 8.15am to 12.30pm Monday to Friday so get there before the weekend starts!
There are many things you need to know before you go to Cyprus, why not take a look at some of our other tips as well as Travel Information and
Car Rental Insurance
.