Travel Guide Cyprus – Handy tips to tour around the island
Cyprus is the third biggest island in the Mediterranean Sea and enjoys a very special location close to Turkey and Syria and you will find plenty of beautiful panoramas depicting mountains, sandy beaches, hills and rocky coastlines. Cyprus is also becoming a popular winter sports destination with many mountain resorts. Travelling with your car hire around Cyprus will make for a great sightseeing experience.
Now part of the European Union, Cyprus has a rich history that dates back to ancient times when the island was settled by Mycenaean Greeks around 1400 BC. Due to its strategic location in the Middle East, Cyprus was ruled by many ancient powers such as Assyria, Egypt, Persia, and the Roman Empire. After years of Arab and Turkish invasions the island fell under the Ottoman Empire in 1570. As an aftermath of the Russo-Turkish War at the end of the 19th century, Cyprus was handed over to the British Empire. Since there were Turkish and Greek Cypriots living on the island, the tensions were growing in severity and led to domestic wars. In 1983, the Turkish Republic of Northern Cyprus was proclaimed, which has only been recognised by the government in Ankara. Cyprus, as a whole island, became part of the European Union in 2004, but the EU legislation is not present in Northern Cyprus.
With such a tormented and lively history, Cyprus bears a lot of surprises for the visitor. First of all, the capital city Nicosia is divided in two parts, the northern one under the Turkish influence. Nicosia is the most populated town and the major international business and financial hub. Here there are many museums and religious buildings documenting the islands history. In the southern part of the island you will find to the west the city of Paphos, once the island's capital, and to the east Larnaca. In Paphos you should definitely not miss the Paphos Archaeological Park which is a UNESCO World Heritage Site and in Larnaca the many nice beaches and the city promenade. The driving distance between these two cities is approximately one and a half hours and almost right in the middle you will encounter Limassol which represents a nice stopover with a Medieval Castle and the Kebir Mosque.
Auto Europe's first goal is customers' satisfaction and a well written travel guide for Cyprus with the most important sights, road trips and country facts will complement and make your journey easier.
Look over the Cyprus travel guide topics listed below and take a look at each page for information on a specific aspect of travelling in Cyprus.
Road trips with my car hire in Cyprus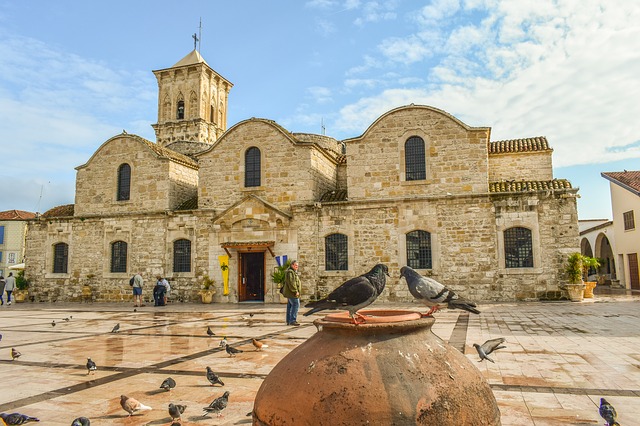 With much to see and do on this fascinating island, your rental in Cyprus will allow you to visit all attractions, whenever you feel like it. There are several official cultural routes in Cyprus, some to be walked on foot and some that require a rental car. Thanks to these routes you can discover the history of the island, follow the footsteps of Aphrodite, the Ancient Greek goddess of love and beauty, visit the remnants of the Venetians and learn the exciting history of Cyprus. Apart from cultural routes, there are also wine and religious trails that may strike your fancy. To find out more about a specific route, visit the official Cyprus tourist website, listed at the bottom of this page.
UNESCO highlights road trip – steeped in history, the island of Cyprus is home to several UNESCO World Heritage Sites. You may begin your road trip in Paphos, famous for numerous historic sites including the must-see Paphos Mosaics. Take your time exploring this spectacular seaside town, making sure to stop by the Tombs of the Kings before you leave for your next adventure. Afterwards head to Choirokitia, Larnaca district, to get a glimpse of the island's first permanent housing which dates back to the 6th century BC. From here, you can drive to Larnaca, the city said to be the oldest on the island, and take a leisurely cruise down the coastline. Complete your history trip with a visit to the Trodos' painted churches and see their colourful frescoes.
If you like to tour the island in a very relaxed way and drop-off the car in a different city than the pick-up location, a one-way car hire is the perfect solution. Please note that it is not permitted to take the rental cars in the Turkish section.
---
What to do in Cyprus
Cyprus offers many types of attraction and sights from entertainment, to culture, idling on postcard beaches, diving, top food and wine, and even winter sports. The variety of landscapes makes driving around extremely pleasant and interesting. So we suggest you to alternate relaxing days on the beach to daily excursions in the nature or city visits.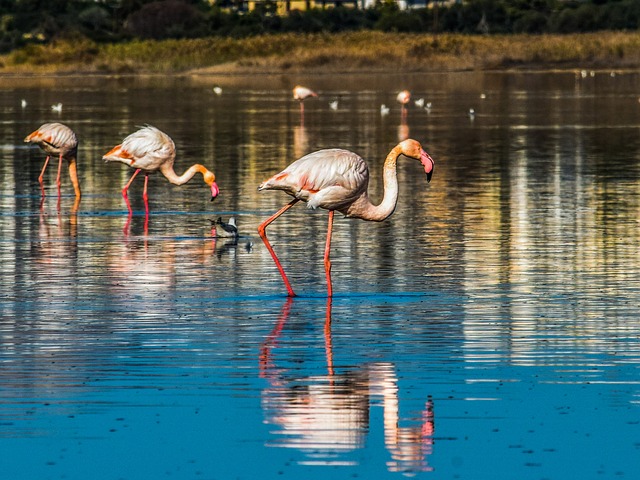 Flamingo Watching: A real feast for nature lovers are the flamingos known to fly over to Cyprus for winter. Flocks of flamingos gather by the Salt Lake near Larnaca between November and March. Another place to spot them is by Limassol Salt Lake, also known as Akrotiri Lake. Should you be visiting the island during winter, do not miss the opportunity to see these pink-legged beauties.


Beaches: If you are flying to this sunny Mediterranean island, you will no doubt spend some time sunbathing and swimming in the sea. Cyprus boasts over thirty blue flag beaches, ranging from golden sandy ones to those less frequented on the west side of the island, preferred by water sports enthusiasts. Just to name two examples, on the west coast of the island there is the Makronissos Beach and on the opposite site of the island the Coral Bay. Make sure you include them in your travel itinerary.


Scuba Diving: If you feel the need for more action during your Cyprus holiday, consider snorkelling or diving. Explore Cyprus from a different perspective - see the fascinating underwater world with shipwrecks and colourful clusters of fish. The warm, clean and calm waters surrounding the island are a real paradise for both snorkellers and professionals. Diving schools can be found in almost every tourist city or town.


Wine Festival: The annual Wine Festival takes place in Limassol, known as the wine capital of Cyprus. For a small entrance fee, you can sample wine from local wineries, try traditional Cypriot cuisine and enjoy performances of various local artists. The festival is held in Limassol's city park at the turn of August and September.
---
Frequently Asked Questions about travelling in Cyprus
Reading a guide book is sometime a good option to getting the best travel experience in a new country and there are a few details and facts that one should always know before a trip, like what car hire model is best for your trip, what is the time difference and what currency is used. Knowing a few basic expressions will also make the difference. This seems a lot of research work, but we at Auto Europe have already prepared a FAQ list that covers all these points for you. Furthermore you can also have a look at our travel tips page with more generic information about travelling around with a rental car.
---
The answer in this case depends mostly on your budget and needs. One thing is certain though, on the Auto Europe portal you will surely find the right vehicle for you since we have a very wide range of models and work with a lot of different suppliers. On a small island often busy with tourists, especially in the peak seasons, a smaller car from the mini, economy or compact category could be the best solution. But if you need more space or plan to tour around a lot you should go for an intermediate, large or SUV model. If you travel to Cyprus to perform winter sports SUVs are the best choice. For more numerous parties we have vans. If you feel the need for some model descriptions to understand which one would fit at best the specific needs for your trip to Cyprus have a look at our fleet guide.
The currency in Cyprus is the Euro (EUR). You will have no problem finding an ATM machine in the main tourist areas.
Cyprus time difference varies across the seasons. The country is located in the Eastern European Time Zone (EET), 2 hours ahead of Greenwich Mean Time (GMT+2) in winter and 3 hours of ahead of GMT in summer, during the daylight saving months. So don't forget to set your clock when arrived.
Cyprus electricity operates on 240 volts, 50 Hz. Two-pin and rectangular blade plugs are standard in Cyprus.
Until 31st December 2020, no. Cyprus is part of the EU therefore UK citizens are not required ta apply for a visa to access the country. What they need to show is a valid passport. When the Brexit transition will be over, that is as of 1 January 2021 new rules or travel restrictions could come into place and will be updated on the official British Government website. Tourist stays up to 90 days will probably not require a visa but a proof in form of a return ticket should be kept ready to be shown at customs.
For British citizens who need assistance in Cyprus there is the British High Commission in Nicosia. Here are the contacts:
British High Commission Nicosia
Alexander Pallis Street PO Box 21978
CY-1587 Nicosia
Website: www.gov.uk
Telephone: +357 22 861100
Greek and Turkish are the official languages in Cyprus, but English is also very widely spoken. Citizens are friendly and happy to help you regardless of the language you speak.
The following Greek phrases may be useful:
Yes - Nei
No - Ohki
Hello - Gh'ya
Good morning - Kaleemeerah!
How are you? - Tee kahnis?
I am well - Poli kala
Thank you - Efkharisto
Please - Parakalo
Sorry - Signomi
Do you speak English? - Milate anglika?
How much is it? - Posso kane?
And you may also find these Turkish phrases useful:
Yes - Wvet
No - Hayir
Hello - Merhaba
Good morning - Gunaydun
How are you? - Nasuhl-sunuz?
I am fine - Yi-yim teshek-kur
Please - Lutfen
Thanks - Teshek-kur edirim
---
Useful Links