Car hire in Paphos – Gateway to Cyprus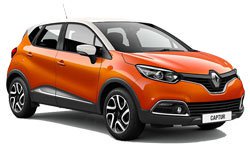 The famed birthplace of the Greek goddess Aphrodite, Paphos is one of the most important cultural centres in the whole of the Mediterranean region. Idyllically located on the south-west coast of Cyprus, the city is conveniently divided into two parts, the upper town being the commercial hub while the lower town (known as Kato) blessed with the most important places of archaeological and tourist interest. Most visitors flock to the Kato area where the majority of the Paphos' hotels, bars, restaurants and attractions can be found. The excellent seafront promenade extends to the city's modern marina and is the ideal place to take a stroll and feel the unique atmosphere exuded by one of Europe's most ancient and historic cities.
Here you can step back in time and immerse yourself in the fascinating world of Greek mythology by exploring the many ancient ruins dotted around town. There's much to see and you'll definitely need to rent a cheap car in Paphos with Auto Europe to have any chance of seeing all the main sights. Those looking to discover the ancient wonders and rich treasures of Cyprus should start at the Paphos Archaeological Park which is bursting with Roman mosaics (mostly intact) and old fortresses (some showing signs of some wear and tear).
After that, you'll want to spend time at the Indiana Jones-esque Tombs of the Kings, a spectacular subterranean necropolis of immense proportions intricately hewn from the rock. Then there's nothing better than a leisurely drive up into the Troodos Mountains to visit one or two of the working monasteries (the monks are always warm and welcoming), most notably Kykkos Monastery which dates all the way back to the 11th century. And if there's any time left, why not explore the House of Dionysos, a well-preserved Roman villa remarkable for its beautiful coloured mosaics. In Paphos it's all about the gods and visiting the archaeological sites to hear the many historical tales to be told.
Auto Europe is here to help you plan your trip to the amazing city of Paphos. As one of the world's leading car rental companies, we are proud to tell you that we currently operate in over 24,000 locations in more than 180 destinations all over the world. We offer total flexibility for people looking to pick up their car hire in Paphos in a convenient downtown location of from Paphos Airport a short drive south-east of the city. We also offer our customers the lowest rates on the market on account of the fact that we are in strong partnerships with all the industry's most prestigious suppliers, namely Sixt, National, Hertz, Europcar, Dollar, Budget, Avis and Alamo. Combine that with our award-winning rental specialists and you know your trip is in the best possible hands. Feel free to give them a call on +44 123 3225 114 and they will be more than happy to find you the best deal. Please also take a look at the ratings and comments posted by other Auto Europe customers in Cyprus by visiting our Paphos car hire reviews page.
For more information on renting a vehicle in Paphos, click on the car hire related topics listed below:
---
Where to pick up a car hire in Paphos
By working with all the world's top car hire providers, Auto Europe can offer you a wide choice of locations in Paphos nd other parts of the island, meaning that you can pick up your vehicle in the heart of the city centre and start exploring the top attractions the moment you arrive.
To help you make the right choice, our state-of-the-art booking engine allows you to do an extensive search to find the best vehicle and the most suitable pick-up point for your trip. Once you've keyed in your dates, an interactive map will come up with all the available car hire locations in Paphos.
Paphos Airport
Paphos (Pafos) Airport (PFO) is located approximately 10 miles from the city, which makes it the ideal gateway for people looking to visit Paphos and many of the surrounding towns and villages, such as Polis, Latchi and the Troodos Mountains, among others. The airport is also within easy reach of some of the island's top seaside resorts, namely Limassol, Larnaca, Ayia Napa, Protaras and Pernera, all of which are quickly and easily reachable from Paphos International Airport. There are several high-quality car hire suppliers operating at Paphos Airport, each with a desk inside the terminal building. You'll be able to find your supplier located in the Arrivals Hall, which is just a short walk from the baggage-reclaim area. When you arrive to collect your cheap car hire in Paphos, please make sure that you have the necessary documents with you, such as a credit card (in the name of the main driver), passport, driving licence and car rental voucher.
Paphos Airport (PFO)
Website: https://www.hermesairports.com/
Address: Paphos 8320, Cyprus
Telephone: +357 2680 1800
---
Book with the best car hire suppliers in Paphos
Auto Europe is a global car rental company that offers a wide variety of pick-up/drop-off points in more than 180 popular destinations all over the world. Thanks to our many years of experience dealing with all the top international and local car rental companies, we pride ourselveson being able to offer you the best service and lowest rates.
Should you require additional information about the car hire companies we work with or their policies, for example out of office pick up or questions regarding age restrictions, our car rental specialists are just a phone call or e-mail away and happy to assist you.
---
Frequently asked questions about renting a car in Paphos
This section features the most frequent questions asked by people booking a car hire in Paphos. Scroll down for important tips relating to a wide range of essential car hire topics, such as credit cards, coverage, tolls, traffic and much more. If you need any more information, please call our reservations team on +44 123 3225 114 and they will be happy to help you with your reservation and assist you with your travel itinerary.
---
Yes. To pick up your car rental in Cyprus you always need to show a valid credit card in the name of the main driver specified on the voucher when you pick up the car. This is necessary because the supplier will need to reserve a safety deposit on it, usually as high as the insurance excess. The amount of the deposit and a list of accepted credit cards are to be found under the "Rate details" tab on our portal. For more detailed information please refer to our credit cards and deposit FAQ page. Please note that although a single credit card is normally required for a standard car rental in Paphos, in some cases two credit cards may be required for luxury and high performance vehicle. Please make sure that the credit card has enough available funds to cover the security deposit, the amount of which can be also found in the terms and conditions of your car hire voucher. The deposit will be released back onto your credit card as soon as car is returned undamaged. It's important to remember that debit cards are not accepted for deposit purposes, but all major credit cards are, such as Visa, Mastercard, American Express and Diners. Please note that all the necessary details you require regarding credit cards are accessible simply by clicking on the blue and white info icon (i) in the search results.
All Auto Europe's rates for car hire in Paphos include the minimum legally-required coverage, namely Collision Damage Waiver (CDW), fire and theft protection. However, for a little extra money, it's well worth purchasing our popular Full Protection product which is excellent value for money and will cover you against any damage to glass, the vehicle's wheels, roof, under-carriage, towing-fees, loss of key, mis-fuelling and any administration costs incurred during the rental period. Please note that amount of this package depends on the car category, supplier, location and rental period.
All the information relating to coverage and how much it will cost (including CDW, theft protection and liability, etc.) can be accessed on the Auto Europe website by clicking on the blue and white info icon (i) where you'll find all the coverage info you need. The same information will be sent to you once your reservation has been confirmed.
Please be aware that occsionally the local supplier might try to sell you more coverage than is necessary when you arrive to pick up your vehicle. You are not obliged to purchase it (especially if you have already have Auto Europe's Full Protection). The kind of coverage they might offer you normally includes (but is not restricted to) PAI (Personal Accident Insurance), PEC (Personal Effects Coverage), Super CDW, Seguro Relax Insurance, Road Assistance etc, but please be aware that Auto Europe cannot refund you for any of this kind of insurance, even if the purchase is ultimatey deemed to be unnecessary during your rental.
For more tips and advice regarding the kind of coverage you might need during your trip to Paphos, please consult our blog post highlighting all the key points to remember about car hire coverage. And if something were to happen on the road and you need to make a claim, it's worth taking a look at our Making a Claim Information Page so that the process is completed as soon as possible. Additionally, our reservation agents are available to help you make the right choice; just call them on +44 123 3225 114 and they will be happy to provide you with all the information you need. You'll also find lots of useful coverage-related information on our dedicated blog post which provides a general overview of the types of car hire coverage available.
Once you have picked up your car rental in Paphos, you'll find that the driving experience in the city is similar to other European city destinations, with many of the same rules and regulations in place. Although the local drivers are no more reckless than other parts of Cyprus or Greece, our general advice is to be alert and expect the unexpected, especially in the summer when more tourists are visiting the city. The first (and most important) thing to remember is that driving in Paphos is always on the left-hand side of the road, which is most convenient for British drivers because they are used to it!. Local driving regulations are strict but not necessarily adhered to by the locals, but visitors are well advised to follow the rules of the road with their low-cost car rental in Paphos. Be extra careful on roundabouts because sometimes there's an 'anything goes' attitude, especially among the younger drivers who often seem to be in a great hurry to get to where they want to go. Turning right at traffic lights is another manoeuvre that requires a bit more caution (remember that you're driving on the left-hand side of the road). You'll often find that occasionally the local drivers fail to indicate when making a turn, so it's worth keeping an eye out for that as well. You can read more about the island's driving and traffic regulations in Cyprus in our Cyprus driving guide.
Paphos has plenty of affordable car parks (municipal and privately-run) located in and around the city centre. The main public parking facilities in the Old Town exist close to the market and main shopping areas. On-street parking is also available which has a charge during office hours on weekdays but is generally free in the evenings and at weekends. In the Kato district, the main municipal car park is situated near the harbour. In the popular Tombs of the Kings tourist area you'll find several public car parks dotted along the main approach. Please note that parking and even waiting is strictly prohibited on streets marked with a double yellow line. A single yellow line means that loading and unloading is allowed but parking is still prohibited at all times. Be aware that fines are payable for unpaid parking tickets or if you're caught running over the permitted time.
No. None of our suppliers are at liberty to authorise travel into the Turkish Republic of Northern Cyprus (TRNC). Please be warned that drivers who take their car rental in Paphos to this occupied area of the island will be totally liable for the value of the vehicle and have their insurance made null and void.
No. Leaving Cyprus with your low-cost car rental in Paphos is expressly prohibited by all the suppliers operating on the island.
---
Paphos Travel Guide
When you rent a car in Paphos, you can really discover the true beauty of southern Cyprus by visiting all the main sights in and around this legendary city. You can soak up all the atmosphere of being in the birthplace of Aphrodite herself before embarking on a journey through ancient Greece with all its myths, history, architecture, mystery and magic.
Best day trips with my car rental in Paphos
Paphos is a great travel destination with many interesting places to visit within a relatively short distance by car. The city's environs are interesting enough, but if you venture even further afield you'll find ancient Greek and Roman sites and some of the most interesting archaeological remains in Cyprus. Why not share the driving at no extra cost by taking advantage of one of our free additional driver offers running throughout the year.
For clients wishing to pick up their car hire in Paphos and drop it off somewhere else, why not take advantage of Auto Europe's one-way car hire special offers which provide plenty of flexibility and facilitate a much longer road-trip.
Beaches
Besides the abundance of historical sites in and around Paphos, one of the city's key attractions are its wonderful beaches. Close to the town centre is Alykes Beach which is a top choice for visitors and locals alike, especially in summer. If you're looking for a nice spot near the city with less people, head for Kissonerga Bay which has a lovely long beach embroidered by some of the most crystalline waters in the Mediterranean. An important turtle-nesting site in summer, Lara Beach north of Paphos is generally regarded to be one of the best beaches in Cyprus.
Fyti
A very enjoyable half-day excursion option from Paphos is the charming village of Fyti, where time seems to have stood still for centuries. You'll love wandering through its narrow streets and enjoy savoruing a long leisurely lunch before visiting the excellent Folk Art Museum where locally-made handicrafts can be purchased for friends and family back home.
Akamas Peninsula
A nice alternative to city sightseeing is the half-hour drive north to the enchanting Akamas Peninsula, home to dozens of indigenous species of plant. Follow the Aphrodite Trail which finishes up at the famous Baths of Aphrodite before visiting the ancient ruins of the Pyrgos Tis Rigainas Monastery close by.
Ancient Vouni
Paphos is the ideal base from which to visit Cyprus' spectacular west coast, most notably the magnificent site of Ancient Vouni where you can explore the extensive 4th-century BC palace ruins built on the top of a hill, which is thought to have been of Persian or Greek origin. Don't forget your camera because the views of the surrounding land and seascapes are absolutely breathtaking.
What to do in Paphos
Idyllically located on the island's south-west shoreline, Paphos has a characterful old town and a number of worthwhile museums to visit. Steeped in history, the city has much to offer the tourist, whose first port of call is often the Kato Paphos Archaeological Park which houses some of the most impressive Roman mosaics in the eastern Mediterranean. Here's a few of the other must-see attractions to be found in and around this most ancient of cities;
House of Dionysus: The amazing mosaic pavements to be seen here are amongst the world's best. Part of the famed Paphos Archaeological Site, they depict scenes from Greek mythology, such as the story of Ganymede being taken back to Olympus by an eagle and the triumphant return of Dionysos with god being transported in a leopard-drawn chariot.


Tombs of the Kings: Not far from the city lies one of the most intriguing archaeological sites in the whole of the Mediterranean region. Hewn from the rock, the magnificent Tombs of the Kings is a set of impressive underground tombs dating as far back as 4 BC, including some intricately decorated with Doric pillars. Now a protected UNESCO World Heritage Site, it was once the burial ground during the Greek and Roman periods, probably for the highest ranking officials.


Agia Paraskevi: This beautiful Byzantine church is located in the Geroskipou district of the city. Dating from the 10th century, it is most notable for its five domes forming a cross and the fine collection of 15th-century murals portraying the life of Jesus Christ. Don't miss the fantastic Last Supper fresco which has been well preserved and still retains all its vibrant colours.


Paphos Archaeological Museum: One of the best of its kind in Cyprus, the city's archaeological museum is full of artefacts excavated from the local area. Housed across four modern rooms, the collection includes idols, ancient pottery, sculpture, old coins and many rare pieces from the Neolithic Age through to the Ottoman occupation.


Sanctuary of Aphrodite: One of the most absorbing sites on the island is without doubt the goddess' sanctuary a few miles south of Paphos. Once a holy place for the ancient Greeks, it was believed to be the mythical place where Aphrodite landed when she rose from the sea. There's lots to see, including the remains of a large Roman house built in 1 AD.


Paphos Promenade: The people of Paphos like nothing better than to stroll along the waterfront which now extends for over three miles through the city centre. The southern section takes you as far as the iconic Paphos Fort (another of the city's key tourist attractions) and beyond the popular Louis Phaethon beach resort. Walking north brings you to the ancient Tombs of the Kings and the ever-popular Paphos Archaeological Site.
---
Useful links