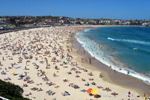 Australia
's 25,760 km long coastline is famous for beaches such as Surfer's Paradise, Bondi Beach and Byron Bay, but not just 3 beaches are worth a visit. Australia has no less than 11,761 beaches across the country and even for the most hardcore holiday-researchers it can be a daunting task to select which beaches to visit. Some beaches are beautiful with calm water, while other have wild surf waves. Here you can see our top 5 beaches 'Down Under'.
Surf beach:
This beach offers a deep beachfront with pure, white sand, soft waves and an open park with grilling facilities and picnic areas. This beach is especially popular for families with children and has something for everyone.
Burleigh Heads
: Burleigh is very popular among surfers but also tourists, who look for a laid back atmosphere. It borders to Miami Beach in the North and Palm Beach in the South, while it has a fantastic view of the mountains that reach the Gold Coast.
Cable Beach
: This exceptional and almost untouched beach has soft sand and calm waves. This is the perfect place to relax and enjoy the sun away from the big crowds of people.
Main Beach, Noosa Heads
: This is yet another world-famous surfing destination in Australia, but is also known for its wide sandy beach areas and colourful bays. Addtionally, some areas have beginner waves that can be a great place to learn to surf.
Bells Beach
: Located 100 km South-West of
Melbourne
along the majestic Great Ocean Road, Bells Beach is an almost untouched ocean beach with deep blue water.
The beach ends abruptly by the soaring cliffs with yellow and orange clay.