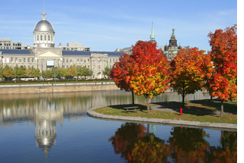 Montreal is the second largest city in Canada. Situated on an island, it takes its name from the triple peaked mountain in the heart of the city - Mont Royal. It is a cosmopolitan city with lots going on all year round. We have put together our top 5 things to do in Montreal.
Notre-Dame Basilica
- This Gothic church is one of the most dramatic in the world. The interior is grand, colourful and unusual. The ceiling is painted deep blue with gold stars and the stained glass windows have images of Montreal's history and not the usual biblical scenes.
Mont Royal
- The mountain at the centre of the city has three peaks. Mount Royal Park is beautiful with sculputured gardens, a lake and a forest as well as a ski slope. From the mountain there are spectacular views across Montreal city.
Old Montreal
- With buildings dating back to the 17th century, this area of Montreal is a stark contrast to the more modern part of the city. Wander around the cobbled streets and admire the Montreal City Hall, modelled on the town hall of Tours, France. You can take a ride in a horse-drawn carriage or visit the Old Port.
Montreal Botanic Garden
- Founded in 1931 the garden covers some 185 acres and has several different themes. There is a Chinese Garden with an artificial mountain and bonsai trees: the Japanese Garden, where you can experience a traditional Japanese tea ceremony and a large koi carp pond and the First Nations Garden with native Canadian plants, trees and artwork. The Alpine Garden has alpine plants over a rocky outcrop.
Canadian Railway Museum
- If you
hire a car in Montreal
you can visit the Canadian Railway Museum in the suburb of St Constant. The museum houses the largest collection of railway equipment in Canada and operates a street car around the grounds. Have you been to Montreal? What were your favourtie places to visit?