Travel Guide Martinique - a gem in the Caribbean
A glittering jewel in France's overseas crown, Martinique has all the colour and exoticism of a dream holiday destination - an island of lavish beauty blessed with a dazzling variety of tropical land and seascapes. Kidney-shaped and lush all over, Martinique is one of the Windwards, an irregular chain of islands that stretch from Puerto Rico to Venezuela at the easternmost edge of the Caribbean Sea, the products of fiery eruptions from steep-sided volcanoes rooted into the earth's crust deep below the sea's surface.
Martinique is a very special island hideaway, one of the most precious pearls pertaining to the Caribbean region. The remnants of its colonial past are a charming diversion from what is essentially an exuberantly tropical paradise. The northern coast is volcanic with dark-sand beaches while the southern coast is scalloped with fishing-boat-bobbing coves of powdery-white sand. The eastern Atlantic shores might be a little windswept and rugged but the western Caribbean waters are always pleasantly serene. And at the island's heart are mountains dense with rain forest, which is where the real Martinique travel experience begins.
Safely tucked into the sheltered northern fringes of a large bay, the capital Fort-de-France offers visitors an intoxicating taste of 'la belle France'. Packed with cultural attractions, the city can be easily explored by foot in a leisurely and enjoyable way. You can dine on fresh fish and seafood, spicy creole dishes and tropical fruits and vegetables in characterful eateries all over town, especially in and around the popular Malecon waterfront area. There's much to see in the city centre but don't miss the historic Saint-Louis Fort for its commanding city views, nor the picturesque Didier Waterfalls a short drive north-west of the city. With our Travel Guide Martinique you'll find more tips on what to see and do on the island plus all the information you need regarding the many different options available when driving around Martinique.
Founded in 1954, Auto Europe is one of the leaders in the international car hire industry, with over 24,000 pick-up points in more than 180 destinations worldwide, including Fort-de-France and other key locations in Martinique such as Trois Ilets, Sainte Anne and Le Marin. Auto Europe works with all the world's top global and local suppliers which enables us to offer the best range of vehicles at the cheapest possible prices. If you have any questions or need help with your booking, please do not hesitate to call our reservations team seven days a week on +44 123 3225 114 and they will be happy to find you the best car rental deal in Martinique.
Look over the Martinique travel guide topics listed below and take a look at each page for information on a specific aspect of traveling in Martinique .
Martinique Car Hire Guide - This guide offers you a full overview of everything you need to know when hiring a car in Martinique.
Martinique Driving Information - Learn helpful information about driving in Martinique. From tips and driving laws, to speed limits, parking, and more.
Road trips with my car hire in Martinique
Martinique is one of the best Caribbean islands for renting a car and taking a trip around the island, which is roughly the size of New York City and easily manageable in just one day, including stops for lunch and refreshments. The countryside is served by a network of good to excellent hard‐surfaced roads but signs are in French so you'll need to brush up on that and distances are measured in kilometers. The French-funded A1 highway from the airport is so well maintained that it practically qualifies as a tourist attraction in itself, due largely to the head-spinning views from beginning to end. Take any turn-off from the A1 onto one of the primary roads and you will find yourself following a labyrinth of charming country lanes through some of the greenest rain forest and farmland you've ever seen. Much of the island's unspoilt scenery must look very similar to how it did when Napoleon's empress, the charismatic Josephine, was growing up on her family's plantation in the late-18th century. So grab your car hire and head for the jagged peaks of Mount Pelée and the Pitons du Carbet which seem to suddenly spring up out of the ground as you drive through landscapes nourished by freshwater streams that eventually spill into picture-postcard waterfalls and canyons, for which you will need to have your camera constantly at the ready.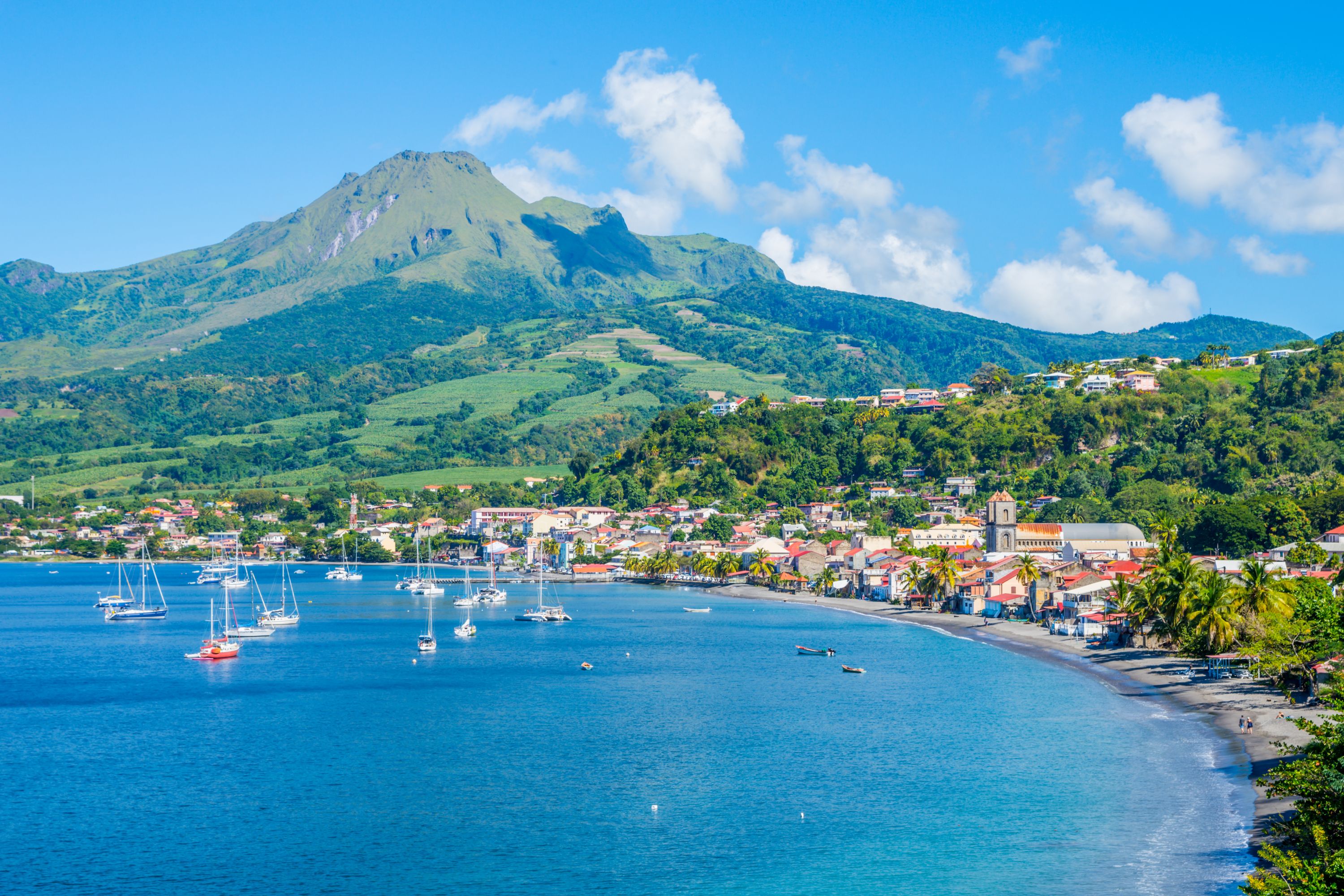 Route de la Trace: Winding its way through the centre of Martinique north of Fort-de-France, the Route de la Trace is a beautiful drive through rain forest towards Mount Pelée, passing the eastern flanks of the volcanic peaks of the Pitons du Carbet on the way. The N3 highway follows a route cut by the Jesuits in the 17th century known as the Trace de Jésuites, hence its name. It's a very scenic drive through banana plantations and flower nurseries with plenty of impressive mountain scenery to be enjoyed at the route's highest point about two miles short of Mount Pelée's summit.
South Coast: Idyllically set on Martinique's spectacular south-west shoreline, the pretty beach resort of Les Trois-Îlets provides the perfect base from which to explore the southernmost parts of the island. Birthplace of Joséphine, Napoléon Bonaparte's first wife, there's plenty of tourist appeal in and around town, including the house where the great lady was born. From there, the short drive south-east to Sainte-Luce takes you through Montravail Forest, one of the most appealing parts of the island. Continuing south brings you to Salines Beach at the southernnost tip of Martinique, a place world-famous for its pristine white sands and translucent waters.
East Coast: For a drive on the wilder side of Martinique, head for Presqu'île de la Caravelle on the island's more rugged Atlantic coast, passing picturesque Tartane Bay en route. Local attractions here include Chateau Dubuc with its well-preserved 17th-century castle ruins and some of the most stunning sea views in the whole of the Caribbean. Further down the coast you can visit the upmarket resort town of Le François located a 30-minute drive on the N6 due east of Fort-de-France. Besides having the chance to relax on the beach and shop for locally-made handicrafts, Le François is in very close proximity to Habitation Clement, a charming 18th-century estate comprising a rum distillery, museum, exhibition centre and 17 hectares of lush botanic gardens
West Coast: Take the N2 coast road north of Fort-de-France for a relaxing road trip towards Saint-Pierre, once the island's most important cities and trading centres. Founded in 1635, it was almost entirely wiped out by an immense volcanic eruption in 1902, killing over 30,000 people. Today it is a very pleasant place famous for its art galleries and fine restaurants in the imposing shadow of Mount Pelée, the island's tallest peak. There's much to see on the drive back, including the lovely little seaside town of Le Carbet, home to the Paul Gauguin Interpretation Centre where visitors can learn about the life and work of the French post-impressionist artist who visited the island in 1887.
---
What to do in Martinique
Martinique has long had a well-established tourism infrastructure greatly boosted by its temperate climate and warm sunny days all-year-round. Vibrant Fort-de-France, the island's captivating capital, is a compact and cosmopolitan city flavoured by the kind of creative creolisation that occasionally outshines its French heritage. For those unfamiliar with the destination, there are some wonderful discoveries to be made outside Fort-de-France. Start with beaches, all open to the public (there's no such thing as a private beach on Martinique), with the best to be found due south. You also can visit botanical gardens and museums, ruins and restored distilleries, monuments and sugar plantations. The whole island is embroidered by pretty fishing villages so be spontaneous whenever possible and park up for a long, leisurely lunch by the calm Caribbean Sea or awe-inspiring Atlantic Ocean, the choice is yours.
Fort-de-France: The city's old downtown district with its charming grid-pattern streets is a relaxing place to stop for a cool drink and visit all the main attractions on foot. The popular covered market is a bustling city hub with traders and tourists bartering over locally-made handicrafts and other artefacts unique to the island. Must-sees include a visit to the famous Schoelcher Library which was built in France, dismantled in its entirety and later shipped to the island in the 1890s. With its intricate mustard and salmon stonework, it is arguably the most elaborate building on the island and inside you'll find some 300,000 volumes, including the collection of Victor Schoelcher, a French political leader of the abolitionist movement during the 19th century. Designed by Gustave Eiffel of Parisian Tower fame, St Louis Cathedral close by is another of Fort-de-France's most striking architectural landmarks built in the Gothic Revival style.


La Savane des Esclaves: A short drive south of Fort de France lies one of the island's most fascinating tourist attractions, La Savane des Esclaves, replica of a 19th-century slaves' village illustrating how the enslaved Martinican people survived before emancipation in 1848. This fascinating open-air museum spread over a hillside in Trois-Ilets is a historical treasure trove of murals, sculptures and other poignant pieces of art that add plenty of visual context to the island's long and quite horrifying story of slavery.


La Pagerie: Not far from La Savane des Esclaves is the sprawling sugar plantation where Napoleon's wife, Empress Joséphine (full name Marie-Josèphe-Rose Tascher de la Pagerie) was born in 1763. Lovingly preserved despite being partially destroyed by a hurricane in the 18th century, its delightful gardens still display the dahlias, hibiscus and camellias she introduced to Europe as Empress. Another major draw for tourists is the chance to see Napoleon's rare and very revealing love letters to his then future wife Joséphine written by his own hand, although the couple eventually separated when she failed to bear him children.


Habitation Clément: Near the pretty town of Le François on the east side of the island lies Habitation Clément, a historic plantation house with a 40-acre sculpture park and a sleek gallery showcasing the best work of the local artists. In addition to the art, most visitors come here to taste the rhum agricole, Martinique's signature spirit, which is made from pressed sugarcane instead of molasses, giving it a much lighter and less syrupy taste. Dating from 1917, the original Clément distillery is preserved like a rare artwork in itself and the rum is stored in sweet-perfumed cellars before being bottled and shipped to all four corners of the world.


Martinique Zoo: A short drive north of Le Carbet on the island's peaceful west coast lies Zoo Martinique - Habitation Latouche, an excellent family-friendly attraction set in exquisite botanical gardens amidst the ruins of an old sugar plantation. The zoo might be small in dimension but it's very big in quality, with monkeys, jaguars, raccoons and multi-coloured lorikeets constantly vying for your attention. The setting is as much an attraction as the zoo itself with concealed paths and photogenic rope bridges inviting visitors to take a relaxed stroll through the plantation's lush tropical plants and rain forest. After visiting the zoo, stop for lunch at the nearby town of Le Carbet where Christopher Columbus first came ashore on 15 June 1502 and also where Eugène Henri Paul Gauguin famously lived and painted in 1887.
---
A bit of history
Similar to many other Caribbean islands, Martinique's history is underpinned by traces of Stone Age civilisations dating back to 4,000 BC. For many centuries the island was inhabited by Carib Indians, after whom the entire region was christened. They called it Madinina, which means Island of Flowers in their language and certainly an apt description that continues to this day. Key moments in Martinique's history include Columbus first setting eyes on the island in 1502, followed by the French flag being raised for the first time in 1635 by Pierre Belain, a French trader. Martinique became the most important French colony in the 1650s as the colonists grew rich from the cultivation of sugarcane, which they began shipping to Europe in increasing quantities. With the sugar industry expanding rapidly, the French brought African slaves in to work on the plantations and production subsequently reached an all-time high in the 18th century. Due to its immense wealth, Martinique was subjected to successive attacks and changed hands several times before Napoleon Bonaparte finally took the island from the British in 1802. A key year in Martinique's history was 1848 when the French government ended slavery in the French West Indies but on 8 May 1902 Mount Pelée erupted and completely destroyed the island's capital, Saint Pierre, killing over 30,000 people in the process. Many Martinicans fled to the neighbouring island of Dominica where they evebtually stayed. Curiously, Saint-Pierre's only survivor was a man called Auguste Cyparis who was saved by the thick walls of his prison cell! In the wake of the city's destruction, Fort-de-France was pronounced the capital, which it remains today.
---
Frequently Asked Questions about travelling in Martinique
Before you book your car hire in Martinique, it's probably worth taking a look at the below essential questions, which includes everything you need to know when planning your holiday, as well as all the arrangements you need to make before travelling.
We also provide general information when hiring a car with further details on regulations, age restrictions, coverage options and more - this can be reached on our travel tips page. If after reading these pages you still have a question, then please do not hesitate to contact one of our friendly reservation agents. Our team is here to provide any car hire related answers and assistance, to maximise your car hire experience.
---
Visiting remote island destinations sometimes means that the roads might be in a state of disrepair, but that certainly isn't the case with Martinique. The roads are very good compared to some of the other Caribbean Islands and very well maintained with good signposting. When driving in the interior you'll find that some roads are quite hilly with many curves to contend with, so leave plenty of time and enjoy the views, which are absolutely magnificent. With convenient pick-up points available in key locations all over the island, Auto Europe offers the right vehicle for exploring the many towns and cities or negotiating Martinique's more mountainous terrain. With its extensive range of car hire options, we have everything from a small, economical car for enjoying the sights of Fort-de-France to a sumptuous SUV for an exhilarating drive up Mont Pelée, one of the highest peaks in the Caribbean. Check out our wide range of vehicles and choose the car hire category that suits you best for a truly memorable motoring holiday in Martinique.
As Martinique is an overseas region of France, which is part of the EU, the currency is the euro. At the airport and port of Fort-de-France you will find several exchange offices. Alternatively, you can do withdrawals from ATM machines. Be sure to verify with your bank if there are additional fees for cash withdrawals outside the UK.
Martinique is in the Eastern Caribbean time zone (UTC-04:00), so there's four-hour time difference between the UK and Martinique.
The electrical voltage in Martinique is between 220 and 240 volts (opposed to 230 volt in the UK). This is similar to the UK and therefore you will only need an adapter to be able to use appliances from the UK.
Martinique is an Overseas Department of France which means that if your passport describes you as a British Citizen then you will not need a visa to enter Martinique for stays of up to 90 days. Nevertheless, if the UK leaves the EU without a deal, then this visa policy might change for British Citizens visiting Martinique after Brexit.
As there is no British embassy or consulate in Martinique, British nationals visiting the island and requiring any kind of assistance are asked to contact the British Embassy or Consulate in Paris;
British Embassy Paris
35, Rue du Faubourg St Honorébr
Paris Cedex 08, 75383 Paris
Telephone: +33 (0) 1 44 51 31 00
British Consulate Paris
16 rue d'Anjou
75008 Paris, France
Telephone: +33 (0) 1 44 51 31 00
Hello - Salut
Good morning - Bonjour
Good afternoon - Bon après-midi
Good evening - Bonsoir
Where is the closest police station? - Où se trouve le poste de police le plus proche?
Where is the closest hospital? - Où se trouve l'hôpital le plus proche?
Where is the closest ATM machine? - Où se trouve le guichet automatique le plus proche?
Can I pay by credit card? - Puis-je payer par carte de crédit?
Can I pay by debit card? - Puis-je payer par carte de débit immédiat?
How much does this cost? - Combien ça coûte?
Thank you - Merci
---
Useful Links
Martinique Airport Information
Official Tourism Website of Martinique