Car Hire with Fox: All you need to know about Fox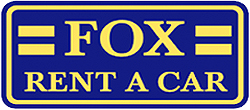 Being new by comparison to the car hire sector doesn't mean that Fox hasn't managed to cement its position in this very competitive industry. Established in 1989, a car hire with Fox will guarantee you a great offer, together with an excellent customer support system to give you added peace of mind. With an emphasis on discounted deals and customer satisfaction, the Fox operation started off at Los Angeles International Airport and is still privately owned by its founders. To date, Fox car hire has expanded its branches to a total of fifty in the USA and into a further twenty-two other countries.
Auto Europe is a broker with over 60 year's car hire industry experience. Its commitment to seeking out amazing deals has led it to partner with hundreds of local, national and international car rental suppliers. Along with an exceptional car hire service, we also offer the ability to hire a luxury vehicle and a motorhome rental service. Our continued work with Fox allows us to be fully confident in offering service as part of our network of trusted suppliers. Should you have any questions, please get in touch with one of our reservation agents.
Fox Car Rental: Top prices from a leading supplier
Fox set up its first branch in Los Angeles Airport over twenty years ago and to date has seen substantial growth and expansion. The company's approach has been to provide excellent friendly customer care but at an exceptional price – due to this the company has positioned itself perfectly amongst its older rivals. Fox specialises in affordable car hire on vehicle categories that would otherwise have been more expensive with larger car rental suppliers at major airports.
Along with the company's presence in the USA, it has recently expanded to offer its services internationally, in particular within the UK and Mexico. The company offers a large selection of vehicles to rent with an ever renewing fleet full of the latest makes and models. The vehicles themselves are well maintained, ensuring for a reliable and safe journey.
At some airports, Fox provides an off-site service, with frequent shuttle buses to its branch. Its commitment and effort to customer satisfaction has helped to dispel the notion that off-site airport branches are an inconvenience. In fact, with the frequent shuttle bus provided by Fox and its fast check-in service, this approach is far from an inconvenience. The shuttle service runs every 5 minutes and together with their friendly and informative drivers, will ensure you obtain an excellent overall experience.
The unique Fox car hire experience
If you're planning to visit Los Angeles on business or pleasure, then consider a car hire with Fox and experience a great level of service at an affordable price. Our partnership with Fox allows us to provide great savings on car hire deals throughout all Fox locations, especially in comparison when booking directly with the supplier. You may view the fleet on our website and read all about the various benefits to each vehicle type – which in turn will make selecting your next vehicle easier.
Therefore, if you are looking for a vehicle that is modern and reliable but at a great discounted price, then look no further than a car rental with Fox. From mini vehicles, which are great for city driving, to compact and economy cars, that are fuel-efficient but yet provide great comfort – Fox has it all. Contact Auto Europe today and we'll help you organise your next trip's car hire needs. Likewise, if you have any further questions about Fox, then get in touch and we'd be more than happy to assist.