Keddy Car Hire: All you need to know about Keddy by Europcar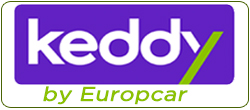 Keddy is a budget brand of the renowned car rental supplier Europcar. Thanks to Keddy, people from around the world travelling on a small budget can still benefit from the company's high-quality service. A car hire with Keddy is a special product only sold through travel agencies, which means that customers can only book Keddy car hire with brokers like Auto Europe. Keddy is present in over 145 countries worldwide and customers can choose from the same fleet of cars as Europcar.
Since its launch at the beginning of 2015, Keddy has been targeted at price-focused customers who value the quality of Europcar's rental service.
The presence of Auto Europe in the car rental market spans 60-plus years. During this time the company has gained an unrivalled amount of car hire experience to serve travellers all over the world whilst establishing very strong alliances with our global travel partners. Along with a first-class service, Auto Europe offers competitive prices and works with all leading rental companies. If you book Keddy or any of the other suppliers available on our booking engine, you can rest assured that you are going to receive a high-quality customer service from our local partner.
Even in times of COVID-19 you can safely book a car hire from Keddy due to its strict health and safety measures.
Keddy by Europcar: Top prices from a leading supplier
Keddy's parent company, Europcar, is proud of its reputation as one of the world's leading car hire suppliers. This quality also extends to its subsidiary company and both suppliers are fully committed to providing our customers the best possible service. As a general rule, you can be sure that the cars in Keddy's fleet are no more than six months old, a policy that Europcar rigorously strives to maintain. All customers obtain 24/7 roadside assistance during the period of their rental, which means that no one is ever left stranded in the case of an accident. Regardless of the time or place of the accident, a Keddy staff member will provide you with all the help you could possibly need.
With both Keddy's support and Auto Europe's customer service at your disposal, you won't have to worry about the prospect of requiring assistance during your trip because the whole team will be on hand to help you and get you back on the road.
The unique Keddy car hire experience
You are only a few clicks away from experiencing Keddy's outstanding car rental service. Find your personalised car hire with Keddy through the booking engine located at the top of this page. Choose your vehicle and compare it with the offers from the other local suppliers like Hertz and Avis, amongst many others. Read the reviews about Keddy written by our customers and make an informed choice. It is also possible to book additional items like GPS satnav devices and child seats when making your reservation.
You are cordially invited to immerse yourself in your own Keddy experience with Auto Europe and discover new destinations like Australia and Cyprus. Complete your booking online or by talking to one of our rental specialists, who are always happy to assist you with any queries you might have. As a subsidiary company, Keddy does not have its own offices, so all rentals are handled at Europcar desks.