Car Hire with Smile Rent: Discover the Smile Rent Experience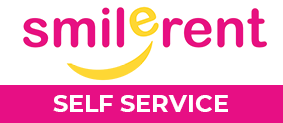 The Smile Rent self-service approach is not only pioneering, but a totally different way of hiring a car. This new method is quick and easy, all you'd need to do is download the Smile Rent application (app) from either Google Play (Android) or the App Store (iPhone). Once installed on your phone, you then register your details and when the booking process is finalised, simply pick-up your car hire with Smile Rent.
From the app under "Find My Booking", you'll be able to find your reservation and link it to your profile. In order to collect your car, you must provide Smile Rent with a valid identification (ID card or passport) together with your driving licence – this will allow Smile Rent to do an online check. Auto Europe recommends using this new method to avoid counter queues and generally speed up the whole process. Once you arrive at your car, simply use the app to unlock it and drive away.
Smile Rent Car Rental in Italy
Smile Rent is part of the Avis Budget Group so you're guaranteed a great experience using this new approach to car hire in Italy. This new method was specifically designed for tech-savvy clients who are not only on a budget, but also want to get on the road as fast as possible. The ability to avoid check-in queues that can last up to three hours during high-season is this services core attraction.
When you arrive, a shuttle bus will take you directly to where your car is stationed. You then unlock the vehicle using the app and once inside locate the car keys. This service was originally available only in Milan – Malpensa Airport and Rome - Fiumicino Leonardo de Vinci Airport, but it is now being rolled out across key airports and train stations in Italy.
Important information to pick-up your car
Firstly, you must download the Smile Rent app from Google Play (Android) or the App Store (iOS) and register your details. After doing this, look for your booking and link it to your profile. Once you arrive, simply head towards the car park where your car will be waiting. Details of which will be sent to you once you are registered and your booking has been confirmed. At the car, use the app to unlock it and then look for the keys inside. Simply drive away – it's that simple and you'll never need to stand in a queue again!
Regardless if you are travelling for leisure or business purposes, a car hire with Smile Rent is the perfect choice for a stress-free onward journey. This novel approach will certainly help simplify your journey and get you on the road quickly and within budget. Consider using the Smile Rent app today and see what difference it'll make to your car hire experience.
FAQs - Smile Rent Self-Service
What if I have difficulty downloading the Smile Rent app?
If for any reason you are unable to download the required app and register before you arrive, then this will need to be done manually on location. This will require you to head to the office and join the queue - which in turn may cause you some delays. We advise downloading and registering at least 48 hours before you arrive.
What documents do I require at time of rental?
You will require a full driving licence, identification in the form of an ID card or passport, credit card and a copy of your booking. If you reside outside of the European Union, only passports will be accepted as form of identification. Smile Rent will only verify your documents once.
Where is Smile Rent located at the airport?
Smile Rent can be reached by shuttle bus from the arrivals hall. If arriving at Rome Fiumicino Airport, head towards the shuttle bus departure points – of which are indicated – and catch the bus to the P2 car park. (Long stay car park - zones two to three). If arriving at Milan Malpensa Airport, leave the terminal and catch the shuttle bus to the staff parking zone.
Where is my car located?
The app will provide the exact location of your vehicle.
Where are the car keys located?
Once at the car, simply unlock it via your app. The car keys are inside the glove compartment.
What type of credit cards are accepted for the deposit?
In order to rent a car with Smile Rent you will need a valid credit card for a security deposit. The card must be under the main drivers name and contain enough funds. Only Mastercard, Visa and American Express credit cards are accepted.
What do I need to know about the fuel policy?
You must bring the vehicle back with the same amount of fuel that was in the vehicle at the time of pick-up. Please note that the Smile Rent app is synchronised with your vehicle and can measure the exact amount of fuel inside the tank at any given moment.
When returning the vehicle you must do so with the same fuel amount as when you collected it. The Smile Rent app is synchronised to your vehicle's fuel level – thus allowing it to know exactly how much fuel the vehicle has. For your convenience, a member of the Smile Rent staff can refuel the car for you. This does however impose a surcharge fee of around £26 plus the difference in the fuel amount from time of pick-up to drop-off, with a lenience of up to one litre. Fuel prices are fixed to the EU fuel index, that of which can be consulted here: https://ec.europa.eu/energy/en/data-analysis/weekly-oil-bulletin.
Where do I drop off the car keys once the rental ends?
Upon completing your car rental, you leave the car keys inside the glove compartment and using your Smile Rent app, lock the vehicle. Your rental has come to an end and there is nothing else you need to do.