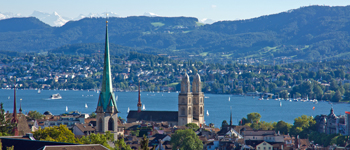 Zurich is located in the heart of Europe at the foot of the Swiss Alps and is a city that offers both a cosmopolitan city life and wonderful experiences in nature just outside the city. Surrounded by snow-capped mountain peaks, Zurich lies in the northern end of Lake Zurich in Switzerland.

Zurich is also a financial capital of the world, with its third-largest bank in the world, United Bank of Switzerland (UBS). It can at times seem to characterize the city, however, the city is at the same time elegant, trendy and traditional.In the city you can see expensive cars, busy, fashionable people and, as a contrast to the hectic lift, the traditional trams crawl through the streets past rivers, houses and the fashionable boutiques on Bahnhofstrasse shopping street.
The beautiful old town (Alstadt) charms you with its narrow streets, picturesque squares, bridges and churches. Among the paved streets, you will find a large collection of museums and exhibitions in SwitzerlandOn a trip to Zurich, you can experience a lot, just within a long weekend. Shop till you drop, hike in the Alps and eat in some of Zurich's fantastic restaurants.
Pack your weekend suitcase and bring clothes for hiking, skiing, dinner and dancing. You will not be bored in Zurich, as the city offers something for everyone and only a short drive away from other great places in Germany and Austria.