Leasing a Peugeot Car in Europe
We have successfully partnered with Peugeot to provide customers with excellent deals on long-term leasing whilst visiting Europe. With unparalleled savings, opt for the Peugeot car leasing program to benefit from great terms on rentals of three or more weeks. We realised that long-term car rental isn't for everyone, therefore through the Car2Europe (previously Peugeot Open Europe) we offer long rentals with short-term conditions.

Offering customers the opportunity to rent a Peugeot car in Europe with a low daily rate, this short-term lease program enables you to drive away a brand new Peugeot car with minimum fuss. Some of the many advantages to this lease include a tax free contract, brand new car, the latest models and full vehicle cover with no excess. You'll also be able to drive in 40 European countries. Use our website to search for the exact vehicle you need for your next trip to Europe, or continue reading to find out more about the Peugeot Car2Europe Lease Program.
To qualify for the Peugeot Car2Europe Lease you'll need to ...
✔ Be a resident outside of the European Union (EU).
✔ Be 18 years of age with a clean driver's licence.
✔ Be considering a car hire for a minimum duration of 21 days.
European Peugeot Car Lease Pick-up Locations
Look for further information on Peugeot collection points in Europe. Compare cars, quotations and deals easily and quickly.
Amsterdam Airport
Calais Terminal
Madrid Airport
Nantes Airport
Barcelona Airport
Frankfurt Airport
Marseille Airport
Nice Airport
Basel-Mulhouse Airport
Geneva Airport
Milan Linate Airport
Porto Airport
Bordeaux Airport
Lisbon Airport
Milan Malpensa Airport
Downtown Paris
Brest Airport
Montpellier Airport
Pau Airport
Orly Airport
Brussels Airport
Lyon Airport
Munich Airport
Vigo Airport
Charles de Gaulle Airport
Rome Airport
Toulouse Airport
For more information, please see our Peugeot fleet guide and terms and conditions.
Expanded Age Eligibility with a Peugeot Short-Term Car Lease
Those who are 18 to 26 years of age - regarded as young drivers, and those who are over 65 years of age - regarded as senior drivers, are more likely to rent a vehicle on a long-term basis. This can be due to many reasons, but mostly it includes time away studying abroad, internships and longer holidays when retired. Unfortunately, when hiring a car in Europe, these age groups normally get lumbered with additional age related fees on their traditional car hire. Sometimes these age groups are even refused the rental. Luckily, through the Auto Europe short-term lease program, these additional fees and restrictions won't apply. With the minimum age requirement to lease a Peugeot car in Europe standing at 18 years of age, and with no maximum age restrictions - you can lease a vehicle with no added fees or hidden charges.
Peugeot Provides Free Travel Between 40 European Countries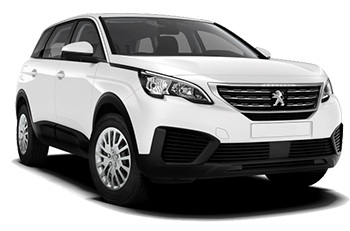 When renting a car in Europe the traditional way, all countries in which you decide to visit must be previously disclosed and noted on your rental contract beforehand. This is a requirement because many car hire agencies may want to impose additional charges, insurances or even outright deny travel to these countries. Because Auto Europe understands that many visitors to Europe want to explore everything that the continent has to offer, by visiting multiple countries and experiencing various cultures - we recommend the Peugeot leasing program for those wishing to tour extensively. This will allow you to visit freely 40 European countries.
Travel with a Short-Term Car Lease and Save Money
We have already touched upon the numerous ways that our clients can save money with a Peugeot car lease, but there exists loads more benefits and ways of saving money during your European tour with Peugeot leasing.
Free Additional Drivers with your Peugeot Car Lease
As it is often nice to share the driving experience, especially during long trips, all Peugeot leases offer the opportunity to have additional drivers for free. No added costs or hidden charges.
Zero Deductible Cover
In the unfortunate event that you are involved in a car accident, or your vehicle is stolen, all leases come with zero deductible coverage. This means that you pay absolutely nothing to cover the deductibles on CDW and TP, so won't be out-of-pocket if your car is stolen or in an accident - this applies to all Peugeot short-term car leases.

This coverage is only available for the 40 European countries as specified in the Peugeot car lease terms and conditions. If you drive into a country not covered by the Peugeot coverage, you will be liable for any costs incurred due to an accident or if the vehicle is stolen.
Additional Savings & Benefits to your Peugeot Car Lease
Unlimited Mileage - Free to drive as much as you want with no limitations.
No Conversion Fee - When you pre-pay your lease in GBP, you'll incur no currency exchange rates.
Value Added Tax Exemption - No need to pay VAT or any additional airport charges.
Left-Hand Steering - For ease, all new Peugeot vehicles will come with left-handed steering.
Roadside Assistance with your Short-Term Peugeot Car Lease
You are never alone should you encounter any problems during your Peugeot short-term car lease. We are on-hand 24/7 to assist you when needed, with roadside assistance in 40 European countries - those of which also come under the Peugeot car lease zero deductibles coverage.
Eligibility and Booking your Peugeot lease with Auto Europe
To be eligible for the Auto Europe Peugeot short-term lease, you'll need to have residency outside of the European Union and be looking to hire a car for a minimum of 21 days.

Once you have established your eligibility, you can obtain a quotation by calling a reservation agent on +44 123 3225 114. Please also feel free to contact us should you have any further questions.