It is true to say that not all of us need summer as a motivator to enjoy the outdoors. Although for some, the colder seasons can be very demotivating when it comes to spending time outside. In entering the summer months, the perfect opportunity arises to come out of our winter hibernation and explore beyond your home's four walls. No longer do you need to sit wrapped up warm in front of the fire place. It's now time to spend your days outside doing the activities you enjoy the most. Whether alone or as part of a team, being outside has many health benefits and feel-good factors. Auto Europe, via its Twitter account has, compiled the top 5 summer activities from its followers and given an insight as to what people enjoy:
Summer activities - Cycling
Top on our followers list is cycling. Whether it is on-road or cross-country, cycling is by far one of the best sports to do outside. Not only are you gaining health benefits via cardiovascular exercise, you also get to explore your area at leisure. Cycling is the type of sport that can equally be enjoyed alone or as part of a team. Once you have invested the initial money on a bicycle, then it is a relatively cheap activity.
Summer activities - Barbecuing
Summers would never be summers without a barbecue. In the UK, we generally love a barbecue, but seldom get the type of weather required to enjoy one fully. As summer arrives, BBQ food flies off the supermarket shelves and disposable barbecue grills become a scarcity. For many, a barbecue is the perfect opportunity to invite friends round and reconnect with those family members you infrequently see. Relax in your garden, with plenty of food, fun and refreshing
summer drinks
.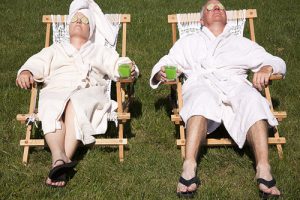 Summer activities - Sunbathing on grass
For us Londoners especially, we love spending time in one of the major commons or parks enjoying the summer warmth. Whether it's Hyde Park, Blackheath Common, Primrose Hill, Clapham Common or Greenwich Park, the choice is endless when it comes to selecting the best locations. Some lesser known parks, such as Danson Park even have their own ponds with ducks, wildlife and water activities. Adding food, drinks and good friends, the whole day can be well spent talking, laughing, sunbathing and relaxing on the grass - just watch out for those nice squirrels.
Summer activities - Paddling pool fun
Enjoyed by the younger kids among us, but often no excuse is spared from the older ones too, is a paddling pool. Conjuring up memories of holidays by the seaside, if you are unable to visit the sea, then a paddling pool is the perfect way to bring the sea to you. Splash, play and spray each other with water pistols enormous amounts of fun can be had. The ideal, would be to have a fixed all-year-round paddling pool, although a good compromise would be an inflatable one. Once used, and as the colder months start to reappear, then it can be safely deflated and stored away for next summer.
Summer activities - Exploring beer gardens
Socialising is one of the best activities you can have. Either after work or over the weekend, spending time in a bar or pub with mates is time well spent. As summer arrives, these establishments become even more popular. With many pubs and bars having outside beer gardens, some of which are very beautiful, the search for the perfect spot ensues. For many, the ideal beer garden would be by the river, watching the world go by. For others, the ideal setting would be surrounded by trees and
nature
. As summer arrives, these gardens become a hive of activity and buzz - with even barbecue food being served and live music.What is your preferred outside activity once summer arrives? Why not leave your comments below, it might even make it onto our next list.