Travel Guide Malta – Touring the Island by Car
Malta is the ideal destination for anyone looking for that exclusive mix of year-round sunshine, Mediterranean culture and thousands of years of history. Located just 93 kilometres (58 miles) south of Sicily, this peaceful, palm-fringed island is dotted with picturesque villages, old fishing communities, hidden sandy coves and plenty of unique natural attractions.
Malta is in fact three destinations in one, along with the two neighbouring islands of Gozo and Camino, both very enchanting and blessed with an extraordinary beauty. Most tourists make the effort to visit all three islands during their trip to enjoy unforgettable travel experiences. Legend abounds on these floating monuments in the heart of the Med and the purpose of our travel guide for Malta is to put you on the right road for a fantastic trip.
The archipelago has been the centrepiece of Mediterranean since time immemorial and was subsequently colonised over the centuries by by the Phoenicians, Romans, Moors, Normans, Sicilians, Spanish, Knights of St John, French and the British before finally securing its hard-fought independence in 1964. This evocative pastiche of historical influences has had a positive effect on many aspects of Maltese life, most notably the food which is a unique mix of Mediterranean and North African cuisine.
Many first-time visitors pick up their car hire in Malta at the island's international airport and head for the capital, Valletta, one of the most breathktakingly beautiful cities in Europe. There's much to see and do in this ancient place, whose UNESCO World Heritage status covers the entire city. Other island highlights include the hilltop city of Mdina and the world-famous Hal Saflieni Hypogeum, a well-preserved underground temple complex dating back several millennia.
Founded in 1954, Auto Europe is one of the world's longest-established car rental companies and we've built a solid reputation by working with all the top car hire companies, including Alamo, Avis, Hertz, Alamo, Dollar, Enterprise, Europcar and Sixt. You can book a cheap car rental in Malta in a few easy steps through our high-tech search engine or by calling our rental specialists on +441233225114 and they will find you the best deal.
Look over the Travel Guide Malta topics listed below and take a look at each page for information on a specific aspect of travelling around the country by car.
Road trips with my car hire in Malta
Compared with some of the other Meditarreanean islands, Malta is relatively small; in fact, it takes less than an hour to drive right across it and only a few hours to encircle its entire coastline. This means that it's the ideal destination for a relaxing road-trip, normally starting and finishing in Valletta, including a pleasant stopover for lunch in a pretty seaside village en route.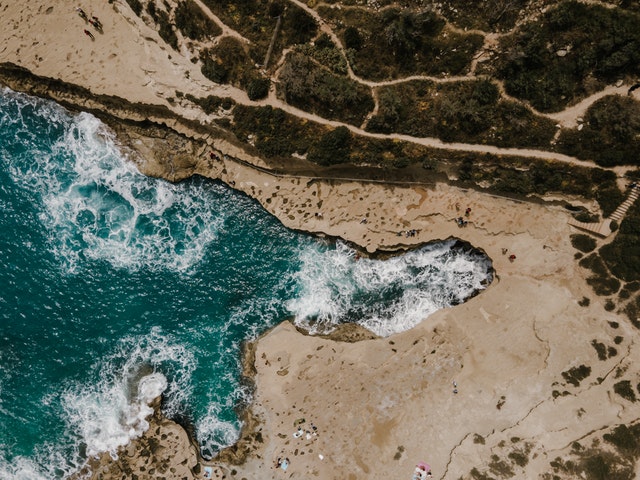 Blue Grotto: Amidst the sparkling blue waters of Malta's stunning south coast lies the Blue Grotto, one of the island's top attractions. The journey there through a succession of pretty villages is an experience in itself, although the sight of this unique natural attractions takes your breath away. Visit the caves in the morning when sunlight fills them with light and the waters are at their most translucent.
Marsaxlokk: This charming and very traditional fishing village on the south-east coast is well worth a visit with your low-cost car hire in Malta. Here, everything is calm and peaceful as fishing boats bob in the turquoise waters of Marsaxlokk's natural harbour as diners seek to install themselves in the many waterside restaurants. If you're visiting on Sunday, you cannot miss the morning fish market where souvenir stands also sell their many wares along the seafront.
Gozo: Malta's smaller but much prettier sister island, Gozo, is popular for its sea views and delightfully rural character. A haven of peaceful little villages are clustered around large parish churches, some of which are very old indeed. The island's centrepiece is the Cittadella, an old and largely intact citadel that offers stunning panoramic vistas from its ancient walls.
Birzebbuga Beach: Once a small fishing village, Birzebbuga has emerged in recent years as one of Malta's most popular seaside destinations, thanks mainly to its long expanse of golden sandy beach right in the centre of town. If you're interested in local history, don't miss Ghar Dalam (a nearby archaeological site) and Borg in-Nadur, a prehistoric cave that dates back to the Bronze Period.
---
What to do in Malta
This popular island destination in the Mediterranean manages to combine all the necessary ingredients for an action-packed holiday, with the added appeal of being an upmarket beach destination, even in spring and autumn. Its main focus is Valletta, arguably one of southern Europe's most striking and architecturally interesting cities, where numerous high-quality museums and monuments can be visited.
Valletta: Set around a large natural harbour, the magnificent city of Valletta was designated a UNESCO World Heritage Site in its entirety in 1980. The southernmost capital of Europe, it is home to many of Malta's must-see attractions, including a number of impenetrable fortresses and several first-rate museums portraying the island's fascinating past. Don't miss St John's Co-Cathedral (which boasts one of Europe's most dazzling Baroque interiors) and the National Museum of Archaeology, renowned for its extensive Prehistoric collection.


Grandmaster's Palace: This former residence of the Knights of Malta features many splendid paintings, as well as an armoury that illustrates the story of the knights' historic military victories. The enormous Palace State Rooms are richly decorated with rare works of art and the Hall of the Ambassadors (also known as the Red Room) is adorned with portraits of the Grand Masters. In the Armoury you'll see an impressive collection of swords, bows, firearms and cannons dating from the 15th-18th centuries.


Mdina: First settled by the Phoenicians, Mdina must be seen for its Baroque palaces, limestone cathedral and medieval architecture. A visit to this evocative walled city perched on a hilltop means being swept right back in time as you wander through its narrow cobblestone streets and winding alleyways.


Hal Saflieni Hypogeum: A UNESCO World Heritage Site, this well-preserved underground temple complex dates back more than 5,500 years, making it older than Stonehenge or the Pyramids. Masterfully carved out of the rock, its visitors can only wonder at the way prehistoric man performed religious burial rituals in its catacombs so many millennia ago.


Popeye Village: A must for families with your children, this unique attraction has grown from its days as a Hollywood movie set to one of Malta's top tourist attractions. Built for the 1980 film starring Robin Williams and Shelley Duvall, today's visitors are greeted by Popeye the Sailorman and his friends before adults and kids alike embark on a unique filming experience followed by the chance to see themselves on the big screen.
---
Frequently Asked Questions about travelling in Malta
We have compiled a list of some of the most common questions that are generally asked by previous customers when travelling with an affordable car hire in Malta. These include questions on visa requirements, local time zones, currency types and more. Our staff has ample knowledge on the requirements to hiring a cheap car in Malta, and in providing relevant travel tips. Here you'll also be guided on the various car categories on offer and what vehicle would be the most suitable for your requirements. If you can't find the answer to your question, please call our team.
---
With so many vehicles from which to choose in Auto Europe's many different categories, you won't have any problems making the right choice for your next car hire in Malta. For touring the capital, Valletta, you might want to consider something small and manoeuvrable, such as a Mini- or Economy-category car which are cheaper and more versatile, thus making street parking and moving around the city quicker and easier. If you're planning on visiting Mdina up in the hills in the middle of the island, then perhaps something larger and more rugged such as an SUV might suffice. Before making your final choice, please consult our car hire category information page for a better insight into the many different advantages of each vehicle category.
The currency in Malta is the Euro (EUR). In the main towns and tourist areas you will find ATM machines. Malta's local tax is 18%.
Malta is in the Central European Time Zone (CET), which is one hour ahead of Greenwich Mean Time (GMT+1), so don't forget to set your clock when arriving from the UK to Malta. Like most countries in Europe, Summer (Daylight-Saving) Time is observed in Malta, where the time is shifted forward by 1 hour; 2 hours ahead of Greenwich Mean Time (GMT+2). After the summer months, the time difference in Malta is shifted back by 1 hour to Central European Time (GMT+1).
Malta electricity operates on 250 volt, 50 Hz electricity. The rectangular blade plug is standard in Malta.
Generally speaking, a Malta tourist visa is not required for citizens of United Kingdom for a stay up to 90 days. The British High Commission in Malta is located in the heart of Valletta in the Ta' Xbiex district of the city. To find out more about the UK High Commission in Malta and its services, please visit the website provided.
British High Commission Malta
Whitehall Mansions, Ta' Xbiex Seafront
Ta' Xbiex, XBX 1026, Malta
Telephone: +356 2323 0000
Maltese and English are both official languages of Malta, a former British colony. Maltese, the national language of Malta, has incorporated many words derived from English, Italian and French as it has evolved over the centuries. Below are a few Maltese phrases you may find helpful as you travel around the island.
Hello - Hello
Good morning - Bongu
Good evening - Bonswa
Thank you - Grazzi
Goodbye - Sahha
Do you speak English? - Titkellem bl-Ingliz?
How are you?- Kif inti?
Please- Jekk joghgbok
Help! - Ajjut!
No- Le
---
Useful Links