Travel Information Poland - inspiration for your travels
A famously hospitable and friendly country, Poland is one of Europe's great travel destinations with wonderful food and many unique experiences to offer, from the shores of the Baltic Sea in the north to the peaks of the Tatra Mountains in the south. Having endured a somewhat turbulent past, this pivotal central European nation never fails to surprise its visitors with a wealth of interesting places and a myriad of amazing attractions. Poland is also home to vast national parks, snow-capped mountain ranges and picturesque lakes, with seemingly endless roads cutting a glorious passage through the country's verdant terrain, which is all waiting for you when you travel around Poland by car.
Spanning the Vistula River, Warsaw rose like a phoenix from the ashes after World War II and today stands proud as the capital of Poland. The city has much to see and do for visitors, including the National Museum (which includes a number of works of art that came from Adolf Hitler's private collection) plus dozens of other museums on subjects as diverse as posters and caricatures. With over a thousand years of history, Krakow was the capital of Poland up until the seventeenth century and today is a stylish, cosmopolitan city that attracts curious travellers from all over the world. Mercifully untouched during World War II, the city is perfectly preserved and overflowing with history, monuments and culture.
With over 24,000 pick-up locations in 180 destinations, Auto Europe has all the right solutions for your next low-cost car rental in Poland. When travelling in Poland You can collect your vehicle at a choice of exciting locations, such as Poznan and Katowice. Our prices are the cheapest on the market and we offer the widest choice of vehicles of any other car hire company, so book your vehicle with us today and start planning your trip to Poland. And if you're curious to know what other travellers think about our products and services, why not visit our Poland car hire reviews page to see their ratings and read the comments they posted for extra peace of mind. Besides that, if you need any help whatsoever with your booking, please call our very experienced rental agents on +44 123 3225 114 and they will be very happy to assist you.
In Auto Europe's Travel Guide for Poland you'll find lots of tips on how best to get around when you travel by car in Poland, as well as detailed information about the best places to visit during your trip.
Consult the travel info Poland topics listed below and take a look at each page for information on the different aspect to consider when you travel around Poland on holiday.
Road trips with my car hire in Poland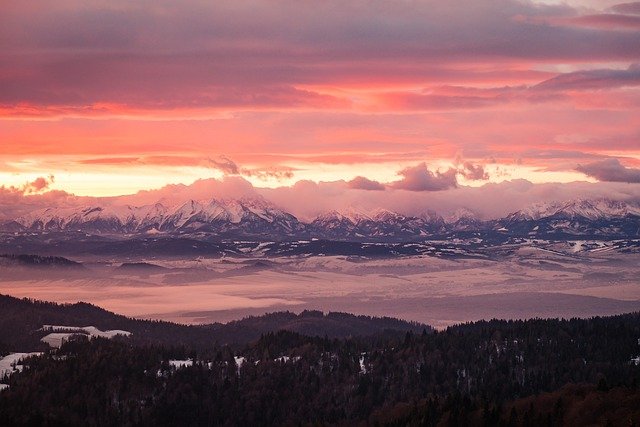 When planning what to do in Poland, you'll find that the country is blessed with some of the best road-trip possibilities in the whole of Europe. Drivers are spoilt for choice both in and away from the big cities, with a range of options available in all parts of the country. Regarding what to see in Poland, you simply can't beat the Giant Mountains and the lush green countryside around Lower Silesia south of Wrocaw, while the lakes north of Warsaw and the coastal areas to the west of Gdansk are other very popular choices. The following section provides a few suggestions to get you started on your great motoring adventure in Poland.
The Gdansk-Warsaw-Poznan triangle is arguably one of the most enticing road-trips in central Europe. Taking in three magnificient cities on one exhilarating journey, you can start and finish in the capital, Warsaw, or set up a base on the Baltic's long, sandy coastline outside Gdansk. Each of the cities is a top tourist destination in its own right, so if it's urban culture and fine architecture you're looking for, then this is the itinerary for you.
Poland's scenic south-western region encompasses the beautiful city of Wroclaw, which is so rich in history and culture it's worth at least a day or two's sightseeing before moving on. Capital of the picturesque Lower Silesia province, the city is the perfect base from which to explore the surrounding areas, with the short journey to the nearby city of Wabrzych a particularly enchanting add-on. Wrocaw is also a great starting point for discovering Poland's two famous wooden 'Peace' churches, one at Swidnica and the other at Jawor, which are around 400 years old and still looking absolutely astonishing.
The historic city of Jelenia Góra is a natural set-off point for a visit to the wonderful Karkonosze National Park and Poland's famed Giant Mountains. But first, make sure you spend some time admiring the town's medieval architecture and well-preserved baroque town square. The park itself holds many attractions and the drive through its lush landscape and pretty little villages is a real joy. The nearby town of Kodzko is an additional highlight for people visiting the region.
Close to the Slovak border lie the Tatra mountains which form a large part of an immense national park. The whole area is crying out to be explored with an affordable car hire in Poland, particularly the glorious foothills around Rysy, the country's highest peak. Besides a succession of streams, waterfalls and mountain lakes, you'll have the chance to explore caves (over 600 in all) of which Wielka Sniezna is the longest (23km) and deepest (824m).
Another must for road-trippers visiting Poland is the Bialowieza Forest Reserve in the east, Europe's largest remaining section of preserved primeval forest. Besides being a paradise for bird-watchers, it is a natural habitat for bison and many other large creatures who feel perfectly at home in this wonderful UNESCO World Heritage site. Don't miss the charming village of Bialowieza located deep inside the forest where an open-air museum displays windmills, huts, a small chapel, barn, sauna and many other fine examples of wooden architecture.
---
What to do in Poland
Whether your plan is to enjoy the vibrance of Poland's large towns and cities or immerse yourself in the natural splendour of its pristine lakes, beaches, parks and mountainscapes, you'll always benefit from the warmth and generosity of the Polish people, whose sense of hospitality and strong community values are deep-rooted aspects of the country's customs and traditions. Our travel guide to Poland highlights fascinating cities like Gdansk and Wroclaw are as alluring as the capital, Warsaw, but wherever you go with your low-cost car hire in Poland you'll be travelling through some of the most striking scenery in central Europe.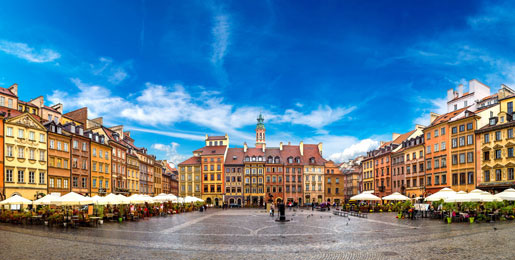 Warsaw: The Polish capital is a fine example of what to expect on your travels, most notably its old quarter which is a span of history from the 13th to the 20th centuries. Here you'll find a delightful mix of medieval architecture with several Gothic and colourful Renaissance buildings situated amidst centuries-old merchant houses all huddled together in the city's most popular square. Don't miss the Historical Museum of Warsaw, home to one of Europe's most impressive art collections, nor the Adam Mickiewicz Museum of Literature which pays homage to Poland's most famous poet and writer.


Krakow: One of the oldest places in Poland, Krakow's history stretches all the way back to the 7th century. Perfectly intact, its Old Town is blessed with picture-postcard buildings from medieval times and both Wavel Castle and historic Kazimierz quarter are classified as UNESCO World Heritage sites. The city is also home to over thirty museums (don't miss the Wawel National Art Collection) and more than forty urban parks, including the popular Lasek Wolski forest.


Ojcow: Located 10 miles from Krakow, the small village of Ojcow is the gateway to the Ojcow National Park, a heavily forested area with an abundance of interesting natural features, including hundreds of caves, towering limestone cliffs and two enchanting river valleys. Besides two important museums (one of which is part of the National Art Collection), one of the park's key attractions is the Trail of the Eagles' Nests which links more than 20 castles and watchtowers, including the Renaissance-style Pieskowa Skala Castle and the ruins of an old Gothic castle.


Auschwitz: Located about an hour west of Krakow, the Auschwitz–Birkenau concentration camps are a stark reminder of Poland's horrific past. From 1942-1944, almost a million Jews were brought to these camps from German-occupied countries, the majority of whom sadly lost their lives in the gas chambers. Visitors can join guided tours of the camps, which consist of around 300 barracks, the camps' notorious crematoriums and hundreds of other preserved buildings.


Schindler's Factory: More wartime memorabilia exists at the former enamel and metal factory run by Oskar Schindler, the subject of Steven Spielberg's award-winning 1994 film. Now a museum complex, Schindler's former office (and a substantial part of the factory floor) is now a branch of the Historical Museum of the City of Krakow, while another section of the building has been converted into the Museum of Contemporary Art.
---
Frequently Asked Questions about travelling in Poland
In the following section you'll find a selection of our most frequently asked questions regarding cheap car hire in Poland, as well as lots of travel tips in Poland and a few phrases that might help you on your travels. We included advice on which vehicles are best suited to a road-trip around the country, plus essential visa info and the kind of electricity supply you'll find when you get there. Should you need help with any aspect of your trip, please give our rental specialists a call on +44 123 3225 114 and they'll be happy to assist you. In addition, you'll find lots of other travel advice in Poland and related information in our popular travel tips section where we cover a wide variety of topics ranging from full protection to all the rules and regulations regarding minimum and maximum age requirements and any driving restrictions that might be useful on your travels.
---
Auto Europe has all sorts of vehicle categories available for travellers planning to rent a car in Poland. For sightseeing in Warsaw, Gdansk, Krakow and other large cities, why not select something from our Mini, Compact or Economy categories to make it easier to get around whilst saving money on petrol. Other options include our Mid- and Large-category cars, which have plenty of extra room and more engine power for an extended road-trip around the country. Auto Europe can also provide you with something more prestigious for your forthcoming motoring holiday in Poland, including SUVs, Convertibles and stylish top-of-the-range Luxury vehicles.
To find a rental suitable for your travels, we recommend that you consult our detailed car hire category section where you'll get advice on all the features and benefits of each respective category.
The currency in Poland is the Polish Zlotych (PLN), which is sometimes abbreviated locally as "zł". In Poland, you will commonly find private currency exchange offices that offer euro exchanges at rates comparable to commercial banks. However, exchange centres in tourist areas and train stations tend to overcharge travellers, so be aware of that.
You will also find an extensive network of cash machines or ATMs (called bankomat in Poland). Exchange rates are usually reasonable, but will ultimately depend on your banking institution. Visa, Visa Electron, MasterCard and Maestro are accepted throughout Poland especially in the larger urban areas.
Poland is in the Central European Time Zone, one hour ahead of the UK.
In Poland, electricity runs at 220 V, so the Continental two-round-pin plug is standard. Bring appropriate adaptors for your devices and appliances.
Regarding the Poland travel visa requirements, the rules for travelling or working in European countries changed on the 1st of January 2021. You can now travel to Poland and other countries in the Schengen area for up to 90 days in any 180-day period without a visa. This applies if you travel as a tourist, to visit family or friends, to attend business meetings, cultural or sports events, or for short-term studies or training. If you are travelling to Poland and other Schengen countries without a visa, make sure your whole visit is within the 90-day limit. Visits to Schengen countries within the previous 180 days before you travel count towards your 90 days. To stay longer, to work or study, for business travel or for other reasons, you will need to meet the Polish government's entry requirements. Check with the Polish Embassy what type of visa and/or work permit you may need. If you stay in Poland with a visa or permit, this does not count towards your 90-day visa-free limit. Any time you spent in Poland or other Schengen countries before 1 January 2021 does not count towards your 90-day visa-free limit. At Polish border control, you may need to use separate lanes from EU, EEA and Swiss citizens when queuing. Your passport may be stamped on entry and exit. You may also need to show a return or onward ticket and prove that you have enough money for your stay.
British Embassy Warsaw
ul. Kawalerii 12
00-468 Warsaw
Poland
Telephone: +48 22 311 00 00
Fax: +48 22 311 03 13
Consular enquiries: warsaw_consularmail@fco.gov.uk
Polish is the national language of Poland. English, German, and Russian are the commonly understood foreign languages, especially in cities and major tourist centres. Below are a few tips on speaking Polish and some phrases you may find helpful.
a is pronounced as the a in father
ą is a nasalized vowel, similar to French "on"
e is pronounced as the e in bed
ę is nasalized 'e', like rang
i is pronounced as the e in marine
o is pronounced as the o in lot
ó is pronounced as the u below
u is pronounced as the oo in boot
y is pronounced like the y in myth
Hello (formal) - Dzień dobry (Jeyn Dob-ry)
Hello (informal) - Cześć (Tch-esh-ch)
How are you? - Jak się masz? (Yahk sheng mah-sh)
Fine, thank you. - Dziękuję, dobrze. (Jenkoo-yeng dob-zhe)
What is your name? Jak masz na imię? (yahk mah-sh naheem-ye)
My name is ______ .- Nazywam się ______. (Nah-zivam sheng____)
Please. - Proszę. (PRO-she)
Thank you. - Dziękuję. (Jenkoo-yeah)
You're welcome. - (formal) Proszę. (PRO-she)
You're welcome. - (informal) Nie ma za co. (nye ma za tso)
Yes. - Tak. (tahk)
No. - Nie. (nye)
Excuse me. (for getting attention) - Przepraszam. (pshe-pra-sham)
I'm sorry. - Przepraszam. (pshe-pra-sham)
Goodbye. - (formal) - Do widzenia (do vee-dze-nya)
Goodbye (informal). pa (pah)
I can't speak Polish. - Nie mówię [dobrze] po polsku. (nyemoo-vye [dob-zhe] po pol-skoo)
Do you speak English? - Czy mówisz po angielsku? (chi moo-vish po ang-gyel-skoo?)
Is there someone here who speaks English? - Czy ktoś tu mówi po angielsku? (tch-y ktosh too moo-vee po ang-yel-skoo)
Help! Pomocy! (po-mo-tsy)or Ratunku! (ra-toon-koo)
Good night. - Dobranoc. (doh-brah-nots)
I don't understand. - Nie rozumiem (Nyeh roh-zoom-yem)
Where is the toilet? Gdzie jest toaleta? (g-jeh yest twa-leta)
---
Useful Links
Official Tourism Website of Poland