Travel Information Turkey - inspiration for your travels
Situated in the south-eastern corner of Europe, Turkey offers travellers a fascinating mix of Mediterranean modernism and Eastern mystique. Full of wonder and amazement, the country's spectacularly-varied landscape offers a myriad of opportunities for an exhilarating journey though plains, coastlines and mountain ranges with your car hire in Turkey. A succession of empires have left an indelible mark on both the Turkish people and their exotic culture, which is most evident in the ancient monuments and unusual architecture dotted all over the country. In any of Turkey's towns and cities, you can spend an entire morning marvelling at the many hand-made products for sale in the local bazaar before visiting nearby ruins or relaxing on a golden, sandy beach in the afternoon.
Bounded on three sides by water - namely the Aegean Sea to the west, the Mediterranean to the south and the Black Sea to the north - Turkey's many summer visitors are completely spoilt for choice when it comes to seeking out that secluded spot on pristine sands for a refreshing dip in the translucent waters of its long shoreline. The country is also mountainous, which provides road-trippers with plenty of options for a memorable journey with family and friends. Some of the best scenery to be found anywhere in the world exists amongst the great peaks of the Pontus Mountains in northern Turkey and the Taurus range in the south, not forgetting Mount Ararat in the east, arguably the most impressive of them all.
Straddling two continents, Istanbul is a magnet for culture vultures from all over the world due to its plethora of amazing attractions, ranging from the Grand Bazaar (have plenty of free luggage space available for all your purchases) and Topkapi Palace with its vast complex of gardens, peaceful courtyards, harem and fountains. Famous for its slender minarets, the Blue Mosque is another must for visitors to this truly remarkable place. And after all the city sightseeing is done, why not head south with your car rental in Turkey to Izmir, the country's third-largest city, where a more relaxed atmosphere can be found on the shores of the Aegean Sea.
Founded in 1954, Auto Europe is a well-established leader of the international car rental industry, offering its millions of customers over 24,000 pick-up points in more than 180 destinations worldwide, with dozens available in Turkey such as Istanbul, Izmir and Dalaman. We work with all the world's top global and local suppliers to offer the widest range of vehicles at the best prices, always with a high quality of service to match. If you want to rent a cheap car in Turkey and have any queries, please do not hesitate to call our reservations team on +44 123 3225 114 who will be very happy to find you the best deal. Additionally, we also suggest that you visit our Turkey car hire reviews page to see the ratings and comments posted by previous Auto Europe travellers in the country.
In Auto Europe's Travel Guide for Turkey you'll find lots of tips on how best to get around when you travel by car in Turkey, as well as detailed information about the best places to visit during your trip.
Consult the travel info Turkey topics listed below and take a look at each page for information on the different aspects to consider when you travel around Turkey on holiday.
Road trips with my car hire in Turkey
Whether you're planning to explore the legendary Silk Road, visit the country's many UNESCO World Heritage Site or enjoy a leisurely drive along the country's spectacular Mediterranean coast, these are just some of the things you'll be able to do with your car hire in Turkey.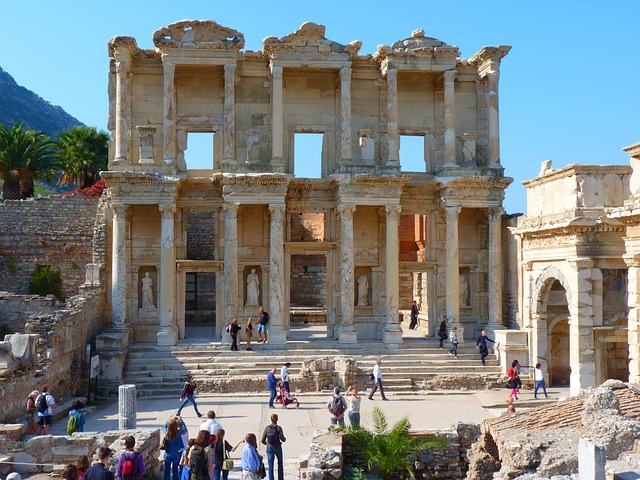 One of the most popular driving routes in Turkey is along the idyllic Aegean coast, visiting many of the country's most interesting sites along the way. Heading south-west from Istanbul brings you to the beautiful Gallipoli Peninsular, the scene of many important chapters in the country's history. Continuing south you'll come to Troy, one of the world's most famous archaeological sites. Besides some of the best beach resorts in the country, the Aegean coast-road has many other places of note, including Pergamum, once a powerful city in Ancient Greece, and Ephesus, another notable archaeological site a few miles south of Izmir. Travelling inland takes you to Pamukkale, a town in western Turkey known for its mineral-rich thermal waters that flow down pure white travertine terraces on the surrounding hillsides.
The glorious Turquoise Coast is another must for people planning to see the best of the country with a low-cost car rental in Turkey. A drive along this stunning slice of Mediterranean shoreline offers visitors the chance to see some of the country's hidden treasures, including Patara Beach, Turkey's longest stretch of golden sands. Besides the charming and very historic town of Antalya, this route incorporates four of the most important ancient Lycian archaelogical sites, namely Pinara, Tlos, Letoön and Xanthos, all of which are well worth a visit.
For people interested in the history of the Ottaman Empire, there's nothing better than a tour of the most important cities relating to this period by following a route that loops through central Anatolia. Besides Istanbul, there are several places to explore on this itinerary, most notably Bursa, an old Silk Route trading post that became the Empire's first capital. Konya, 12th-century capital of the Seljuk Sultanate of Rum, is the original home of the whirling dervishes and features the excellent Mevlana Museum. Don't miss the archaeological site of Çatalhöyük, the world's largest Neolithic village ever discovered.
Located in the heart of the country, the popular Cappadocia Route takes you through the famous lunar-like landscapes of central Turkey. Featuring the many cone and pillar hoodoos affectionately known as the Fairy Chimneys, this part of the country has many interesting attractions, such as the Göreme Open-Air Museum where visitors can marvel at the Byzantine frescoes inside the many cave-churches of that region. The incredible Kaymaklı Underground City is another formidable sight where Byzantine inhabitants hid during the Arab raids of the 6th and 7th centuries, while a visit to the Zelve Open-Air Museum is memorable for its huge conical rocks and abandoned villages from days gone by.
---
What to do in Turkey
An immensely historical country with some of the finest cuisine you'll ever taste, Turkey is a wonderful surprise for first-time visitors, and has enough unique attractions to keep regular tourists coming back time and time again. Besides giving you access to all its ancient sites, many of which date back several thousand years, a car rental in Turkey makes it possible to reach the best beaches and/or recharge your batteries at some of the oldest mineral spas in the world.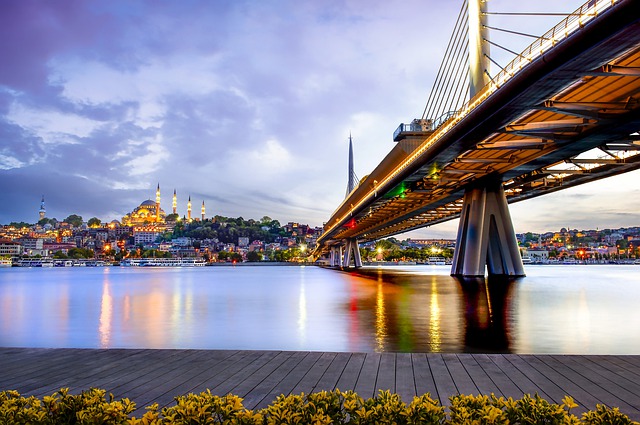 Istanbul: One of the world's most awe-inspiring cities, Istanbul offers visitors the most extraordinary kind of travel experience imaginable. Its key attractions include the majestic basilica of Aya Sofya built in the 6th century and famous for its Byzantine mosaics. Other musts are the Blue Mosque and Topkapi Palace where the sultans lived with their families during the heyday of the Ottoman Empire.


Ephesus: This not-to-be-missed archaeological site is one of the world's most impressive and best-preserved Roman cities. Its many ancient streets and imposing monuments offer visitors a rare taste of what life would have been like at the height of the Roman Empire. Once a bustling city with over 200,000 inhabitants, much of old Ephesus still remains, such as the Gymnasium of Vedius (2nd century AD), the palaestra (wrestling hall), Church of the Virgin Mary, the Great Baths and the Arkadiane, a fine arcaded street running east from the harbour to the Great Theatre.


Pamukkale: One of the world's great natural wonders, Pamukkale (which loosely means Cotton Castle in English) is a green and white Disney-like landscape formed by carbonate minerals left by the flowing of thermal spring waters. Arguably Turkey's most photogenic attraction, visitors flock here to enjoy the view and eplore the ancient ruins of the old Roman spa town of Hierapolis which sits atop an adjacent mountain.


Mount Nemrut: Eastern Turkey's top attraction is without doubt Mount Nemrut, which comprises the fascinating funerary mound King Antiochus I of the Kingdom of Commagene. Along with the broken remnants of the many large statues that once quarded the king's tomb, an added feature for visitors is the chance to appreciate the beauty of the site at sunrise or sunset when the colours are at their most vivid.


Pergamum: Turkey has an abundance of Greco-Roman ruins, but none so impressive as Pergamum located in modernday Bergama. Comprising an Acropolis and theatre cut into the hillside affording head-spinning panoramic vistas, this atmospheric ancient site features the Temple of Athena, Temple of Trajan, Altar of Zeus and Pergamum's 200,000-volume library, which was built around 170 BC and famously moved to Alexandria by Mark Antony as a special gift to Cleopatra.
---
Frequently Asked Questions about travelling in Turkey
In the following section you'll find a compilation of our most regularly asked questions about car hire in Turkey, including our best travel tips and a few key phrases to help you get around. You'll also find useful advice on the best vehicles for visiting the country on four wheels and the kind of essential visa info you'll need before you go. If you require any help with your booking, please call our rental specialists on +44 123 3225 114 and they'll be happy to find you the best deal. Please also consult our travel tips section for a wide range of topics including coverage, age requirements, driving restrictions, etc.
---
Auto Europe has a wide range of categories people looking to book a cheap car rental in Turkey. For sightseeing in large cities such as Ankara and Istanbul, we suggest a low-cost vehicle from our Mini, Compact and Economy categories, but for longer journeys and those who require a car with a bit more engine power and comfort, take a look at our wide selection Mid- and Large-category cars which are perfect road-trips along the Mediterrean, Aegean and Black Sea coast roads. Auto Europe can also provide you with something more upmarket and eye-catching for your motoring holiday in Turkey, including SUVs, Convertibles and stylish top-of-the-range Luxury vehicles.
To find a rental suitable for your travels, we recommend that you consult our detailed car hire category section where you'll get advice on all the features and benefits of each respective category.
The local currency in Turkey is the Turkish Lira (TRY). Check here the current exchange rates before travelling. In the cities and main tourist areas you will have access to ATM machines. The local tax in Turkey is set at 18%.
Turkey is now on Eastern European Summer Time (GMT+3) throughout the whole year.
Before you head off on your cheap car hire travels be sure to pack a plug adaptor as the Turkey electricity voltage is 220 V 50 Hz. The plug used in Turkey is the Continental two-round-pin.
For travel in Turkey up to 90 days, no visa is required. Take a look at Turkey Tourist Visas to choose the one best for your holiday needs. The British Embassy Office is located in Ankara. To know more about UK Embassies in Turkey and other information, visit the website provided.
British Embassy Ankara
Şehit Ersan Caddesi 46/A
Çankaya, Ankara
Turkey
Telephone: +90 312 455 33 44
Turkish is the national language of Turkey. English is commonly spoken and understood in the main tourist resorts on the Mediterranean coast and some parts of the larger cities. Below are a few key phrases in Turkish you may find helpful.
Hello - Merhaba (Mur-Ha-Bah)
How are you? - Nasilsiniz? (Nah-suhl-suh-nuhz)
Please - Lütfen (Loot-fen)
Thank you - Teşekkürler (Tesh-eh-kur-Ler)
You're welcome - Bir şey değil (Beer shey deh-yeel)
Yes - Evet (Eh-vet)
No - Hayir (Ha-yur)
Excuse me Pardon (Par-don)
Good morning - Günaydin (Guh-Ny-Dun)
Good evening - iyi akşamlar (EE-Ak-Sham-Lar)
Bill please - Hesap lütfen (Heh-sap Loot-fen)
---
Useful Links
Official Tourism Website of Turkey