Travel Guide Australia - Inspiration for Your Travels
A country of world-class beaches and many unique attractions, Australia tops the list of many people's dream destinations, especially those who enjoy long drives along seemingly endless roads traversing magnificent landscapes. Its key sights include the UNESCO World Heritage-listed Great Barrier Reef (a must for scuba-divers) and Ayers Rock, an iconic landmark now more commonly known as Uluru. And few visitors can resist a leisurely drive through Kakadu National Park with its staggering array of Aboriginal art or the chance to see the amazing rock formations known as the Twelve Apostles that hug the coastline beside the Great Ocean Road.
Australia has over 556,000 miles of highways that can take you all around the continent. Driving your car hire from Sydney on the east coast to Perth on the west, there are plenty of must-see destinations for you to work into your chosen route. It's a very different experience from driving in the UK - for instance, it's not uncommon to see a kangaroo as you drive in some of the remote areas of Australia!
A country of immense geographic diversity, Australia is a great place for a road-trip with family and friends in a rugged SUV, open-top convertible or even a modern 7-berth motorhome. With great prices and the best all-round service, Auto Europe offers all those options and more through its state-of-the-art booking engine. Other fun options when visiting Australia include dropping in on some of the country's most famous vineyards in the Barossa Valley and the chance to soak up some of the culture on offer in the capital, Canberra, where some of Australia's most important museums can be found, including the National Gallery.
For more than 65 years, Auto Europe has grown from a small company to a large international car hire broker offering high-quality and very affordable car rental options, with over 24,000 pick-up locations in more 180 destinations available worldwide, including Australia. Through our partnerships with the best global and local suppliers alike, we can provide our clients with a vast and modern fleet at numerous airports, railway stations and convenient downtown locations all over Australia, including Melbourne and Perth, which means that drivers are always be able to choose the which pick-up and drop-off points best suit their needs.
With Auto Europe's Travel Guide Australia you'll find all the information you need regarding the many different options available when visiting this magnificent country, such as being able to pick up your car in one destination and dropping it off in another, plus all our regular promotions offering free upgrades, additional drivers, winter tyres and much more to further improve your driving holiday in Australia. If you have any questions or would like some help with your booking, please contact our award-winning rental agents on +44 123 3225 114 and they will be happy to put you on the right road.
Look over the Australia travel guide topics listed below and take a look at each page for information on a specific aspect of travelling in Australia.
Road trips with my car hire in Australia
From the peaceful country roads of the vast hinterland to the long motorways skirting the Pacific and Indian shorelines, Australia offers road trips to suit all tastes, with an abundance of sightseeing opportunities along the way. Featuring unique coastal journeys and exciting rides through the Outback, a classic road trip around Australia is one of the best ways to experience the country's wide-open spaces and truly magnificent scenery. Book your car at one of Auto Europe's many pick-up points before choosing from a wide range of itineraries such as Adelaide to Melbourne, Alice Springs to Darwin or Canberra to Brisbane, because you're guaranteed to have the time of your life!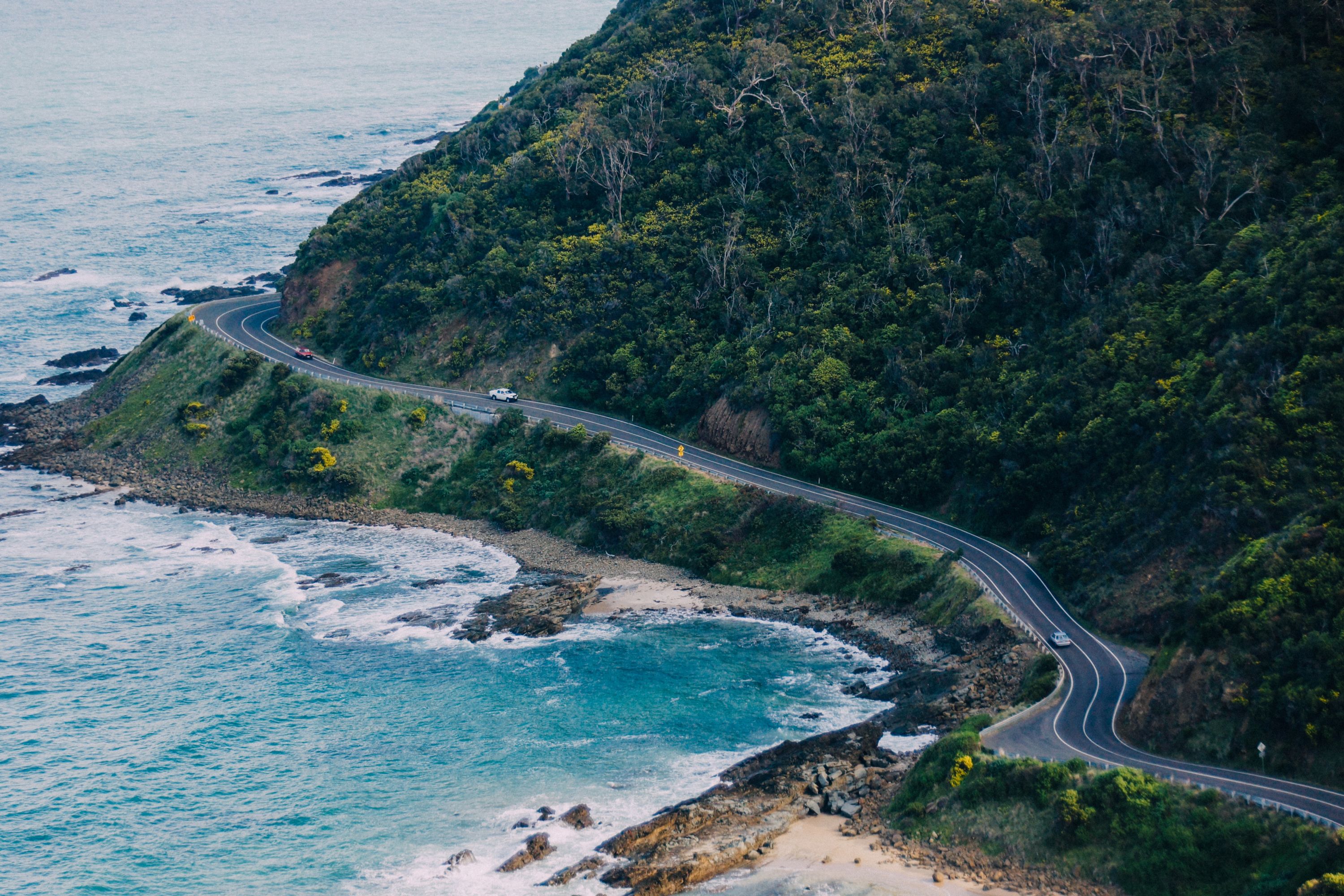 With its picturesque scenery and plenty of places to pull over, the world-famous Great Ocean Road tops most road trippers' bucket lists these days, along with America's Route 66. Starting at the surf town of Torquay south-west of Melbourne and ending at Warrnambool west of the city, this amazing coastal highway skirts the red granite mountains of south-eastern Australia, providing a succession of head-spinning vistas en route. Don't miss the Twelve Apostles, a series of striking rock formations and one of the great natural wonders of the world.
Nothing prepares visitors for the shimmering grandeur of the Uluru-Kata Tjuta National Park in central Australia, home to the unmistakable Ayers Rock, one of the planet's most loveable landmarks. This dazzling standalone piece of red rock is the centrepiece of a remarkable region full of rare beauty and obscure natural attractions, making it the ultimate pilgrimage for road trippers visiting Australia.
Following much of the full extent of the Great Barrier Reef, the evocatively-named Capricorn Coast highway (M1/A1) connects the east coast tourist mecca of Brisbane with the charming seaside city of Cairns some 1,000 miles to the north. Straddling the Tropic of Capricorn (hence its name), the many attractions along this picturesque coastline greatly enhance the visitor's experience, including the family-friendly Yeppoon Lagoon resort at Rockhampton and Rosslyn Bay, a luxurious oasis for road trippers exploring this spectacular stretch of Australian shoreline.
Leaving Sydney along the motorway north towards Byron is one of the world's most scenic road trips and certainly a highlight for people exploring this part of Australia in their car hire in Australia. This coastal odyssey connects two of the country's most popular tourist centres, with some spectacular surfing beaches and jaw-dropping land and seascapes in between, most notably at Woolgoolga, Red Rock and Nambucca Heads. Don't miss the chance to swim with dolphins at Port Stephens, while a leisurely drive through Myall Lakes National Park will almost certainly be the highlight of your trip.
Wine lovers should head for Swan Valley, one of Australia's preferred wine regions. Home to some of the best wines in the whole of the Southern Hemisphere, the area lies a few miles inland of the country's glorious west coast and within easy striking distance of Perth, a lovely city on the Indian Ocean. The Swan Valley wine region boasts more than 40 estates where many excellent types of verdelho, chenin blanc and shiraz wine are produced. Take advantage of the 20-mile drive along the well-organised Swan Valley Food and Wine Trail which includes a series of enticing stopovers encompassing fresh farm produce, distilleries and arts and crafts markets.
---
What to do in Australia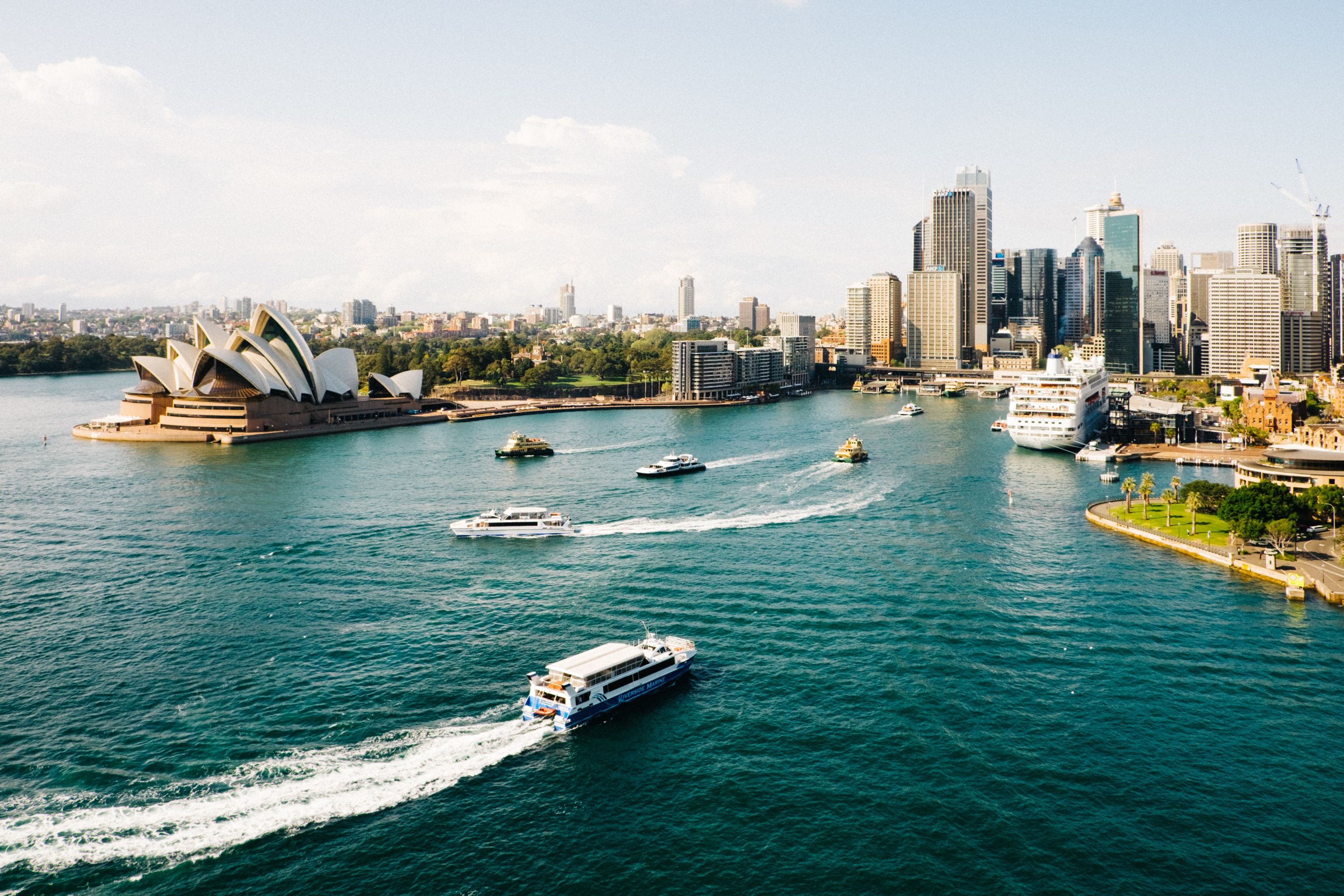 Brimming with unique attractions, exciting activities, absorbing museums and endless landscapes, not to mention one of the world's most fascinating indigenous cultures (the Aborigines), Australia is a multi-faceted tourist destination that caters effortlessly for young and old travellers alike. Although the country has many iconic sights, such as the Sydney Opera House, Great Barrier Reef, Ayers Rock and Bondi Beach, it is very often the unexpected things that tourists encounter by complete accident that make Australia such a special place to visit. Here are a few things you really shouldn't miss on your next trip to sunny Australia;
Sydney, New South Wales: A lively city with a fine natural harbour, Sydney is the first port of call for most first-time visitors to Australia. The first of Australia's historic colonial cities, its attractions continue inland across the beautiful Blue Mountain region, a UNESCO World Heritage-listed area popular for its hiking trails and panoramic views. Take a stroll through the Rocks district of old Sydney to buy souvenirs before getting up close to the city's iconic opera house close by.


Melbourne, Victoria: A rich mix of modern buildings and Victorian-era architecture, Melbourne is one of the great cities of the Southern Hemisphere. Nestling idyllically in Australia's south-eastern corner, its inner city is a labyrinth of cobbled lanes and alleyways lined with an enticing assortment of bars, cafés, galleries and restaurants featuring food from all over the world. Founded in 1885 and still operating today, Melbroune's extensive tram network is as efficient as it is characteristic, particularly in and around the city's colonial-style Flinders Street Station.


Ayers Rock, Northern Territory: Of all the world's most striking picture-postcard images, Ayers Rock is arguably the most recognisable of them all and well worth visiting with your rent a car in Australia. This huge and very impressive sandstone formation stands 1,142 feet high with a total circumference of 5.8 miles. The centrepiece of central Australia's vast red sandy plains, it forms part of the traditional belief system of one of the oldest human societies in the world, namely the Anangu Aboriginal people who still consider the mountain to be sacred.


Great Barrier Reef, Queensland: Stretching more than 1,200 miles along the Queensland coastline, the UNESCO World Heritage-listed Great Barrier Reef is an extremely fragile and highly complex ecosystem brimming with tropical fish of every conceivable size and colour. A site of remarkable variety and beauty, it contains the world's largest collection of coral reefs with 400 types of coral and 1,500 species of fish, including the dugong ('sea cow') and large green turtle, both threatened with extinction.


Kakadu National Park: Spread across 8,000 square-miles at the northern tip of Australia, Kakadu National Park attracts visitors from all over the world because of its staggering array of lush wetlands, ancient gorges, abundant wildlife and Aboriginal rock art. An area of stunning natural beauty, the area has afforded shelter to Aboriginal inhabitants for thousands of years and today attracts large numbers of tourists on account of its great diversity of birds, flora and fauna.
---
A bit of history
Australia's indigenous people have lived on this land for over 60,000 years since the first inhabitants arrived overland from New Guinea. but things changed when Portuguese ships came ashore in 1536 and subsequently charted long stretches of its glorious coastline. In 1770, Captain James Cook ventured down the east coast in his famous ship, the HMS Endeavour, before landing at Botany Bay and declaring the country British. The first fleet of British colonists arrived at Sydney Cove in 1778 and in 1817 the name Australia was chosen to replace the country's original name - New Holland. Gold was discovered in Australia in 1851, first in New South Wales and then in Victoria, and later the gold rush extended to Western Australia in 1893. In 1954, Queen Elizabeth II became the first reigning monarch to visit Australia and in 1967 the Aborigine people were finally granted Australian citizenship and the right to vote.
---
Frequently Asked Questions about travelling in Australia
Now that we've given you some inspiration and ideas for a fascinating road-trip in Australia, you might still have a couple of questions about travelling around this incredible country. In the section below, you will find a selection of our most frequently asked questions regarding car rental in Australia, as well as a few phrases that might prove useful during your travels. You'll find plenty of advice on which vehicles will be best suited to your forthcoming journey, whether or not you will require a visa and what power supply is most common in Australia, plus a whole lot more. Should you require personal assistance from one of our staff, please do not hesitate to contact us by calling +44 123 3225 114 or by sending us an e-mail to reservations@autoeurope.co.uk. You'll also find plenty of advice and other car hire-related information in our popular travel tips section where we cover a wide variety of topics ranging from full protection to all the rules and regulations regarding minimum and maximum age requirements and any driving restrictions that might apply in Australia, etc.
---
Auto Europe has all sorts of options available to travellers looking to make the best choice for a low-cost car rental in Australia. For a few days' sightseeing in Sydney or Melbourne, why not select one of our Economy- or Midsize-category vehicles which are smaller, easier to park and offer greatly-reduced running costs. Our tempting selection of Large-category cars provides plenty of scope for people planning a road-trip along the Great Ocean Road in the south of the country. Auto Europe can also provide you with something more prestigious for your motoring holiday in Australia, ranging from sumptuous SUVs (perfect for a trip into the Outback) to classy convertibles ideal for visiting the more rugged parts of Australia's vast interior.
To find a rental suitable for your travels, we recommend that you consult our detailed car hire category section where you'll get advice on all the features and benefits of each respective category.
Australia is a huge country. If you're bush-walking or visiting the national parks, it can take hours to get help in the event of an emergency. The terrain and intense heat can have a severe impact on your capabilities. Take plenty of water and a means of rigging up some form of shelter from the sun.
Many visitors are unprepared for the immense size of Australia. Maps are often deceiving, and what looks like a reasonably short drive can turn out to be much longer than previously thought. Road conditions can be equally deceiving and where you might expect a European-style motorway between major cities you'll often encounter a single-lane dual-carriageway (which is still sadly true of long sections of Highway 1).
You might be tempted to pick up a second-hand Kombi and go free-wheeling, which is okay if you're sticking to the more populated regions. But there's a reason four-wheel-drive vehicles (4WDs) are everywhere in the Outback (the more remote parts of the interior) because few sedans can survive the rough terrain and harsh conditions of the Australian hinterland. Nevertheless, it is safe to drive through the country's more remote and rugged areas but you need to ensure that you're adequately prepared before setting out.
Prior to embarking on a 4WD journey in the Outback and other less hospitable parts of Australia, please ensure that your vehicle is roadworthy and fitted with a GPS navigational device and two spare tyres. You'll also need maps, extra food, water, fuel and an emergency number to call if required. Plan your route carefully and notify a third party of your expected arrival. If driving a conventional vehicle through remote areas, it's best to drive slowly on unsealed, dusty or narrow roads and always check the conditions before leaving major roads. Mobile phones have limited coverage in such remote places, so please check with your phone provider for coverage before your trip. You should also avoid driving in extreme heat conditions, where possible.
Furthermore, Australia is home to a great number of dangerous animal species such as crocodiles, jellyfish, sharks, venomous insects, spiders and snakes, many of which are found in large parts of the country. Marine stingers are present in the tropical oceans around northern Australia from November to May and during this period you can only swim within stinger-resistant enclosures, which are set up on the most popular beaches. You will also need to wear protective clothing when swimming, snorkelling or diving on the outer Great Barrier Reef. When bushwalking or hiking, you can avoid snake and spider bites by wearing protective footwear. If bitten, you must seek immediate medical attention by phoning 000, although deaths from snake and spider bites have become very rare since anti-venoms were made available in 1981.
Shark attacks are also rare in Australia, especially as shark netting on Australian beaches deters sharks. You can further reduce your risk by swimming between the flags on patrolled beaches and not swimming or surfing in the evening or at dusk. Avoid swimming alone a long way offshore, at river mouths or along drop-offs to deeper water. Crocodiles live in rivers and coastal estuaries across northern Australia, so when travelling near crocodile habitats it's important to observe the safety signs and avoid swimming in rivers, estuaries, deep pools or mangrove shores. It's always a good idea to seek expert local advice about crocodiles before camping, fishing or boating.
When swimming at Australia's beaches, please be aware of strong currents called rips. Always swim between the red and yellow flags which indicate the section patrolled by Surf Lifesavers. Never swim alone, at night, under the influence of alcohol or directly after a meal. Always check the depth of the water before diving in and never run and dive into the water from the beach. You can learn more about water safety in Australia at the following link: www.australia.com/en/facts-and-planning/useful-tips/water-safety-in-australia.html.
The Australian sun is very strong and can burn your skin in as little as 15 minutes, even on cloudy days. It's important to protect yourself from excessive exposure to ultraviolet (UV) rays and you must take extra care between 11am and 3pm when UV radiation levels are generally at their highest. While travelling in Australia, be 'sun smart' and protect yourself from the sun by wearing clothes that cover as much of your skin as possible, applying a high-level water-resistant sunscreen (SPF30+ or higher) regularly throughout the day and wearing a wide-brimmed hat and sunglasses. Protect yourself from heat exhaustion by sitting in the shade and drinking plenty of water to avoid dehydration.
No special immunisations or vaccinations are required to visit Australia unless you have come from, or have visited, a yellow fever-infected country within six days of your arrival. However, regulations and medical advice can change at short notice, so please check with your doctor and the Australian Department of Health before leaving home: www.health.gov.au/.
The Australian Dollar (AUD) is the currency used in Australia. Visitors are able to exchange their currency at any exchange counter, which are found at airports and on high streets all over the country. Most ATMs will allow withdrawal with an international credit card as well. International credit cards are also typically accepted as a form of payment in most locations, but visitors are strongly advised to check the fees with their card providers before leaving the UK.
Australia is 11 hours ahead of the United Kingdom, which means that when it is 6am in London, it is 5pm in Canberra. Australia uses more than three time zones - including Australian Western Standard Time (AWST), Australian Central Standard Time (ACST) and Australian Eastern Standard Time (AEST).
Main voltage in Australia is 230V 50Hz, and most appliances coming from the UK will work on the same voltage as Australia. Plugs in Australia have two flat metal pins shaped like a 'V' and some may contain a third flat pin in the centre.
British citizens will need a visa to travel to Australia. There are two different types of electronic visitor visas, the eVisitor Visa issued by the Department of Immigration & Border Protection (there is no application charge or service fee for this type of visa), and the Electronic Travel Authority (ETA) which can be obtained through travel agents and airlines (there is no visa application charge for this visa but a standard service fee does apply).
Should you require assistance from the consulate during your travels, please be informed of the location for the British High Commission in Australia's capital, Canberra. Opening hours are Monday to Friday, 8.45am to 12.30pm and 1.30pm to 5pm.
British High Commission Canberra
Commonwealth Avenue, Yarraluma
Canberra ACT 2600
Australia
Email: canberra.enquiries@fconet.fco.gov.uk
Telephone: +61 (0)2 6270 6666
---
Useful Links
Official Tourism Website of Australia