Travel Guide Belgium - Inspiration for Your Travels
Despite being relatively small in size, Belgium certainly packs a punch when it comes to the high quality and wide variety of its many tourist attractions. The main advantage of exploring this beautiful country by car is that you can see a lot in a short amout of time. Visitors will find a surprisingly large number of first-rate museums and other cultural sights dotted right across the country, as well as numerous natural settings such as verdant forests and large leisure parks and gardens.
Couples looking for a romantic place to visit with their car hire in Belgium always enjoy the authentic medieval atmosphere of charming old places like Bruges (one of Europe's most picturesque cities) and Ghent (home to the famous 15th-century altarpiece), while families with young children will find an abundance of interesting family-friendly activities in the historic port town of Antwerp and the capital, Brussels.
With all its grandeur and architectural splendour, Brussels is normally the first stop on the tourist itinerary for most newcomers to Belgium. The city's strking centrepiece is the Grand Place, one of the world's finest ensembles of impressive buildings, which is surrounded by narrow streets lined with friendly family-run eateries and old curiosity shops. Away from the centre, more top attractions can be found in and around Cinquantenaire Park in the city's European quarter.
History buffs, likewise, will find plenty of interest at the many battlefields located in Flanders and other parts of the country, with several excellent museums dedicated to Belgium's role in the two World Wars. The area around Ypres is home to several war cemeteries, including Tyne Cot, the largest of the British cemeteries in Flanders. And who can resist visiting the spot where Napoleon made his last stand at the Battle of Waterloo in June 1815.
If you are looking for an affordable car rental in Belgium, then make sure you book with Auto Europe today. Our exceptional award-winning customer service and longstanding partnerships with all the world's top rent-a-car suppliers means that no other company can offer you the right vehicle at such a low cost. You can reserve your car hire in Belgium online now by using our secure, state-of-the-art booking engine in a few easy steps.
Alternatively, you can also speak to one of our efficient rental agents by calling +44 123 3225 114 and they will be very happy to help you find the best offer for your trip.
With Auto Europe's Travel Guide Belgium you'll find all the information you need regarding the many different options available when visiting this magnificent country, such as being able to pick up your car in one destination and dropping it off in another, plus all our regular promotions offering free upgrades, additional drivers, winter tyres and much more to further improve your driving holiday in Belgium.
Look over the Belgium travel guide topics listed below and take a look at each page for information on a specific aspect of travelling in Belgium.
Road trips with my car hire in Belgium
The Belgian countryside is very scenic and well worth exploring behind the wheel of one of Auto Europe's low-cost car rentals. There are lots of possibilities for a fun-filled road-trip itinerary for people of all ages, with lots of innovative fine-dining experiences to be enjoyed en route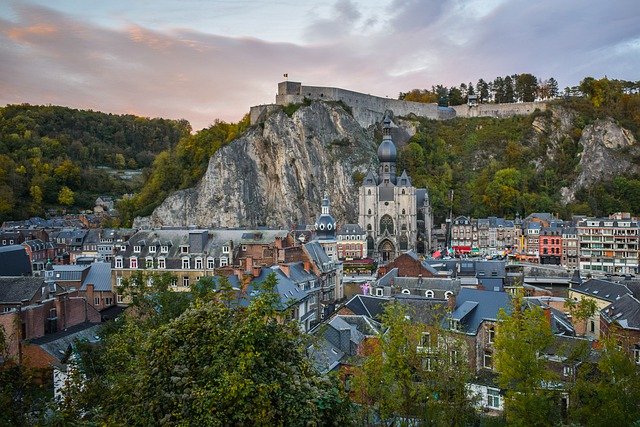 .
Ardennes
A vast area of low ridges, deep forests, rolling hills and lovely emerald green pastures, the Ardennes region of south-east Belgium is prime road-trip country at any time of the year. You can drive through the many picturesque villages nestling in the valleys of the Ardennes where traditions and folklore live on just like they have for many centuries, giving visitors the chance to enjoy the region's arts and crafts and pick up some souvenirs along the way.
Battlefields
For many visitors, Belgium's role on the front line of World War I, and in particular the battlefields of Flanders around Ypres, provide for a memorable road-trip, especially for those of a certain age. A journey through this part of Belgium can be a pilgrimage of sorts, particularly for the decendants of the many brave soldiers who fell and are buried here. Of equal interest is Waterloo, the famous spot where Napoleon was finally defeated and his rampaging army was stopped in 1815.
North Sea Coast
Often overlooked, Belgium's enchanting North Sea coast is well served by a long road stretching between the borders of France to the south and the Netherlands to the north. In between, road-trippers looking for somewhere to lay down their towal and relax on a nice sandy beach are spoilt for choice. One of the best is Blankenberge, a beach famed for its long seaside promenade known as the Zeeddjik. Don't miss Zebrugge, which is more than 20 kilometres long and an average of 70 metres wide at high-tide.
Cities Tour
Due to its compact size, the quintessential road-trip experience in Belgium is one that incorporates at least three or perhaps four of the country's most interesting cities, namely Brussels, Antwerp, Ghent and beautiful Bruges. The roads are magnificent (there are no tolls in Belgium except for the Liefkenshoektunnel near Antwerp) so getting from A to B is quick and easy, even in summer.
---
What to do in Belgium
Great things often come in small packages, and no place on earth exemplifies that principle better than Belgium. Though it's a relatively small country, tucked away between Belgium and France, it has loads to offer to even the most exacting visitor. Here's a small selection of our must-see attractions in Belgium;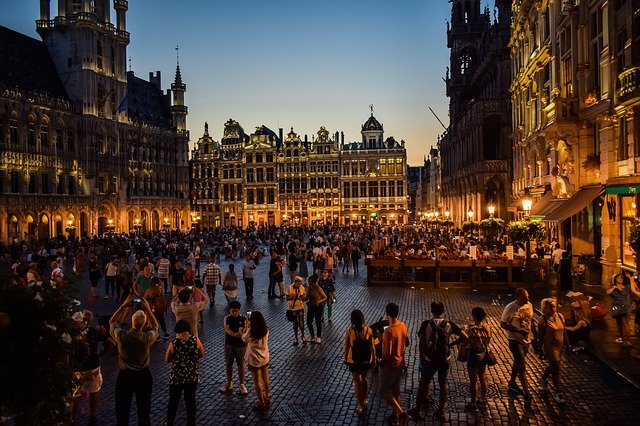 Grand Place (Brussels): One of Brussel's most recognisable landmarks, the Grand Place is the cultural heart of the city and has been a UNESCO World Heritage Site since 1998. It is surrounded by the guildhalls of the old Guilds of Brussels, a set of impressive baroque buildings that compete for the attention of passers-by with the magnificent Town Hall, built in the Flamboyant style, and the Kings House, a neo-Gothic construction also known as the Breadhouse.


Battlefields of Flanders: Flanders was the site of several major battles during the First World War, and history enthusiasts will be met here with many sites of historic significance, including sections of preserved trenches around Ypres. To learn more about the history of the region during the Great War, we recommend also a trip to the Flanders Fields Museum, housed in the beautiful Ypres Cloth Hall, which was originally built in the Middle Ages, at the height of the city's prosperous involvement in the cloth industry, and rebuilt more recently after it was destroyed during WWI.


Champ de Bataille: For those whose interest in military history stretches further back than the 20th century, we can't but recommend a trip to the site of the battle of Waterloo, where Wellington's army defeated the forces of Napoleon Bonaparte, bringing an end to Napoleon's rule. The battle took place on 18th June 1815 and, so the story goes, the first tourists arrived at the site on the very next day, on 19th June 1815, having travelled from Brussels by coach. Modern visitors can more easily cover the 18-mile distance with all the comforts of a modern car, and spend the day exploring the area.


Mini-Europe (Brussels): A fun attraction for the entire family, Mini-Europe is located close to the Atomium and hosts miniature reproductions of monuments from countries from across Europe, including from the UK. Its collection covers over 350 buildings from about 80 cities.


Castle Gravensteen (Ghent): Originally built in the 12th century, the Gravensteen is Ghent's most popular attraction and one of the best-preserved moated fortresses in Europe. Throughout its long and sometimes turbulent history, the castle was at times used as a court, a prison and even as a cotton factory. Nowadays, visitors to this picturesque building can learn more about medieval life by checking out its fascinating exhibits, or climb to the top of the castle for some amazing views of the town.
---
A bit of history
Belgium (officially, the Kingdom of Belgium) is a relatively young country, having gained independence from the Netherlands in the first half of the 19th century. During the preceding centuries, it was the stage of a number of conflicts between major European powers, which earned it the nickname, the "Battlefield of Europe", a moniker that the First and Second World Wars did little to change.
The country was one of the founding members of NATO, of the World Trade Organization and of the European Union, and is home to the European Commission, the Council of the European Union and the European Council. The European Parliament, though headquartered in Strasbourg, also holds plenary sessions in Brussels.
---
Frequently Asked Questions about travelling in Belgium
Planning a trip abroad can sometimes seem like such a daunting task, full of information gaps and things to research and investigate and look up. In order to make things easier, we've gathered below the answer to some of the most frequently asked questions about travelling to Belgium. You might also want to consult our useful travel tips section for more info about car hire in general.
---
When hiring a car, it's important to choose something suitable to your circumstances. Are you travelling alone or in a group? Will you stay mostly in the city or are you planning a road trip? Do you need a car for a special occasion? Whatever your needs, we have what you're looking for! From minis and economy vehicles, ideal for driving (and parking!) in the city, to vans and SUVs, perfect for a family holidays and with plenty of luggage space!
If you need help deciding the best option for you, take a look at our handy category overview!
Like most other EU countries, Belgium is part of the Eurozone and uses the Euro as its official currency. You can exchange pound sterling to euros at any currency exchange bureau, either in the UK or in Belgium. These bureaus are often found at airports, main train stations or other transportation hubs. It's worth noting, however, that you're more likely to get a favourable exchange rate at a bank.
If you'd rather go cashless, your debit and credit card can be used in Belgium to pay for goods and services, and you can also use your debit card to withdraw euros from local ATMs. Just keep in mind that any time you withdraw money, you have to pay exchange fees, so it's always best to withdraw as much as you think you will need for the duration.
Belgium is on Central European Time (GMT+1), putting it one hour ahead of London. Like the UK and most of Europe, the country moves to Daylight Saving Time on the last Sunday in March, and back to Standard Time on the Last Sunday in October.
Yes. If you're travelling with electronics equipped with a British plug, you will need a suitable adapter. Belgium uses the same plug and socket system used in France, with type C and E electrical outlets, and a voltage between 220 and 240 V.
If you forgot to pack an adapter, worry not! Airport shops often carry them.
No. British tourists do not require a visa for short trips to Belgium and may remain in the country for up to 90 days in any 180-day period, with the following caveat: Belgium shares that maximum duration with most other countries in the EU, plus Switzerland, Norway, Iceland and Liechstenstein. That means that you can't stay in those countries (in the aggregate) for more than 90 days in any 180-day period without a visa.
Should you require consular assistant during your stay in Belgium, you can contact the British Embassy in Brussels;
British Embassy Berlin
Avenue d'Auderghem 10
1000 Brussels, Belgium
Website: www.gov.uk
E-mail: public.brussels@fco.gov.uk
Telephone: +32 2 287 6211
Belgium has three official languages: Dutch, French and German. Dutch and French are the two most commonly spoken, with Dutch being more predominant in the Flanders region, and French in Wallonia. Only a very small portion of people in Belgium speak German as a first language.
To help you out on your travels, here are some useful words and phrases in Dutch and French;
Dutch
Hello - Hallo
Thank you - Dank je wel
Goodbye - Tot ziens
How much does this cost? - Hoeveel kost dit?
Where is the nearest hospital? - Waar is het dichtstbijzijnde ziekenhuis?
One-way street - Eenrichtingsstraat
No parking - Verboden te parkeren
Petrol station - Benzinestation
Motorway - Snelweg
Driving licence - Rijbewijs
Road works - Wegwerkzaamheden
Where can I exchange money? - Waar kan ik geld wisselen?
Exit - Afslag
French
Hello - Salut
Good morning - Bonjour
Good afternoon - Bon après-midi
Good evening - Bonsoir
Thank you - Merci
Goodbye - Au revoir
Whre is the nearest police station? - Où se trouve le poste de police le plus proche?
Whre is the nearest hospital? - Où se trouve l'hôpital le plus proche?
Whre is the nearest ATM machine? - Où se trouve le guichet automatique le plus proche?
Can I pay by credit card? - Puis-je payer par carte de crédit?
Can I pay by debit card? - Puis-je payer par carte de débit immédiat
How much does this cost? - Combien ça coûte?
Keep the change - Gardez la monnaie
One-way street - Rue à sens unique
No parking - Stationnement interdit
Petrol station - Station-service
Motorway - Autoroute
Driving licence - Permis de conduire
Road works - Travaux routiers
Exit - Sortie
---
Useful Links
Official Tourism Website of Belgium